#ShiaGenocide: A personal account of Lahore sit-in in support of Shia Hazaras of Quetta – by Qurat ul Ain Haider Zaidi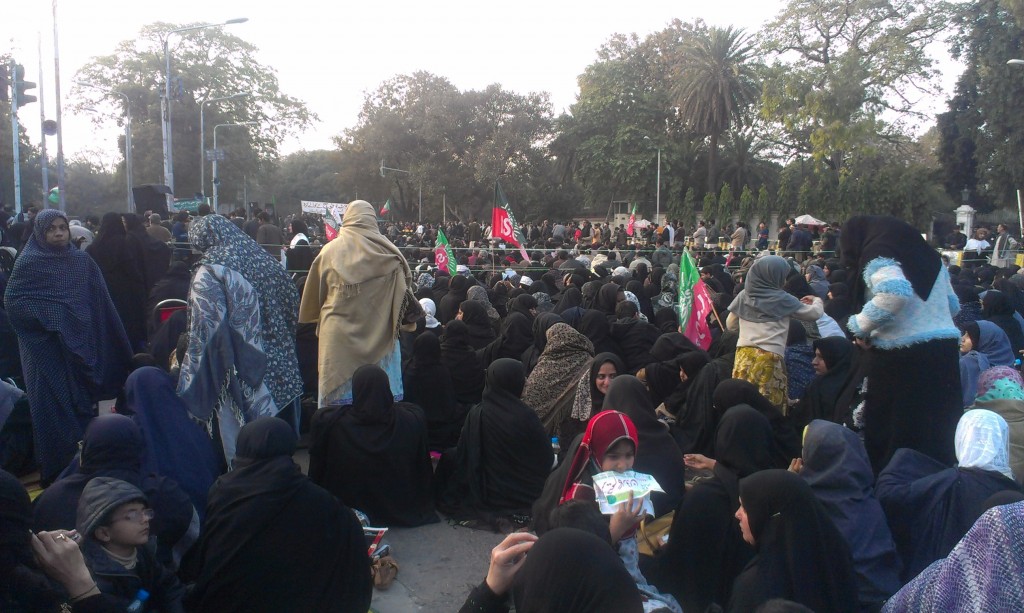 Yesterday (on 12 January 2013) at 4 pm we the students (of Sunni, Shia and other diverse backgrounds), civil society, Shia Hazara community living in Lahore, some TV artists and news anchors gathered in front of the Liberty Round-About- a green patch between one of the busiest roads of Lahore city which lead to shopping area.
There on reaching we the students set down different slogans on charts. It's not an over exaggeration that some of us were really weeping when slogans dissolved into the air of Lahore. The winter was proving itself very cruel. There we lit candles, held play cards and chanted slogans till 8 pm. Literally, after leaving that place we could barely talk.
Then we left for the Governor House (Mall Road). It was 9 pm where some fellows were already there and kicked start a peaceful sit in. There on reaching at 9 pm, I was amazed to see the sizable number of people who were already there. I was really astonished to see women and children there because its generally quiet cold in Lahore at nights in January. There I got a feeling that I'm attending a 10 Muharram procession of Ashura. Having the Alam e Abbas with us we along with men separately sitting there, chanted Labaik Ya Hussain as our commitment to Imam Hussain, symbol of freedom and resistance to all Muslims and non-Muslims.
And all of that is still carrying on while I write these lines on 13 January 2013 (8pm). We (when I write we it means boys, girls, men, women of all ages, Shia, Sunni and others) are offering our five times of prayers there. from last night number of religious scholars too have taken part in it by reciting the Majlis, to remember the tragedy that had befallen the holy family of the Prophet Muhammad (PBUH) in the desert of Karbala at the hands of the Umayyad ruler Yazid. Khanam Bano has also talked to the sit in of thousands of women. When I say thousands I mean it!
There different people are distributing Tabarruk/Niaz (free food in the name of Islam) of various kinds. People though don't know each other but still they are lending a helping hand to everyone there. Because from 27 hours we all have assumed a new shape of togetherness.
BUT apart from all this it hass been 27 hours no one has come from government, none at all from the PPP, nor from the PML-N government in the Punjab which is known to be in bed with Takfiri militants who are killing Shia Muslims in all parts of Pakistan. It was heard that they negotiated with our people leading all this in Quetta but all in vain.
Winter here is biting us but we will protest till our Shia Muslim brothers (including Shia Hazaras and other Shias of non-Hazara backgrounds in Quetta) get justice and their demands are met.
Qurat ul Ain Haider Zaidi is a Student of Law at a university in Lahore.
Comments
comments