#ShiaGenocide: Tahir Ashrafi of Sipah Sahaba and Khaliq Hazara of HDP jointly planning against Shia Muslims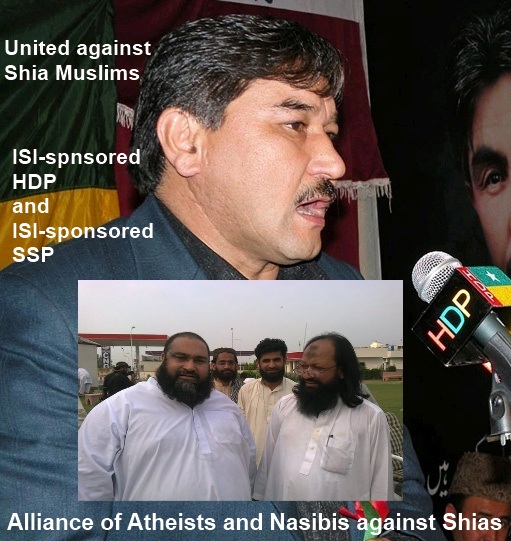 Ashrafi supports HDP demands

Sunday, January 13, 2013 – Quetta—Chairman Pakistan Ulema Council (PUC) and prominent leader of the Deoband sect, Allama Tahir Ashrafi has supported the Hazara Democratic Party (HDP) and urged the government to approve their demands.

He stated this here on Saturday while addressing the sit-in being staged since Thursday at Alamdar Road where the blasts had taken place.

Allama Tahir Ashrafi threatened that if the demands were not approved, then his council will join the demonstration being held against the targeted killing of people of Hazara community in Quetta.

Earlier, the demonstrators demanded that the provincial government step down and the city handed-over to the armed forces after the attacks that took lives of their loved ones. It is to be mentioned here that the banned Lashkar-e-Jhangvi had claimed responsibility of the Thursday attack.—INP

Source: http://pakobserver.net/detailnews.asp?id=191363

http://www.thenewstribe.com/2013/01/12/allama-tahir-ashrafi-announces-support-to-quetta-shia-protestors/
Pakistan's military establishment has activated two of its most trusted proxies, one in Takfiri Deobandi Muslims, i.e., Sipah Sahaba's Tahir Ashrafi Deobandi (a Nasibi enemy of the family of Prophet Muhammad) and one in an atheist ethnic party, i.e., Hazara Democratic Party's Abdul Khaliq Hazara (an atheist who hates Shia Islam and its rituals).
Both Abdul Khaliq Hazara of HDP and Tahir Ashrafi Deobandi of Sipah Sahaba have been activated to hurt the interests of Shia Muslims of Pakistan, particularly the interests of the most suffered Shia Hazara community of Quetta.
For context and details of HDP's and Tahir Ashrafi's activities, refer to these resources:
Hazara Democratic Party (HDP): https://lubpak.com/archives/tag/hazara-democratic-party-hdp
Tahir Ashrafi: https://lubpak.com/archives/tag/tahir-ashrafi
In the aftermath of at least 85 Shia Muslims killed by Tahir Ashrafi's friends in Quetta on 10 January 2013, and also in view of the recent countrywide protests by the MWM (Majlis-e-Wahdat-ul-Muslimeen) in support of Shia Muslims including Hazara Shias and non-Hazara Shias of Quetta in all parts of Pakistan, ISI-infected party HDP has become largely outcast and rejected by the majority of Shia Hazaras of Quetta. No wonder that compared to 15,000 people currently present at the MWM's Sit-in in Quetta and tens of thousands other Shias protesting in other parts of Pakistan, only two dozens HDP affiliates are in the HDP leader Abdul Khaliq Hazara's camp.
As instructed by his masters in the ISI, Tahir Ashrafi Deobandi (notorious for the role he played in securing release of Malik Ishaq Deoband of Sipah Sahaba) contacted Abdul Khaliq Hazara (notorious for his involvement in human smuggling of poor Hazaras) and advised him to backstab the Shia Muslims of Quetta by somehow getting the Sit-in dispersed.
HDP leader assured Tahir Ashrafi that he will continue to misrepresent Shia genocide by Sipah Sahaba (ASWJ-LeJ) in Hazara ethnicity specific terms, deleting or downplaying the Shia identity of 21,000 victims (dead) of Shia genocide.
One day ago (on 12 January 2013), it was reported by a famous Shia Hazara activist group on facebook which wrote that some hypocrites (internal enemies of Shias of Quetta) are trying to disrupt the sit-in and want the protesters to disperse. However, upon strong reaction and rejection by Shia Hazara youths, HDP thugs were forced to leave the Sit-in.
Majority of Shia Hazaras of Quetta trust Sardar Sadat Hazara (Chief of Hzara Tribe) and Sardar Nasir Hazara (sitting MNA of PPP), instead of the ISI-sponsored HDP thugs.
It may be noted that HDP activists on Twitter and facebook proudly announced that Tahir Ashrafi Deobandi of Sipah Sahaba has contacted HDP's leader Abdul Khaliq Hazara and assured him of his full support. Of course, the people of Quetta already know that both HDP (Hazara Democratic Party) and SSP (Sipah Sahaba Pakistan) are partners to each other in service of Pakistani establishment, it's only that things are becoming more obvious gradually but surely.
In the news reports circulated by the HDP and Tahir Ashrafi's media cell, it was falsely reported that Tahir Ashrafi Deobandi addressed the participants of the sit-in at Almadar Road. Nothing could be further from truth. Shia protesters in the Sit-in have demanded summary arrest and execution of leaders and sponsors of Sipah Sahaba terrorists and Tahir Ashrafi Deobandi's name is amongst them along with names of Malik Ishaq Deobandi, Ramzan Mengal Deobandi, Ahmed Ludhianvi Deobanbdi, Aurangzeb Farooqi Deobandi, Qazi Nisar Deobandi etc.
Here is a copy of the news reports and social media releases:

Source: http://www.facebook.com/HDPofficial/posts/545091118848778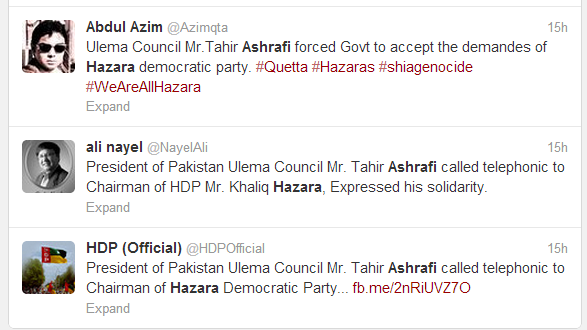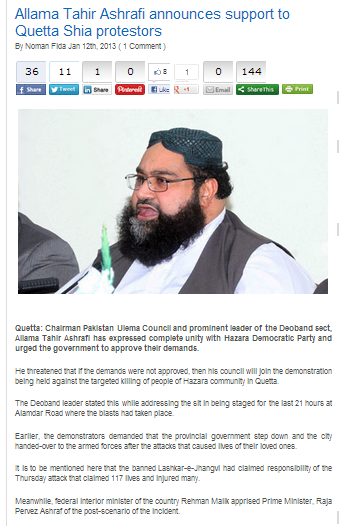 Video: Sipah-e-Sahaba Deobandi leaders praise Abdul Khaliq Hazara while abusing Shia Muslims
Comments
comments