#ShiaGenocide: PPP's Bashir Bilour (Dr. Syed Riaz Hussain) martyred by Deobandi militants in Peshawar – by Mazhar Toori
In the unabated wave of Shia genocide in Pakistan, the Takfiri Deobandi terrorists of Sipah Sahaba Taliban (SST, also operating as ASWJ, LeJ, TTP) gunned down Dr. Riaz Hussain in Peshawar today. He was the president of Pakistan People's Party for Kurram Agency http://tribune.com.pk/story/491556/ppp-kurram-agency-president-shot-dead-in-peshawar/. Previously, he survived a suicide attack by the Taliban in 2008, in which dozens of people, majority of whom were Shia, were killed.
Dr. Riaz Hussain Shaheed belonged to an influential family of Kurram, being the brother of former IG Irshad Hussain, and Air Marshal (rtd) Qaiser Hussain.
The martyred Shia doctor, a specialist physician, was known for his honesty, dedication and compassion among his colleagues in Khyber-Pakhtunkwa, and was widely followed by the people of Kurram Agency for his distinct leadership skills.
He was famous in PPP for his bravery and insight, and being a committed liberal political leader. For leading a successful professional and political career, selflessness and philanthropy, Riaz Hussain commanded immense respect from all and sundry.
However, it was deplorable to see the scant media coverage to this high-profile assassination. His martyrdom is no different from Shaheed Bashir Bilour who stood and spoke bravely against the Taliban. Throughout Kurram Agency, and in the political circles, Dr. Riaz Hussain stood out as a fearless leader who invariably opposed the Taliban, and always stood with the oppressed in Taliban-besieged Kurram Agency.
Social media also showed apathy, and some resorted to obfuscation. Many people who tweeted about Riaz Hussain only mentioned his being the president of PPP, conveniently erasing his Shia identity, and those of murderers, the Takfiri Deobandi ASWJ-SSP-LEJ-Taliban who also killed Bashir Bilour.
Dr. Riaz's only crime, like more than 21,000 other Shias throughout Pakistan, was his faith. It would be a grave injustice and insult to the martyrs' blood if his identity is removed, and that of his killers who have been thriving on the support of military establishment and dishonesty of right-wing and 'liberal' journalists. It is unfortunate that even in martyrdom the Shias do not get equal treatment.
PPP must honour this martyr who led the party through thick and thin in Kurram Agency. Despite all the odds and brutal Taliban onslaught against besieged Shia population in the agency for over five years, he not only served his party but also kept it going. That neglected region which has witnessed the slaughter of thousands of innocent Shia men, women and children need immediate attention of PPP.
Above all, PPP must fight the Takfiri Deobandi militants of Sipah Sahaba Taliban (ASWJ, TTP) who killed its Shia leader today, and have been killing Shias throughout Pakistan including Shaheed Benazir Bhutto, Shaheed Salmaan Taseer, Shaheed Shahbaz Bhatti and Shaheed Bashir Bilour.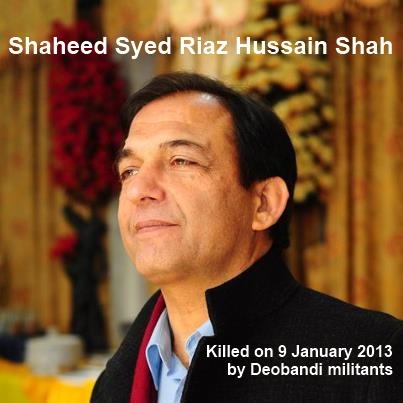 Here's a selection of three status updates from Shaheed Syed Riaz Hussain Shah's facebook page. In one status, he explains and commits to the ideals of the Pakistan Peoples Party, in the second he explains his conviction in the mission of Imam Hussain (peace be upon him) and his followers despite their numerical minority, and the last message is about the apathy of Pakistani media and urban elites to the plight of Shia Muslims in general and the people of Parachinar in particular. You will notice that all three issues he highlighted remain relevant and urgent.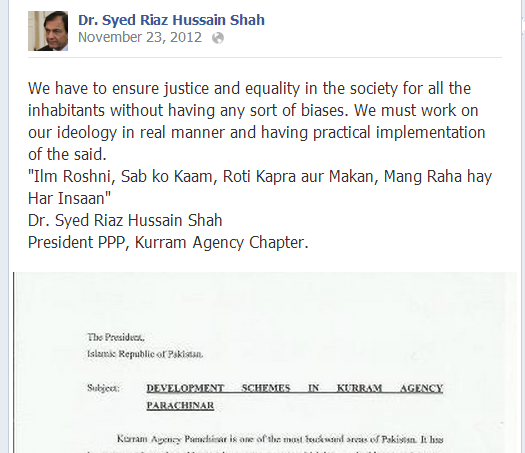 #ShaheedDrRiazHussain's message (on his facebook) to Pakistani media: "Shame shame shame. Are we not part of Pakistan?"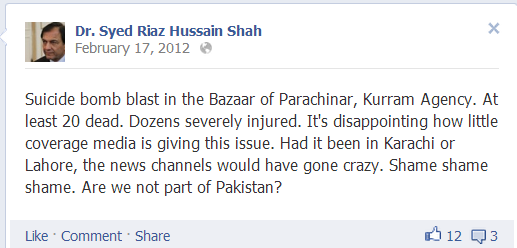 Comments
comments