Rape-protectionism in Pakistan and the role of political parties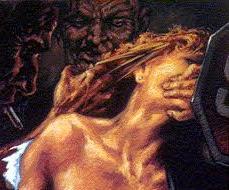 Rape is a heinous crime.  It is reflection of a system that is based on coercion and intimidation for those daring to confront the status quo.  In India, the realization has reached its people who are shocked to see that this crime is occurring so persistently.   In Pakistan, there is silence and deliberate actions to silence those speaking about it.  Patriarchy as a mainstream  bases its principles on the relationship shared between the master and his slave.  It is about exerting  influence and power on the vulnerable to profoundly define what good morality is about, which perpetuates into our mainstream urban cultures as well. It came to no surprise the status quo a known religious figure on TV tried to protect when he professed that rape victims should keep their mouths shut in religious doctrines.   The nexus of the big and powerful landlords, and their religious zealots present a strong connection in becoming power-sharers to rule the already suffering people.
The case in point is a particular suffering of Hindu Community at the hands of these landlords and clergy, also powerful politicians and parliamentarians who are either directly involved in rape or are also protecting rapists who belong to their constituencies.  And in this scenario, PPP itself is involved for shielding these criminals, who are allowed free access to indulge in their political activities and are serving in the parliament, completely unaccounted for the crimes they are known to have committed.
Given below is a re-print from a blog originally posted by Andaleeb Rizvi, following up on a story of recent brutal rape cases in Umerkot, Sindh, a PPP constituency.  It is worth noting how the criminals have been given full protection while the vulnerable Hindu community remain in their mercy, where they're given no justice.
Pakistanis struggle understanding sexual violence! (by Andaleeb Rizvi)
As the Delhi rape victim dies in Singapore, Pakistanis continue to struggle with understanding that sexual violence is one of the major tools of oppression against women in general and minorities in particular. Especially some of the pseudo-liberals, for whom accepting the ruling elite as a culprit is too much of a big deal.
In the Sindh province particularly two dargahs/shrines are famous for forced conversions of young Hindu girls. Bharchundi Sharif, in Mirpur Mathelo, Ghotki District, Taluka Daharki and Pir Sarhandi, Umerkot District, Taluka Samaro. The 'gaddi nasheen' (or keeper of the seat) of both these shrines are supported and backed by Pakistan People's Party (PPP).
In case the reader is suffering from amnesia, the following are recorded cases of rape and forced conversions. There probably are hundreds which never came into the limelight. The girls were abducted, married off to Muslim men after forcefully converting to Islam. Their ages are anywhere from 13 to 18 years.
January 4, 2005: 18-year-old Marvi and 16-year-old Hemi from Kunri village in Umerkot District
March 3, 2005: 14-year-old Raji from Aslam Town Jhuddo, Mirpurkhas
September 2005: 17-year-old Kochlia, kidnapped and gangraped in Jacobabad
December 22, 2005: 13-year-old Mashu from Jhaluree, 20 km from Mirpur Khas
December 30, 2005: Qosheela's abducted from Ghotki
January 24, 2010: 14-year-old Kasturi Kohli from Mokrio village, Nagarparkar, who was gang raped by Sharjeel Memon's goons. Yet another PPP leader.
September 11, 2011: 29-year-old Dr Lata Kumari, Jacobabad
February 24, 2012: 17-year-old Rinkle Kumari's is a high profile case, where her abductor, turned husband Naveed Shah is given support and provided immunity from the law by Mian Abdul Haq aka Mian Mithu, PPP MNA from Ghotki.
March 3, 2012: Asha Kumari from Jacobabad
The recent case of two minor-girls, age six and 14, who were raped in a PPP constituency, Umerkot is not a rare occurrence. Sexual violence is often used as a system to harass, intimidate and force conversion to Islam in Pakistan. There are countless cases in Sindh where children belonging to the oppressed Hindu minority have been sexually assaulted, raped and then refused justice. And in order to further humiliate them and their community, if they are of marriageable age, and unluckily survive the brutality, they are married off to the criminals who perpetrated the crime.
December 4, 2012: A 6 year-old minor, daughter of Munwar Meghwar, a labourer from Ghulam Nabi Shah, Umerkot District was abducted from the street in front of her house and sexually assaulted. The child stayed at the Mirpurkhas Civil Hospital till December 11, from where she was later shifted to Karachi for better treatment.
December 23, 2012: 14-year-old schedule caste (Bheel) Hindu girl from Chachro (FIR no 61/12 u/s 354 Pakistan Penal Code. Complainant Bheel against three accused)
This is only the tip of the ice-berg. Rape and forced conversions both are interlinked in case of women who are of marriageable age. As per the Human Rights Commission of Pakistan (HRCP) around 20 to 25 Hindu girls are being forcibly converted to Islam every month in the southern Sindh province on average. How many are being raped and disposed off due to lack of usability in marriage is another topic. The role in all this of the feudal-rulers is absolutely obscured intentionally by the ruling elite and their henchmen in media and judiciary. While the common public continues to perpetuate rape culture and apologia in the name of religion, there is a dire need to spread awareness and bring these issues out in the open.
Please raise your voice against sexual violence. Join a protest in your city for the cause, or if you cannot, at least take out 2 minutes of your time and sign an online petition. Remember change cannot be brought by merely talking about it.
Petition for the 6-year-old child – http://www.causes.com/actions/1714231?recruiter_id=180300099&utm_campaign=invite&utm_medium=wall&utm_source=fb
Petition demanding Government of Pakistan and HRCP to atop Child Abuse and Abuse of Power in Sindh Province, Pakistan – http://www.change.org/petitions/government-of-pakistan-human-rights-commission-of-pakistan-stop-child-abuse-and-abuse-of-power-in-sindh-province-pakistan
Comments
comments