Bilawal's speech at Benazir Bhutto's fifth death anniversary offers hope but misses out on crucial issues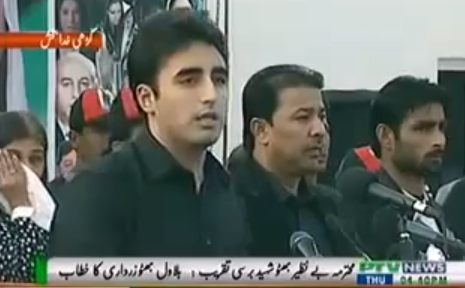 As critical supporters of Pakistan Peoples Party, we welcome and applaud Chairman PPP's bold and eloquent address at Garhi Khuda Buksh. To millions of Pakistanis, a new PPP leader has clearly emerged and done so in an impressive manner. To the PPP jiyalas, he was Shaheed Benazir Bhutto and Shaheed Zulfiqar Ali Bhutto reincarnated –sending waves of positive energy in the party's rank and file.
In particular, we would like to commend Mr. Bilawal Bhutto Zardari on the following:
1. His clear denunciation of the atrocities committed by the Taliban and his appreciation of PPP and ANP martyrs like Shaheed Taseer, Shaheed Bhatti and Shaheed Bilour. In stark contrast to PML N and PTI leaders, Chairman PPP Bilawal Bhutto Zardari was clear and unequivocal in his stance against the Takfiri terrorists, i.e., Taliban.
2. His understanding of economics and his stress on continuing the internationally recognized social welfare programs by the current PPP lead government such as the Benazir Income Support Programme BISP and its various subsidiaries that have been proven to have done ground breaking work in income support, job creation, education, housing, health and skill development. Unlike the xenophobic chauvinist that is Pakistan's educated elite, Bilawal's progressive views were a breath of fresh air and reminiscent of 1986 when the late Benazir Bhutto returned to thunderous applause and offered a new vision for Pakistan.
3. Unlike Pakistan's compromised, Pro-Taliban hyper-nationalist media and its choice of cranks and sell-outs, Bilawal Bhutto Zardari stood out in stark contrast. His courageous denunciation of the selectiveness of a compromised Judiciary must be heeded to by all Pakistan. By denying justice to the common man and politicizing the Judicial institute, the current crop of dictator-facilitating, pro-Taliban judges have dealt a severe blow to Pakistan's social fabric. Bilawal called out the Chief Qazi (i.e., Chief Justice Iftikhar Chaudhry) and we couldn't agree more. In his disgusting selective morality and clear bias, Iftikhar Chaudhry comes across as a pathetic bureaucrat mullah with a God complex. This criticism regarding CJP was better articulated by Bilawal and reminded one of the courage of Shaheed Mohtarma.
http://youtu.be/f0qaudu3m6c
And now for the misses.
1. While Bilawal touched on Balochistan and was far more sincere than Nawaz Sharif and Imran Khan on this topic, it was not enough. We know that these jaded chauvinist politicians of PML N and PTI only use the Baloch issue as a dishonest parallel for their aspirations against any substantive operations against the Taliban. But more was expected from Bilawal. As we speak, there is another military operation going on in Balochistan by the real rulers of Pakistan, the army, and the PPP has failed to put a stop to the increasing dead bodies of the Baloch.
2. The most glaring omissions by Bilawal revolved around the atrocities committed by the allies
of the Taliban such as Ahle Sunnat Wal Jamaat ASWJ (aka Sipah Sahaba/Lashkar-e-Jhangvi). The ongoing Shia Genocide was not mentioned even once – Shia Muslims constitute between 15-20% of Pakistan's population and many of them are the most loyal PPP voting bloc. Similarly, there was no mention of the continuous persecution of Christians and Ahmadi Muslims in Pakistan. Or the rape and forced conversion of Hindu girls in Sindh –some by low level and low life thugs who have been allowed into PPP. Similarly, there was no mention of the continuous attacks on Sunni Barelvi Muslims and anti-Taliban Deobandi Muslims by Takfiri Deobandi thugs of Sipah Sahaba. While one must commend Bilawal on his glowing tribute to ANP's latest martyr, Bashir Bilour, he should have also mentioned the sacrifices of thousands of Pashtuns against the Taliban – especially the anti-Taliban Pashtun tribal chiefs and lashkars. For any starting steps to combat Shia Genocide, the 10,000 Souls petition to the Pakistan Embassy (USA) serves as a good starting point. http://soulsmarch.wordpress.com/2012/12/26/souls-march-delegates-press-issue-with-consul-general-faqir-hussain-providing-concrete-steps-and-suggestions/
While the passing of the 18th Amendment was a great first step in restoring the spirit of the 1973 Constitution, it is not enough. The Anti-Ahmadi muslim legislation (2nd Amendment + Draconian Zia Ordinance) needs to be struck down. So does the horrendous Blasphemy Law that aims to target our Christain Pakistanis. Article 2-A and Article 63 that were a result of General Zia-Judicial collaboration need to be taken out as well – Article 63 in its present form gives a Quasi-Divine status to the Army and the Corrupt, compromised Judiciary of Chaudhry Iftikhar.
3. Bilawal should have also condemned the targeted killings of polio health workers all over Pakistan, given the positive contributions in this regard by Shaheed Mohtarma and now Aseefa.
While Bilawal was a clear cut above the current political leaders in this country, more is expected from him. He not only carries a tremendous legacy and the following of millions – it is also because he himself has set a higher bar by his courageous statements and stands. The potential that millions of us were hoping for was there for all to see in the dying daylight at Garhi Khuda Buksh today – a potential that promises a better tomorrow. As critical supporters of the PPP, we will not falter in our duty to remind him of this as we will continue to support him in his trials while critiquing him for his mistakes.
While some of our criticism may be harsh, it is important to realize that the inability to talk on some (not all) crucial issues is probably due to the presence of urban civil society sycophants.  This class presents a liberal veneer but dig a little deeper and they are no better than the Sipah Sahaba Taliban thugs. It was these type of sell outs like Mairaj Mohammad Khan, Mumtaz Bhutto, Dr. Mubashir Hasan, Naheed Khan, Sherry Rehman and Shah Mahmood Qureshi who betrayed three generations of PPP leaders. We have full confidence that in due course Bilawal will be able to see through such sell outs in the media and civil society sycophants. In particular, be should careful of the for-hire propagandists and the known double dealers such as as Najam Sethi, Sherry Rehman, Jinnah Institute, The Friday Times and their affiliates and proteges. We really hope that instead of opportunistic flattery by urban elites, Bilawal and other PPP leaders will pay attention to sincere, critical feedback by the PPP jiyalas.
We will continue to remind PPP to take urgent action against Takfiri terrorists of Taliban, Sipah Sahaba, JuD and their sponsors in Pakistani establishment. We are tired of collecting the dead bodies of the Pashtuns, Balochs, Shias, moderate Sunnis etc. Action, not rhetoric, is lacking.
Comments
comments