Is it still not our war? -by Shama Junejo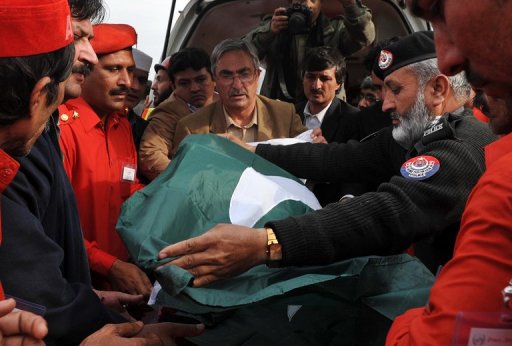 "When they are united from Afghanistan to Karachi, then why we are still scattered and reluctant to own that this is not out war. They say that it is only ANP's war. 'No' now they are killing us first, but then they will kill you too." ANP's leader Asfandyar Wali said these words in extreme grief on the funeral ceremony of Khyber Pakhtunkhwa's brave son Bashir Ahmed Bilour. A suicide bomber targeted Senior Minister Mr Bilour along with eight other victims after an ANP public gathering leaving him seriously injured. He was shifted to the Hospital for treatment where he succumbed to his injuries.
These words and the pain on his face gave me the visuals of a classic tale in which a fisherman gives one arm, then another and then both legs to the alligator on the hope to be saved but finally is eaten by the monster. The current situation of Pakistan is same, where the monster started eating starting with former Prime Minister Benazir Bhutto, Punjab's Governor Salman Taseer, a Christian minister Shahbaz Bhatti and countless numbers of others. Hundreds of soldiers beheaded. Thousands of civilians, police officers, politicians killed in blasts. The barbarians did not even spare women and children and from innocent lady Polio workers to fourteen years old Malala Yousufzai who luckily survived the head shot.
Bashir Bilour was the man who played a key role in peace accord with Taliban earlier in 2009 but the monster was not satisfied on limited powers so the agreement abolished within few months costing life of ANP's Top leader Miyan Iftikhar's only son and other two-member parliamentarians. Surprisingly, all killed politicians belonged either to ANP or to PPP, therefore, a large number of a specific mind-set including top politicians reluctant to own the war against terrorism, and the monster continues killing.
Sadly, media is not as responsible as expected. Federal information minister Qamar Zaman Kaira thrashed the double role of some news channels on terrorism issue. He further pointed out to ban the statements released by terrorists, as a top journalist after every major incident appears on TV as TTP's spokesperson. It is unthinkable that when our agencies in 2004, killed Naik Mohammad in a drone attack by tracing his phone call, how failed to detect or trace an enormous numbers of calls made to that journalist and others.
It is also surprising that where those few anchors of media, blindly competing the race of Social vigilantes cannot work on these lines. When they have no fear to violets all privacy, defamation, assault and other laws entering into private premises as trespassers along with cameras, Who can harass public and even police officers ignores acts of terrorism or other controversial issues. For example, at one side, media showed completely solidarity with the Chief Justice of Pakistan on his son's alleged corruption case, but remained silent where there were gross incidents of his insult and character assassination on roads of Karachi by a group. Similarly, no media crime reporter investigates murder stories of their fellow journalists killed by terrorists neither they follow other high profile cases like polio worker killings.
On the other hand, people too perhaps became numb. Pakistanis are the only nation with extremely short-term memory. Only within twenty-four hours of this high profile assassination, from media to people, all got engaged into Cricket saga and a new political drama of a Canadian national religious Scholar Dr Tahir-ul-Qadri who has captured the whole attention of media out from nowhere with a bizarre agenda. He said that country's democratic system has completely failed. He gave the government three weeks deadline, until January 10, to improve situation otherwise he would lead a protest march towards Islamabad with four million followers. He further said that the state is in danger and he is back to support the constitution. Now the irony, that the constitution does not allow a dual or foreign national to be elected in parliament. A huge number of parliamentarians have recently lost their seats after a significant decision of Supreme Court. Therefore, it is out of the question that he would find any space in the electoral system; also, he did not mention that from where he brought an impressive amount of money to launch this mega campaign of his return. However, the religious cleric gave a hopeful lollypop to NON POLITICAL ACTORS.
He announced his proposal and demanded for a caretaker setup consisting Army, Judiciary and other political stakeholders. Now when the agenda is to save constitution then how army and judiciary can fit in to the system is again a myth. However, there is a big rumour that he is back to the country with some hidden conspiracy which would not allow electoral system to play a vital role in country's future where US is planning to leave Afghanistan in 2014 and Afghanistan will form a moderate government. That might be the reason that he is not only strongly supported by Sindh's leading regional party MQM's leader Altaf Hussein whose party always remained in power since formed, but also, a large number of MQM local leadership specially went to participate in his rally which no doubt was a very impressive show in Lahore's history.
Moreover, Imran khan too has surprisingly supported Dr Qadri. He released a statement that Dr has 'actually' come along with his agenda; critics said that this could be taken as an indirect gesture to the possible future setup of the Troika. However, the other senior members of PTI not only insisted that elections are the only option to continue political system of the state, but also Makhdoom Javed Hashmi highly criticised Dr Qadri.
Imran Khan, in addition, under a huge criticism countrywide by women parliamentarians, after his controversial statement on women reserved seats in assemblies. He has also failed to give a clear policy against Taliban. His statements are always confused and dual
Considering the scenario of Punjab, PML(N) is in most critical condition as it is already struggling with PTI and now the new threat has also emerged. However, for Taliban they have a solid policy against any operation. PML(N)'s top leader Chauhdry Nisar repeatedly called them BROTHERS in many statements and always opposed for any possible action in South Waziristan, though, after Bashir Bilour's assassination and repeatedly incidents of polio worker killings cases, PML(N) too under extreme pressure to deny the operation.
Pakistan Peoples party, nevertheless, is passing through most critical phase of the political career. In past five years, the party has not only failed to satisfy the hopes of people all over the country but also facing an incredible rage and reaction from the province Sindh after passing the new law on Local bodies. However, President Zardari recently made another major upset after appointing Makhdoom Ahmed as Governor Punjab. The act clearly sabotaged the strength of Functional Muslim League after their impressive rally in Sindh. However, the party position is still in turmoil in Sindh
and it is very unlikely that only after three days Young Bilawal Bhutto will be in position to deliver any solid agenda, who has still not reached the age to participate in elections. President Zardari is already cuffed by court orders to act neutral as president. Moreover, PPP government has also completely failed to catch the culprits of BB's assassination. Therefore, the position of party is sinking, until it comes up with some very big surprise and almost impossible proposal, which can only be the name of Fatima Bhutto to join the party.
However, the party position is clear on war against the terror, in fact PPP, MQM and ANP are the only parties with a clear stance against Taliban and that is the main question that what would be the policy of forces and government after Bashir Ahmed Bilour's assassination.
ANP's woman member Bushra Gohar strongly opposed option for further negotiations with TTP, she clearly alleged that "EVERYBODY" knows about the whereabouts of TTP, therefore, why there is no action is taken or in progress to vanquish the evil forces. She said that, there is no classification between good or bad Taliban they all are same, they all kill us without any discrimination and they will continue killing our children and us. She further urged that until how long we will keep our children in continuous trauma and will live the life with an utter fear, how many more dead bodies and Malala does our nation needs to own this war?
Yes, only three days before the fifth anniversary of Benazir Bhutto, how many more Benazir, Malala, Bashir Bilour, Salman Taseer, Malik Saad, and other dead bodies our leaders require to own this war…. !
Comments
comments