Pro-Taliban Deobandi cleric Tahir Ashrafi's bigotry against Ahmadi Muslims
In his lame attempt to backtrack on his earlier allegations against Hamid Mir, Maulana Tahir Ashrafi has not only referred to outright lies but also engaged in a disgusting act of bigotry against Pakistan's Ahmadi Muslim minority.
To recap, after a bomb threat against Hamid Mir was defused and the Taliban owned up to the threat, Hamid Mir seems to have backtracked on his earlier Taliban apologist stance and issued a mild critique against the Taliban.  That was sufficient for hte pro-establishment, pro-Taliban Deobanic mullah Tahir Ashrafi to start a slander campaign against a former ideological comrade.  Ashrafi publicly called Hamid Mir a traitor using the sectarian pejorative "Mir Jafar". This entire sequence of events is captured in the following LUBP post:
Attempt on Hamid Mir's life: 'Moderate' Deobandi molvi Tahir Ashrafi calls him Mir Jafar
Later Ashrafi backtracked on his public tirade and came up with the pathetic excuse that his Twitter account was being misused. This was not the worst of it. Tahir Ashrafi then proceeded to dub the entire episode as a "Qadiani (pejorative for Ahmadi Muslims) conspiracy"
This has been captured in detail in a separate post that is written in Urdu:
This is the same Tahir Ashrafi who is dubbed as moderate by Pakistan's elitist Civil Society – see quote below.  Since this class of people is generally more comfortable in English, spoken with fake  accents, they probably missed out on Takfiri Tahir's conspiracy theory laden rubbish in Urdu.  Then again, this is the same civil society that also worships PCO judge Iftikhar Chaudhry and his henchmen that have hijacked Pakistan's Judiciary. Accordingt  to Raza Rumi, a promoter of Tahir Ashrafi Deobandi and director of pro-ISI think tank, Jinnah Institute:
 Ashrafi is a brave exception but he also paid for it as a sinister campaign against him was launched to de-legitimize him.It is never too late to remind the survival-obsessed civilian governments to institute some of these measures. More importantly, it is time to engage with thinking clerics like Ashrafi and get them to join the struggle for a moderate and progressive Pakistan.http://jinnah-institute.org/programs/open-democracy-initiative/574-rimshas-acquittal-a-new-beginning Author: Raza Rumi. A version of this article appeared in The Friday Times November 23-29, 2012 – Vol. XXIV, No. 41
It is unfortunate that fellow progressive writers and activists maintain blinders when it comes to shady characters like Tahir Ashrafi.  That is probably due to pressure from the establishment mouthpiece Jinnah Institute and one should not take such an endorsement too seriously. Neither should their progressive activism be tarred with this aberration. After all, Takfiri cleric Tahir's stand for Rimsha was a safe stance that was not contested by the Jihadi thugs maintained by ISI. More importantly, on both occasions where Takfiri Tahri lent his support (Mumat Qadri and Rimsha Masih), his stance was motivated by Deobandi vs Sunni Barelvi feud. However, when it comes to violence by Takfiri Deobandi terrorists against Sunni Barelvis, Ahmadis and Shias, the Takfiri Tahir Ashrafi's apologist pro-Deobandi stance becomes transparent.
However, one must not excuse Takfiri Tahir's lies and his bigotry against our Ahmadi Muslim brothers. Thanks to progressive bloggers like Zalaan and Ali Taj, Takfiri Tahir cannot duck his way out of this one.
It's due to hate speech against Ahmadis, Shias and Sunni Barelvis by the Takfir Tahir and also due to his support by some known pseudo-liberal thugs that incidents of Shia genocide, attacks on Sunni Barelvis and Ahmadi community are on the rise. Latest incident in this regard is the desecration of Ahmadiyya graveyard in Lahore. This desecration is enabled by Takfiri Tahir, his right wing mercenaries and pesudo-liberal thugs who promote Tahir and Ludhianvi as prophets of peace.
Video: Hafiz Tahir Mahmood Ashrafi, the cleric who heads the 'clerics council' (Ulama Council) in Pakistan was recently dubbed by ISI-sponsored liberals as a 'moderate' and allegedly working to better the wrongs done by Pakistan's infamous blasphemy law. Well, here Ashrafi blasts and promises to teach lessons to anyone, who would want to change the blasphemy related laws and the laws concerning Ahmadis. In this clip, Ashrafi abuses President Asif Zardari (co-chairman of PPP). He also threats the then Minorities Minister in Pakistan, Shahbaz Bhatti (of PPP) who was later murdered for trying to change the blasphemy laws.
Video: Deobandi cleric Tahir Ashrafi warns Ahmadiyya Muslims and issues death threat to Shaheed Shahbaz Bhatti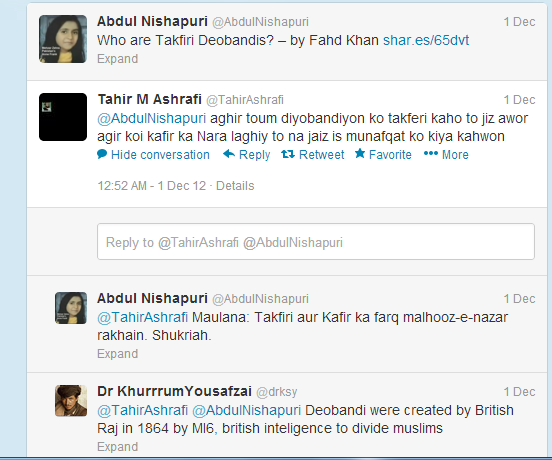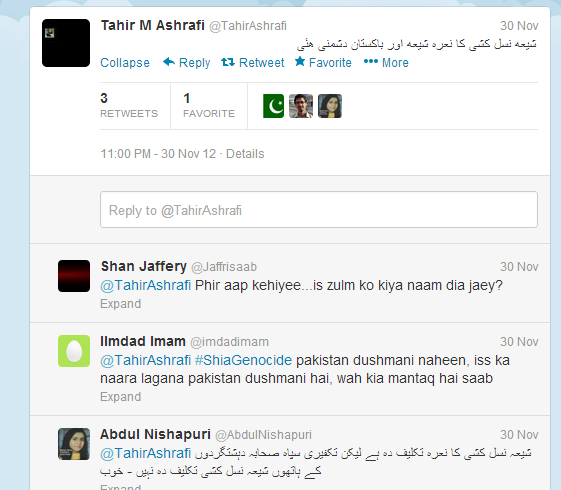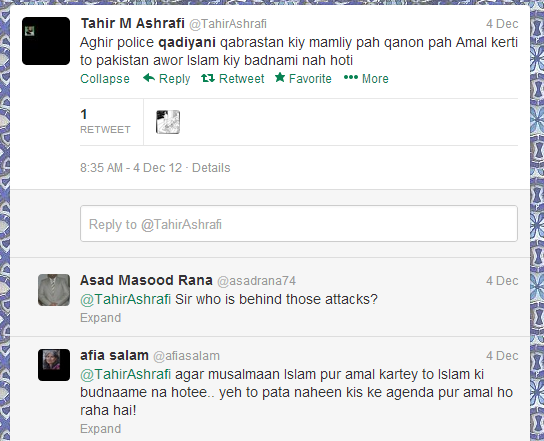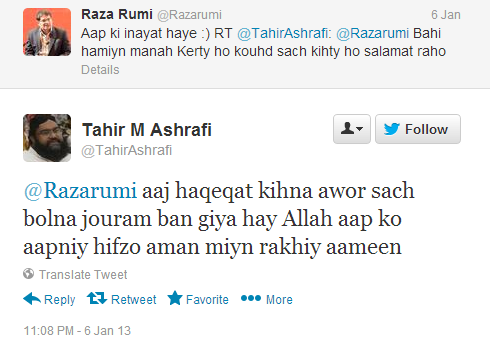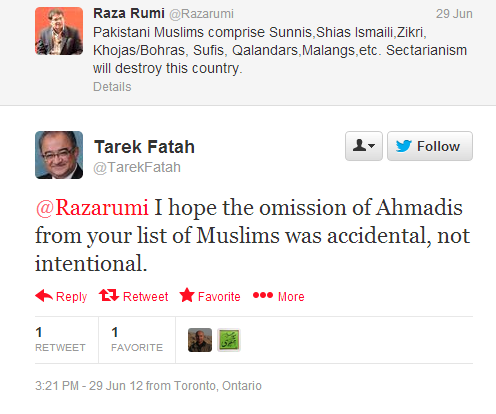 Comments
comments