Who wants to kill Hamid Mir?
Related posts: Deobandi cleric Tahir Ashrafi calls Hamid Mir a traitor, doubts Takfiris' attack on Mir
دیوبندی مولوی طاہر اشرفی نے اپنے اسلاف جھوٹے راویان حدیث کی یاد تازہ کر دی
Senior journalist and anchor Hamid Mir escaped (what is being described by himself and his colleagues in Geo News TV channel as) an "assassination bid" when police defused a bomb planted under his car in Islamabad (Monday 26 Nov 2012).
The device was found stuck under the front passenger seat of his car, police said. "There was half a kilo of explosives fitted with a detonator," city police chief Bani Amin told Geo, saying that officers had defused the bomb and were gathering evidence. Mir was on his way to his office and the bomb was apparently planted when he stopped at a market, said Geo TV's Islamabad bureau chief Rana Jawad. The explosive material, detonator and battery packed in a bag and affixed beneath the vehicle of Hamid Mir was found outside his house at E-11/3.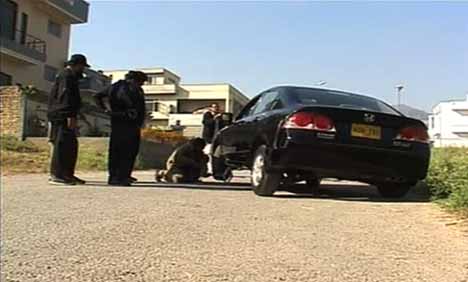 Mir is known for his previous contacts with Pakistan army's various intelligence agencies as well as with the top leadership of Taliban, Al Qaeda and Sipah-e-Sahaba. However, in recent years, Mir has started highlighting Pakistan Army's brutalities in Balochistan and has also spoken against the duplicity of the "Deep State" (Pakistan Army) in dealing with Takfiri Deobandi militants (Taliban, ASWJ etc) in FATA and Afghanistan.
According to Express Tribune newspaper, Mir was criticised by Takfiri Deobandi terrorists (Taliban, Sipah-e-Sahaba) last month in the wake of the shooting of teenage activist Malala Yousafzai. Takfiri Deobandi militants of Sipah-e-Sahaba (currently operating as ASWJ) are reported to be particularly unhappy because of Mir's recent interview with Iran's President Mahmoud Ahmadinejad. Taliban and Sipah-e-Sahaba consider Shia Muslims in general and Iranian Shias in particular as infidel (Kafir) enemies of Islam. Takfiri Deobandis are also unhappy because of Mir's invitation to Shia and Sunni Barelvi clerics in his TV programme.
"It's a message to me as well as Geo and the journalist community in Pakistan," Mir told the television channel. "They want to stop us from speaking the truth but I want to tell them that we will not be deterred." Mir said the interior ministry had told him about threats to his life and already provided a police guard at his home, but he did not name any group he thought might be behind the device. Intelligence officials said last month that an intercepted Taliban message suggested suicide bombers had been assigned to attack journalists because of their coverage of the Malala attack. Taliban hitmen shot Malala on her school bus in Pakistan's northwestern Swat Valley because she had campaigned for girls' rights to education. The 15-year-old survived.
http://youtu.be/bCCnA3qf_qk
Only a few days ago, Takfiri Deobandi terrorists tried to kill Qazi Hussain Ahmed (former Chief of Jamaat-e-Islami). In a video message, Hakeemullah Mehsud very strongly criticized Qazi Hussain because of Qazi's pro-Sunni-Shia unity stance. Hakimullah described Shias as Kafir (infidel) and declared that Qazi and all others who treat Shias as friends will be treated as Kafir and Wajib-ul-Qatl (worthy to be killed). Hamid Mir could easily fall into that category because of his recent interview with Iranian President and also in view of the fact that he invites Shia Muslim scholars to his TV program Capital Talk and seeks to promote Sunni Shia unity.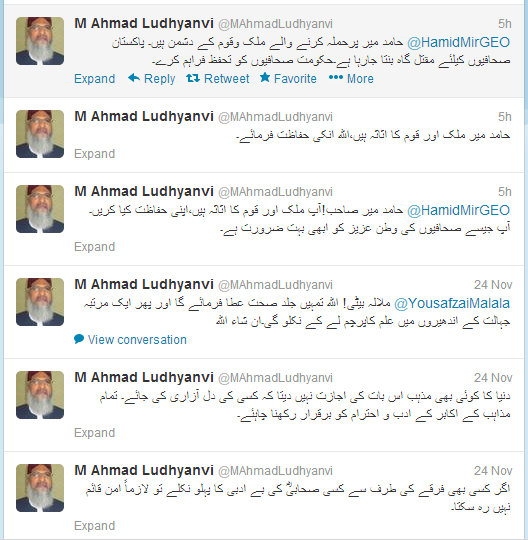 Perhaps as an expression of guilty conscience, immediate messages of support for Hamid Mir and Malala Yousafzai were relayed by the official account of Ahmed Ludhianvi, chief of banned Takfiri Deobandi terrorist group Sipah-e-Sahaba via his Twitter account. The Sipah-e-Sahaba is currently operating as Ahle Sunnat Wal Jamaat under green signal from General Kayani (Pakistan Army Chief) and is known for links with the Taliban. Both Taliban and Sipah-e-Sahaba belong to Deobandi sub-sect of Sunni Muslims. Hamid Mir is an Ahl-e-Hadith Muslim and does not endorse terrorism by Takfiri Deeobandis against other sects and innocent human beings.
http://youtu.be/ZbAOmvD1QNI
From a critical angle, it should be noted that the bomb planed beneath Mir's car was perhaps not intended to kill him. Takfiri Deobandis are neither short of suicide bombers nor do they usually fail in killing their intended targets (e.g., Sarfraz Naeemi, Hasan Jan, Hasan Turabi, Shahbaz Bhatti etc). Deaths of thousands of Shias, hundreds of Sunni Barelvis, and dozens of political and religious leaders are an evidence of that. Thus, the intention was only to terrorize Hamid Mir, perhaps making him aware of the Saleem Shahzad like consequence if he does not refrain from criticizing Pakistan army and its sponsored Takfiri Deobandi militants. We also note that a few details are strangely missing from the news reports. For example, how did Mir or his driver come to know about the device secretly planted beneath the car? The media reports do not tell how the device was noticed under the car, or was it planted by someone in full public sight and why?
http://youtu.be/ifmK5E74-OU
http://youtu.be/jdlHI6lIBsU
Comments
comments