Countdown for Chief Justice Iftikhar Chaudhry – by Arbab Zaheer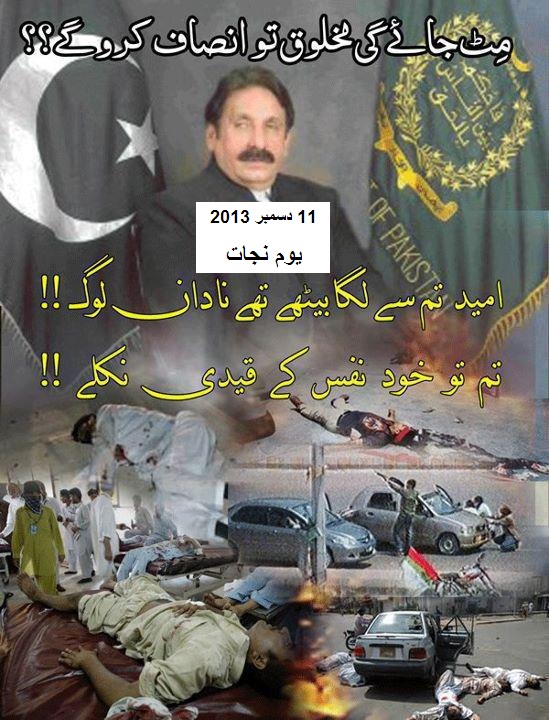 11th December 2013 will be celebrated as the independence day of politics and democracy of Pakistan as that is the day, the most unjust, corrupt, politically aligned, judge, whose value can only be termed as "Nuisance" will retire after being the Chief Justice of Pakistan for nearly a period of eight and half years, including one and half year under suspension. Yes he is none other than, Iftikhar Muhammad Chaudhry, a man who has held the nation and democratic government of the PPP on gun point ever since he became the Chief Justice.
A Punjabi by ethnicity, he is a man who have moved around the nation like a con man would to ply his trade. Studied from Sindh University, Jamshoro, he did his whatever little and unknown judicial practice in Quetta before becoming a judge of the Balochistan High Court and then elevated to the Supreme Court of Pakistan. He conveniently forgets his origins of boot licking to become a judge and then his own oath as a PCO Judge in January 2000 are the reasons for his being where he is. Understanding very well the politics of promotions and seniority, this mediocre, corrupt and biased man has been a pain in the behind for the nation for the last 8 and half years. Some of his achievements are:
– Single handedly has spoiled the much successful privatization program of Pakistan by rescinding the privatization of Steel Mills in 2006. While the state may have recovered some much needed funds from the privatization of the mills and moved away from the headache of perpetually funding an ailing organization, for the last six years, the state has had to bail our the Steel Mills on numerous occasions, pumping in billions of rupees in it. No one holds this corrupt judge accountable for his obsessive, compulsive behavior and lack of understanding of the market dynamics
– Making investors run away in mindless judgments like turning a hypermarket into a kachray ka dabba (meaning bring the land in its original shape), ending McDonalds in Islamabad, going after the Tethyan Copper Company in Saindak after being pied pipered by the mindless and corrupt journalists etc. Who will make FDI in our country when a man with nuisance value is sitting at the top!
– Fires a sitting prime minister and plans to fire a chief minister who both belong to the PPP. He does no such thing in places like Punjab where his susralis and chacha zads are ruling
– Goes after the parliament by asking for customized amendments to the constitution!
– Displays Paranoia and kryptomaniac behavior by calling a conclave of judges on rumors coming from a section of his beloved media. Not for the nation but to protect himself and fellow chosen few judges!
– Fires dozens of judges in a doosron ko naseehat aur khud ko faseehat type judgement on PCO judges
– Feeds journalists news of his liking by giving high on pot observations in court
– Heads a judiciary that frees terrorists like Malik Ishaq, Burqa Molvi (Abdul Aziz) and many others and then questions where is rule of law!
– Instructs organs of the state to conduct investigations against those who manage them. Imagine a Chief Justice asking for type of investigation, how will a officer investigate? Creates bias against those who are being investigated
– Is a father of a son who is known for his corrupt ways. Even before the Malik Riaz – Arsalan Ifitkhar scandal broke out, it was when known fact that to get a judgement from any court in Pakistan, Arsalan is your man! It can only be a prodigal son who can make millions of rupees in four years time when in the one functional eye of his father and his uncle judges, the economy has tanked!
– Calls Lal Masjid terrorists as victims and want them to be compensated!
The list of follies of this sly, cunning and illegitimate chief justice is endless. While he will be rewarded with plots and end of service benefits as well as references upon retirement in December 2013, after that he will be beaten by mobs while he is paraded on a donkey back.
Comments
comments