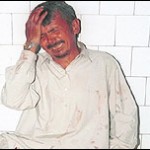 The first attack on Shia Hazara community was in 2003, when 12 young Police cadets were shot dead on Sariab Road while they were on their way back home. This news broke down the streets of the major Shia Hazara populace areas rampantly like the fire in the jungle. Shocked and aggrieved, the community's women, man and infants all blood pouring down their eyes took their wounded hearts scattered in groups wondering to find those words that could somehow reimburse the unbearable loss of all the young cadets (20-27 years of age). Shops closed, business men returned, office workers rushed back to their homes and nothing but a sway of rustling leaves were all that could be heard,  equally aggrieved with those families who had lost their pearls. Since then, this long gap from 2003 to 2012, a wave of murderous years welcomed Shia Hazara community.
Recently, I happened to visit the graveyard, Ganj-e-Shuhada. Fridays present poignant anxiety. Ignoring the clamor of the crowd, I made my way out to a Lady sitting at the corner in front of a Martyr's grave, it was her husband, her loud cries pierced my bones and I sat with her trying to comfort her at my best. I could hardly understand the hidden words behind her cries. She was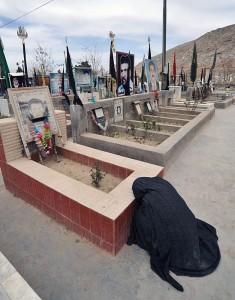 complaining of her diversified problems that had aroused after the departure of her husband. I could only pick one of the sentences she repeated again and again. It was, "You had promised your youngest child to buy him a play-toy; He demands that every day, where from may I arrange to buy one for him…"
I said as softly as I could, I will buy him the toy, please stop crying, your husband is lucky to have been martyred. She looked at me, took my face in her hands and said, "Can you bring my husband back too?" I was all mute and could barely walk back.
This is the picture of the Shia Hazara community who is drenched in pain and grief. The more the lives lost, the more indifference observed.
Now, allow me to flip the coin and present another picture of the same community. In the name of collecting funds for martyrs, musical events are organized in the same area where we can hear cries of the mothers.
Observe the difference between then (2003) sensitivity towards the families of Martyrs and today when we have 500+ of the community members engraved. Musical events, dances, live performances are arranged on the name of families of martyrs. Which sane person would accept the money earned by such events? It is one of the indifference to the suffering of the community shown by liberals.
Let's now fly beyond seas. Australia is another place where Shia Hazaras fled in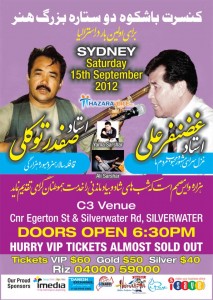 large numbers to seek asylum after Pakistan government failed to provide protection to the community. (It's a shame for the Pakistani State).  A Musical concert was arranged by the Nationalist/liberal (Hazara Voice-  a wing of HDP- Hazara Democratic Party) Australian based where Shia Hazaras were sent invitation in bulk to attend, be amused, enjoy, dance and disgrace all the families of martyrs who starve of hunger and are malnourished back home.
How much of money may have been spent on these concerts? Some Thousand dollars?
How good it was if this amount of money was sent to those families who do not have their 3 times meal.
Aren't these concerts building a solid wall of fog by ignoring the plight of the community?
It's a war of indifference that the organizers of such events are a part of. You're either fighting it by taking action, or you're slowly letting chaos creep closer to your home and those you love by being indifferent. The only way we're getting back to be the community we can be, is if everyone shoulders some of the load. It takes a community to save itself, and unfortunately we're not living in a time we get to sit idly by.
Mayhem, chaos and death are all distant realities until they're at your door. Apathy, coldness, lack of sympathy, lack of concern is all what is being observed in such people whose distance with their brothers at Quetta makes them arrange events of no use. It requires a proactive and sincere commitment, feeling the pain of those families who have lost their loved ones.
Healing the wounded hearts is a collective responsibility of all the members of the community. No man is an island, entire of it; every man is a piece of the continent, a part of the main. If a clod be washed away by the sea, every single continent feels the pain of separation. We, as a community shall behave as a collective pace. If not anything else, conviviality is healing.
Why don't these respected figures who are engaged in arranging musical concerts alike activities concerned of those orphans who have lost their guardian? If each of us took our responsibility, it would be far off our imaginations to hear any mother complaining of the unmet needs of her children before her dead husband. We are not flowing with the ecstasy and exuberance of our existence in the current era; such coldness will help dragging our community as a whole towards downfall.
History has demonstrated that the most notable winners usually encountered heart-breaking obstacles before they triumphed. They won because they refused to be indifferent of the sufferings of their brothers in pain.
While being in grave jeopardy, it's long enough to have spent our money on such useless concerts when more families fear their father back home in the evening.
It's long enough to understand that more appalling than bigotry and hatred are those who either sit still or earn money by eluding the youth, dramatizing the fact that such events do not represent the lack of sympathy with the aggrieved families.
It's too long that the Shia Hazara community is living under the sweltering heat of continuous pressure. People who share a common suffering and sense of community shall be more than responsible in helping each other to overcome the pains because after all we are all traveling on the thrust of one another.