Imran Khan, Playboy or Jihadi? – by Ahsan Abbas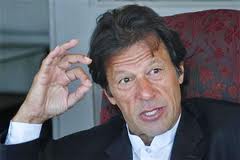 I have no idea how much the newly launched "Dunya" Newspaper has offered to the Leftist Nazir Naji, Pessimist Hassan Nisar and "Dervaish" Haroon Rasheed to detach from the Jang Group and join them. However, hopefully the new entry would be able to isolate a number of readers from Jang.
In his column of September 8, Mr Naji has exposed the "Playboy" going back to his "Original" style in his 400 Kanal House where he was found swimming with an English lady. A visitor Mr Malik was described to be the witness who came to the swimming pool directed by a domestic servant.
In reply to Naji, Mr Haroon Rasheed in his Column (9 September) has defended the "Kaptaan" just like a loving Mum defends her naughty Son. Or a most loving Daddy like "My Lord" covers up the Corruptions of his son and goes beyond limits for it. According to Mr Dervaish, the English lady was the wife of Imran's friend and he called her home for the purpose of "Interior Decoration"
"When Malik went to the Swimming Pool, the lady was alone and Khan was saying his prayers at verge of Swimming Pool"  says Mr Haroon
OK Mr Haroon . I can believe what you say that the "Gori" was not brought there for any Sinful or illegal activity and just for the said purpose, could I most respectfully ask you some questions?
Just few days ago in a programme with Hamid Mir at Geo, Kaptaan was claiming "As soon as I become the Prime Minister, Bulldozers would be ready and they would smash every luxurious Governor House".
Well Mr Khan!
You are employing  an English lady for the decoration of your 400 Kanal House, does it match any way with what you say in your interviews?
Could not you find a single Interior Decorator (Man or Woman) in a country having the best skilled workers in the world?
Even with a best Scientific Microscope, I could not find any reflection of your speeches about "Self Reliance" and "National Pride" in your personal actions.
It is exactly similar to the situation that you could not find a single spouse in 180 Million Pakistanis and married a Zionist lady, the daughter of Sir Gold Smith (the title "Sir" being given for his esteemed financial support to Israel)
Khan announces to be representing "Pashtoon" Culture. OK, but Roaming with a wife divorced on the allegations of Sexual Corruption, does it match any way the Pashtoon Culture? It is miles away from the Ego of a true Pathan, I believe.
You run Tehreek e Insaaf and on the same hand, stand shoulder to shoulder with Mr Iftikhar Chaudhry, the most Corrupt and Nepotist Judge ever in the history of Pakistan.
Mr Haroon further compares Khan with Emperor Jehangir, General Jilani (Zia's Governor) and Turk Leaders (Who claim to Champonize Islam but are sitting with America and Israel to destroy the Islamic Countries, most recently Syria). I fully agree Sir, at least to this comparison.
I believe the IK was a Play Boy and still he is. This face of him is much more acceptable to me as compared to being a "Jihadi" and Patronising Taliban. But the problem is that his "Father" Mr Hameed Gul is still practically heading the Right Wing of Military Establishment and they created "Kaptaan" to support the Taliban, which they consider as "Our Strategic Assets"
So Khan is between the two extremes now
He calls Abrar ul Haq in his processions to attract moderate voter and  says his prayers "In Camera" to prove he is an "Islamist" as well
Sends Flowers for Bait Ullah Mehsood, the most merciless Taliban Butcher and also sheds tears on Shia Killings
Condemns prevailing Terrorism but opposes Waziristan Operation just like he opposed Swat Operation
Supports Difa-e-Pakistan Council DPC and extends hand to Majlis-e-Wahadat ul Muslimeen (MWM)  as well.
The situation had turned into a "Drama" when after having a meeting and joint Press Conference with MWM, Khan declared that MWM had a "Merger" with PTI. Where as MWM very strictly negated any such news and declared it even beyond thinking.
Would this "Dual Play" be able to draw votes from sentimental Teenagers who are shown Sweet Dreams of  "Self Reliance", "Simplicity", "Ego", "Change" and a "Revolution" going to come in 90 days after election of IK as the PM?
The coming elections (if they happen at all) would decide it.
Comments
comments