Takfiri Deobandis are the biggest threat to Pakistan and Islam – by Zaid Hamid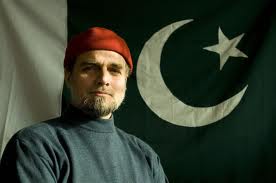 Related post: Thank you, Allama Dr Tahir-ul-Qadri, for bold fatwa against Takfiri suicide bombers
Editor's note: Adapted and edited by LUBP for clarity and coherence. Indeed, we continue to respect moderate Deobandis who must not be confused with Takfiri Deobandi terrorists. The article does not exactly match with the original version published on ZH's facebook page.
Read this post slowly and carefully. No one will dare to tell you this in Pakistan.
The biggest threat to Pakistan now is from Takfiri Khawarij (Kharijites) and their deviant murderous ideology. Indeed Khawarij are a great fitnah which our nation does not realize.
Although the dominant majority of Takfiri Khaarijites in Pakistan is of Deobandi sub-sect (Taliban, Lashkar-e-Jhangvi, Sipah-e-Sahaba etc), understand this that Khawarij is NOT a sect. They are infiltrators in Islam and Muslim sects. It is a mentality of anarchy and chaos. They are Takfiris (mostly radicalized Salafis and Deobandis) who call Muslims as Kafirs and apply the verses of Quran on Muslims which have come for non-Muslims.
They would call Muslim leaders as Kafirs, Muslim state as Kafir, and Muslim sects particularly Sufis and Shias as Kafir.
They would be extremely religious with long beards and praying all night and fasting all day but they would be the "dogs of hell".
In Muslims history, Khawarij Takfiris have come from various sects in various times at various places. Sectarian differences and religious disagreements are present all over the Muslim world in entire history but they cannot be called Khawarij until they wage a war on the entire Muslim ummah and start to kill and slaughter the Muslims due to religious differences. Sects or munazra type sectarian groups can be deviant, sinful, confused, but to call them Khawarij, certain very strict conditions have to be met. This is critical to understand.
In the past, Khawarij killed Hazrat Ali (RA); demolished shrine of Hazrat Fatimah (RA). Today men like Ayman al Zawahiri, Ahmad Ludhianvi, Rafi Usmani, and Hakeem ullah Mehsud are doing the same.
Today, they are the TTP, LeJ, ASWJ, DPC in Pakistan.
They call Quaid e Azam as Kafir, Allama Iqbal as Kafir, Pakistan as Kafiristan and are on a mission to destroy or take over Pakistan and slaughter fellow Muslims and fellwo Pakistanis. Khawarij are the most dangerous weapon in the hands of enemies of Pakistan and Islam.
But who are the TTP, LeJ, ASWJ, DPC etc and from where they have emerged? This is critical to understand.
Within the Muslims, there are many sects. Shias and Sunnis are two large ones but there are many sub sects within them also. For example in Pakistan, we have Asna Ashari Shias, Ismaili Shias, Ahl Hadees sect, Deobandis, Barelvis, Sufis etc.
Within Sunnis, Pir Jamaat Ali Shah, ameer e millat was a Faqeeh of Ahl sunnat wal Jamaat and the entire Muslim nation followed him to support Quaid e Azam. Raja sahib Mehmood abad and many top Muslim league leaders were Shias and supported the Pakistan movement also. Muslim league was formed by Sir Agha Khan, who was an Ismaili Shia.
We do not approve of sectarian divides within Muslims but mentioning this just to explain our point. Of course, we respect all sects of Islam including Sunni and Shia and treat them as equal Muslims and equal Pakistanis.
When Pakistan was created all Muslims from all sects supported Pakistan strongly except a political party Jamiat e Ulama e Hind from Deobandi school. Deobandis are more inclined towards Salafi-Wahhabi ideology. They decided to side with the Congress and were thus called as Congressi Muslims in history. These are historical facts and cannot be denied. Till this day, despite the slaughter of thousands of Muslims in Kashmir, Gujarat etc, the Congressi Mullahs of Deoband India still support Congress. Allama Iqbal had fiercely attacked the deobandi leader Maulvi Hussain Ahmed Madni and taunted him harshly that they are following the path of "Abu Lahab". Again, this entire episode is part of Kalam e Iqbal and cannot be denied. Quaid-e-Azam Muhammad Ali Jinnah said that Congress's Deobandi leader Abul Kalam Azad was only a show boy (a token) with little interest in Muslims well being. Manzoor Numani, a Deobandi scholar is the pioneer in Takfeer (apostatizing) of Shia and Sunni Barelvi in the Subcontinent; his hate literature was used by LeJ, ASWJ, Taliban to justify murder of Shia and Sunni Barelvi. Takfeeri Deobandis have helped Pakistan's enemies through these activities.
Within the Deobandi school, two groups were created. One tiny group was pro-Pakistan and supported Quaid e Azam. Other, majority group, which held the Deoband Darul Uloom, was anti-Pakistan and remain at war with Muslims to this day. However, despite their support to Quaid-e-Azam, Maulana Ashraf Ali Thanvi and Maulana Shabbir Ahmed Usmani remained deeply anti-Sufi and anti-Shia. Allama shabbir Ahmed Usmani was the evil mind behind the Objectives Resolution and also claimed to see Rasul Allah (sm) in his dream and Rasul Allah (sm) called Quaid e Azam as his soldier; what a fraud!
All those Pakistani Muslims and especially from Deoband must ponder deep on these words of Allama Iqbal. Iqbal has said that "unknowingly, the Deoband are harming the Muslims and serving the British! The pro-Congress scholars of deoband should now accept their blunder and must do tauba and abandon their war against Pakistan. There is no greater Faqeer, darvesh and Mujaddid of the Millat than Allama Iqbal. Do NOT let prejudiuce of your sect come into your way. For 9o years, the Congressi Deoband Mullahs have been attacking Muslims and Islam. (Source)
Deobandi Ulama are never Pakistan's friends. Jamaat e Islami also opposed Pakistan in the beginning and was a part of massacres of Bengali people in 1971. Many Al Qaeda, TTP and LeJ Takfiri terrorists have been apprehended from houses of Jamaat-e-Islami office bearers.
These Takfiri mullahs of Deoband who came to Pakistan and even though they still live in Pakistan, they have never accepted Pakistan as a state for Muslims. They always speak against Pakistan's ideology, against Allama Iqbal, call Quaid e Azam as Kafir and have now been armed by Suadi-Salafi-Takfir financiers to wage war against Pakistan. They were here for the last 65 years but never had weapons, training camps and bases to start their war against Pakistan and Muslims. Now they have and thus we see this ruthless war against all Muslims – against all sects, against all Pakistanis and against Pak army.
Taliban, LeJ, ASWJ, SSP, Jundullah are anti-Pakistan deobandi-wahhabi Takfiri gangs waging a war against Muslims and are the Khawarij of today. Their brothers and friends are present in political parties of Pakistan (Jamaat Islami, Difa Pakistan Council, PTI etc), in government, in media and in many deobandi scholars of Pakistan (Rafi Usmani, Taqi Usmani, Ludhianvi etc). Their militant arm is TTP and LeJ but they also have many political, religious and government arms who silently spread venom and poison against Pakistan's ideology.
The Khawarij of today are threatening all Muslims who are opposed to suicide bombings and war against Pakistan. Majority of deobandis in Pakistan are NOT khawarij but are too afraid to speak against these takfiri Fasadis. A few moderate scholars from deoband who spoke against Takfiri Deobandis and suicide bombings have been assassinated by these Kharjis. Great scholars of Ahl-Sunnat and Barelvis, Ahl-Hadees and Shias who have spoken against TTP have also been killed. Maulan Hasan Jan (Deobandi), Sarfraz Naeemi (Sunni Barelvi), Saleem Qadri (Barelvi), Hasan Turabi (Shia) etc.
All sects in Pakistan have spoken passively and weakly against suicide bombings but no one dares to call Taliban, LeJ, ASWJ as Khawarij, except Dr. Tahir ul Qadri but then he had to leave the country for security reasons. It is the most serious responsibility of Pakistani Deoband Ulama to speak against Taliban, LeJ, ASWJ and call them Khawarij. In a religious environment divided between sects, it is important that the scholars who belong to the sect of the TTP must speak out loudest.
Pakistani Deoband ulama must also condemn the Congressi Mullahs of India of Jamiat Ulama-e-Hind JUH and ask them to do tauba for supporting Nehru-led Congress and opposing Pakistan, as Allama Iqbal had said clearly that they were following the path of Abu Lahab. Deobandi Ulama must issue a fatwa that anyone who is a part of Taliban, LeJ, ASWJ or supports them is an enemy of Islam and Pakistan.
Khawarij and Takfiris of LeJ-ASWJ-Taliban are the biggest threat to all Muslims of all sects. It is NOT a sectarian issue. It is an issue of a fitnah which have risen in Pakistan and incidentally this gang of killers belong to Deobandi school. In Libya, Syria and other places, these Khawarij are in the shape of Salafis also. So, again, we say, it is NOT a sectarian issue. It is a religious issue of a deviant dangerous Takfiri ideology which is attacking all Muslims today in Pakistan.
Ulama of Deoband have the most highest responsibility as TTP, LeJ, ASWJ and their likes in Pakistan belong to Deoband school of who have always opposed Pakistan. There are political terrorists in Pakistan also like PTI, DPC, JI etc but they are terrorists but NOT Khawarij. Rasul Allah (s.a.w.) had clearly given definition of Khawarij which only applies to TTP-LeJ-ASWJ today. The so called Al-Qaeda, LeJ-ASWJ and TTP are the same gangs of Khawarij. Understand this clearly and fight against them or be killed at their hands.
May Allah have mercy upon our souls and protect us from the Fitnah of Khawarij. May Allah protect Pakistan and all Pakistanis from their sharr. May Allah guide Pakistan army to fight with Jihadi-sectarian Takfiris with full courage and integrity. Amen.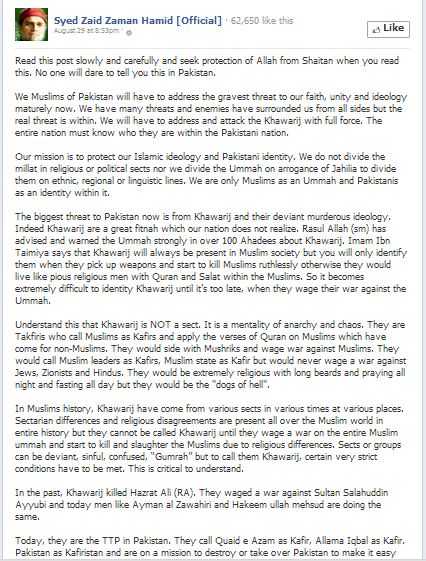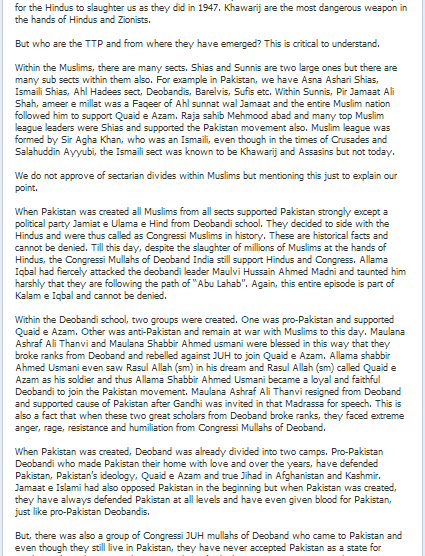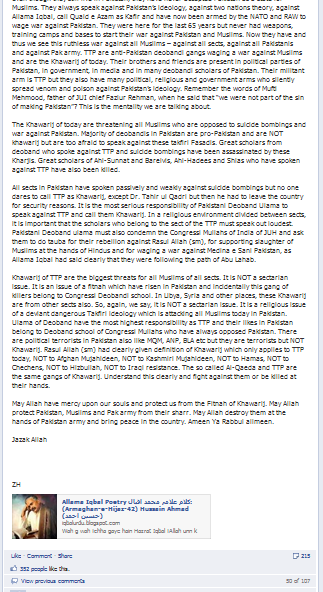 Source: Syed Zaid Zaman Hamid [Official] Facebook page: https://www.facebook.com/syedzaidzamanhamid/posts/181082908693460
———
Speeches by Dr. Tahir-ul-Qadri on Takfiri Khariji Terrorists
Hadith about Takfiri Khawarij- Shaykh-ul-Islam Dr Muhammad Tahir-ul-Qadri
Dr.Tahir ul Qadri Fatwa – Terrorists Suicide Bombers are Khawarij
Dr Qadri warns Pakistan, USA, Saudi Arabia to stop funding and supporting Salafist-Deobandi Takfiris
CNN AMANPOUR FATWA (HQ) by TAHIR UL QADRI against Terrorism and Suicide Bombings
Traits of the Khawarij and their followers
Why Hanif Qureshi and other Takfiri Molvies are against Dr. Tahir ul Qadri?
======
Allama Iqbal rejects Deobandi mullahs of Darul Uloom Deoband including Hussain Ahmed Madani and Abdul Kalam Azad who opposed Pakistan, Quaid-e-Azam and ordinary Sunni and Shia Muslims.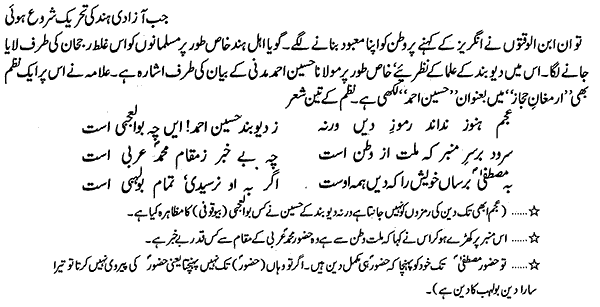 Comments
comments