Baloch nationalists and Takfiri Deobandis jointly mourn the death of a Baloch LeJ-ASWJ terrorist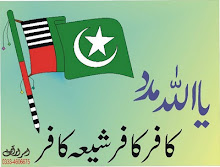 We condemn the expression of support by some Baloch nationalists to Baloch LeJ-ASWJ terrorists. The evidence of links between Baloch nationalists and Baloch LeJ-ASWJ terrorists is very disturbing.
Overlapping membership of BRP and LeJ-ASWJ
The very fact that a leader/activist of the Baloch Republican Party (BRP) Sanaullah Siddiqi Baloch was also an office bearer of a Takfiri Deobandi outfit (LeJ-ASWJ) is very worrying. BRP claims to be a Baloch nationalist party, formed after Brahamdagh Bugti broke away from the Jamhoori Watan Party, originally formed by his grandfather Akbar Bugti. We are worried that other similar cases of overlapping membership between Takfiri Deobandis and Baloch national parties may remain unknown to us. Recently three journalists Amir Mateen, Shahzada Zulfiqar and Fahd Hussain have highlighted the Baloch dimension of the LeJ-ASWJ operations in Balochistan. The current evidence, along with other previous examples, is discomfiting.
According to some Baloch nationalists on Twitter, the Baloch ASWJ-LeJ terrorist Sanaullah killed in Khuzdar (3 Sep 2012) is a brother of BRP Khuzdar organizer Naseer Baloch. Others stated he is a BRP activist. The same person was mourned by ASWJ-LeJ terrorists on Twitter and facebook as one of their leader. ASWJ-LeJ terrorists have pledged to kill forty more Shias in revenge of Sanullah Siddiqi's murder.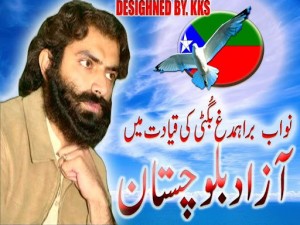 According to some Baloch nationalists (see Tweets below), the Baloch LeJ-ASWJ terrorist in Khuzdar was killed by the ISI. If that is true, we hope the trend continues. Enough of Shia genocide by ASWJ-LeJ terrorists; 19000 Shia dead bodies, the number is much more high than any other community target killed in Pakistan due to its faith or ethnicity!
We can't expect fairness, humanity from those who condemn a Baloch LeJ terrorist's death but celebrate or remain conveniently silent on murder of innocent Saraiki/Punjabi Settlers and Pashtun labourers.
Not long ago, Baloch nationalists expressed support for Abdul Malik Regi, the Iranian version of Malik Ishaq, a Takfiri anti-Shia group.
In recent past, Khan of Kalat was alleged to have a meeting with Jundullah terrorists in a European country. Now he offers condolences on "Hazara killings", giving ethnic colour to Shia genocide!
Baloch nation is secular but some Baloch nationalists surely are an insult to secularism. They remain deeply anti-Shia despite their token comments or tweets in support of secularism and tolerance. They hide in the guise of secularism but continue to glorify Baloch LeJ terrorists killing Shias in Balochistan. Some of them have been noted to misrepresent Pakistan-wide Shia genocide as a Hazara specific ethnic issue.
Many Baloch nationalist were mourning the killing of a LEJ/ASWJ terrorist in Khuzdar yesterday. Run with the hare, hunt with the hounds. Very sad.
It is worrying to see Senator Sana Baloch's name in the following pro-LeJ thread. We hope that he will dissociate from Baloch LeJ terrorists who have killed 1000 Shias in Balochistan alone.
There are some indications that Both Jundullah and LeJ are ISI-sponsored. Therefore, Baloch nationalists' support to Jundullah-LeJ thugs is more worrying.
Baloch nationalists must pause and reflect on the Takfiri Deobandi-Salafi mindset that is there within their own ranks particularly in the Brahvi-Baloch section of their community.
ASWJ-LeJ elements have infiltrated Baloch nationalists, thanks to agencies; Baloch must be very careful, just like Takfiri damaged the legitimate cause of Kashmiri, they also have potential to damage the Baloch cause.
Baloch nationalists should have pity on the Shia of Balochistan. 1000 Shia in a very small community already killed!
We demand an unconditional apology from the Baloch nationalists on their support to Baloch LeJ-Jundullah terrorists and also on remaining silent on or endorsing the murder of innocent non-Baloch settlers, travellers and labourers.
If they remain in denial or refuse to apologize, at least they should stop promoting and justifying their cause in the name of human rights and secularism.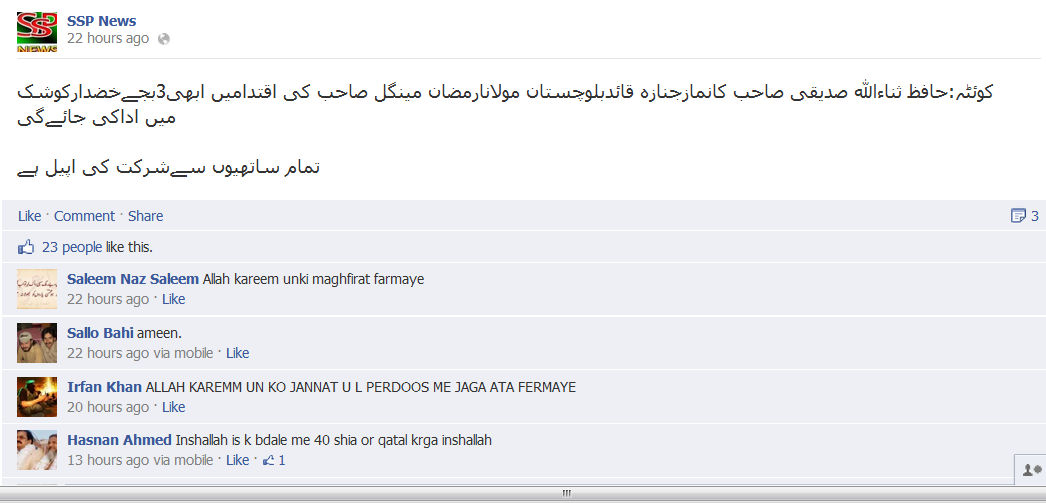 SSP News
22 hours ago

شہادت——سعادت

کوئٹہ: اھلسنت والجماعت ضلع خضدارکےسیکرٹری اطلاعات حافظ ثناءاللہ صدیقی کودہشت گردوں نےفائرنگ کرکےشہیدکردیا

کوئٹہ:حافظ ثناءاللہ صدیقی صاحب کانمازجنازہ قائدبلوچستان مولانارمضان مینگل صاحب کی اقتدامیں ابھی3بجےخضدارکوشک میں اداکی جائےگی

تمام ساتھیوں سےشرکت کی اپیل ہے

3Like · · Share
23 people like this.

Saleem Naz Saleem Allah kareem unki maghfirat farmaye
22 hours ago · Like

Sallo Bahi ameen.
22 hours ago via mobile · Like

Hasnan Ahmed Inshallah is k bdale me 40 shia or qatal krga inshallah
Source: https://www.facebook.com/sspnews1/posts/341457845941703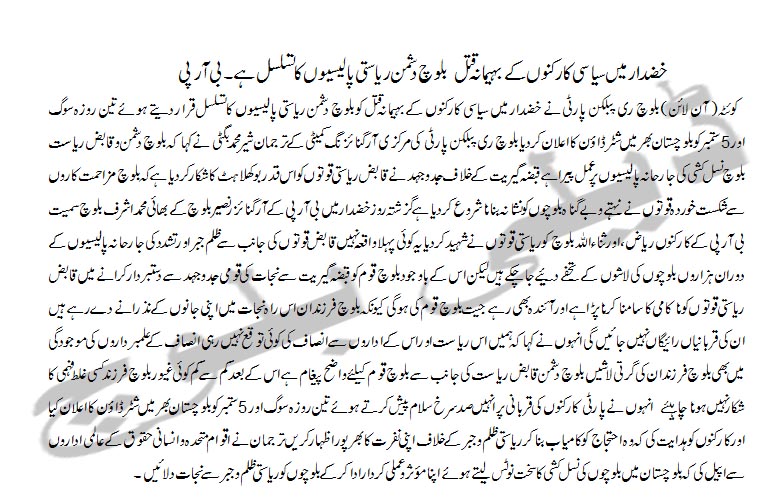 Source: http://dailybaloch.com/news%20folder/tafseel/news1.jpg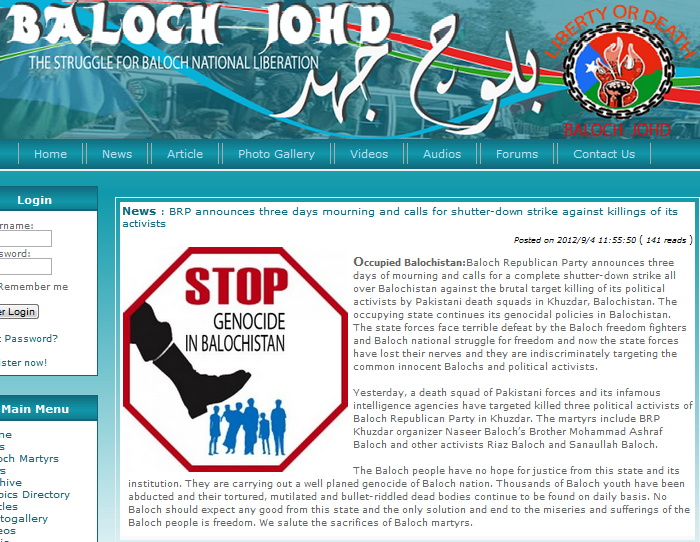 Source: http://www.balochjohd.com/modules/xnews/article.php?storyid=693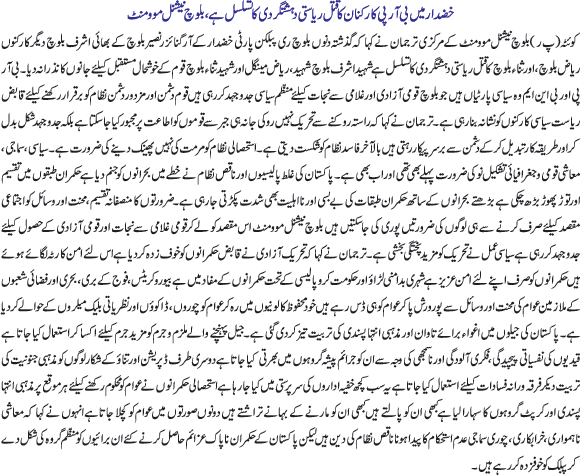 Source: Baloch Tawar http://tawar.hstraders.org/khabra_page/t12.htm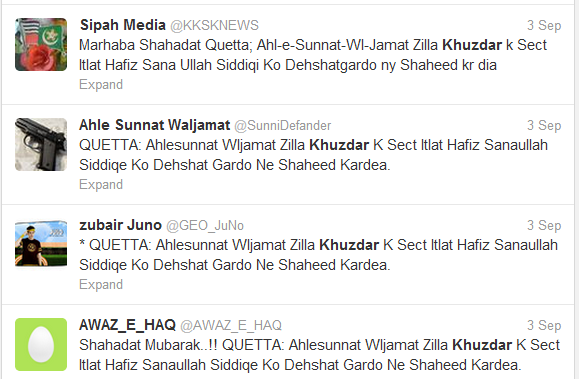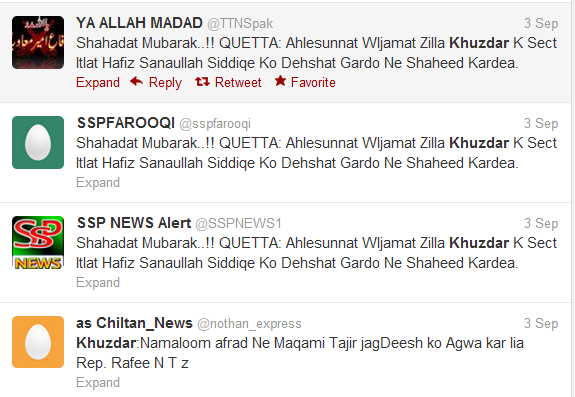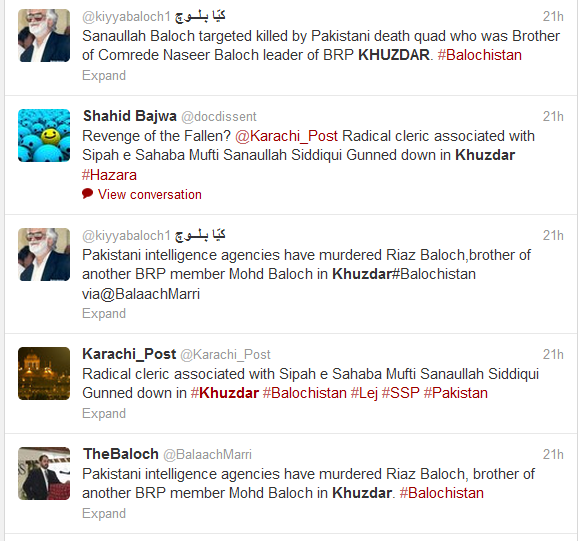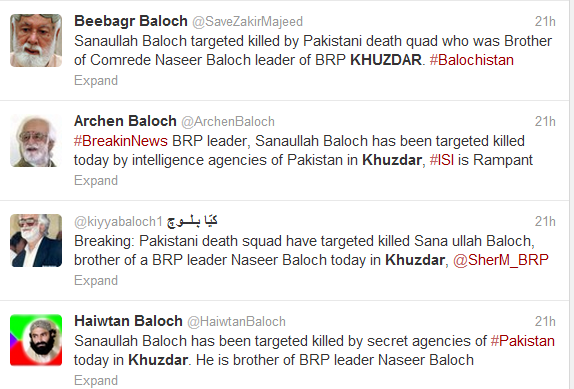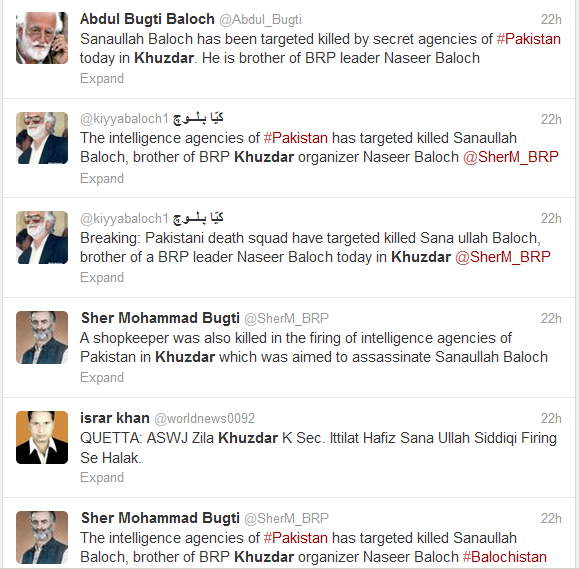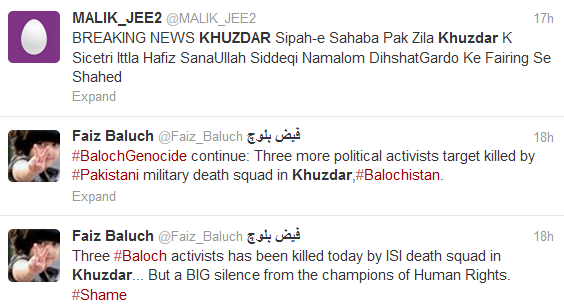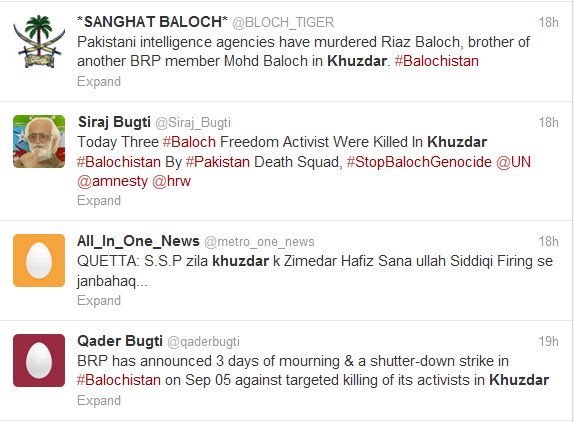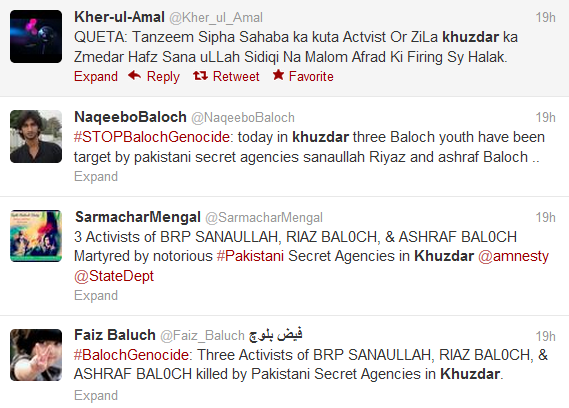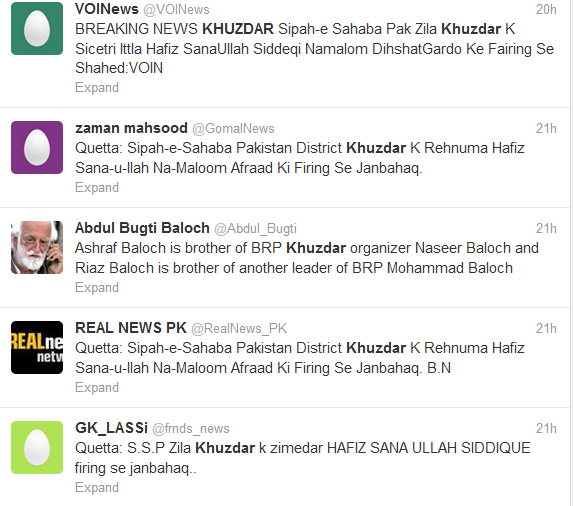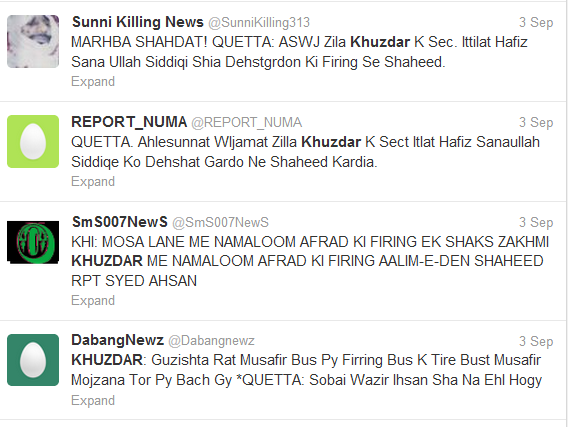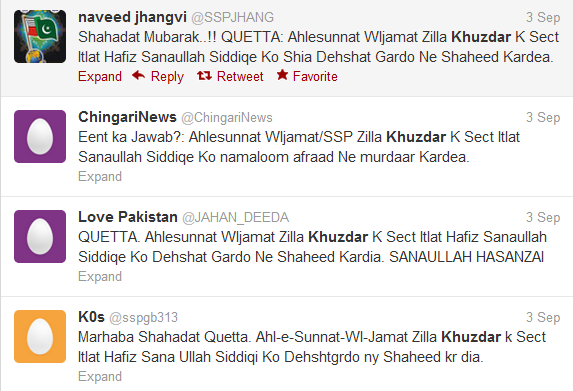 A viral video has made rounds online where a Quetta bus carrying Shia pilgrims was stopped by Takfiri Deobandis in Mastung (September 2011), and where all Shias (including Hazara and non-Hazara Shias) in the bus were rounded up and shot dead in cold blood. Upon closer inspection of that video, it turns out that the killers of those Shia pilgrims were not speaking Pashtu or Punjabi – as the common stereotype about LeJ-Taliban is – but Brahvi mixed with some Balochi. Brahvi speaking people are an integral part of the Baloch nation.
http://youtu.be/9Irg8bsIhMA
In recent times the Baloch city of Mastung – an traditional stronghold of Baloch politics – has become a hotbead of anti-Shia killings and many deadly acts of terror have been carried out against Shias in and around Mastung where the local language is both Brahvi and Balochi. It seems that the Deep State has now successfully infiltrated the secular Baloch movement while some Baloch activists remain either in denial or silence over these atrocities.
Comments
comments