Persecuted by the persecuted: HRCP's report on Balochistan's Settler community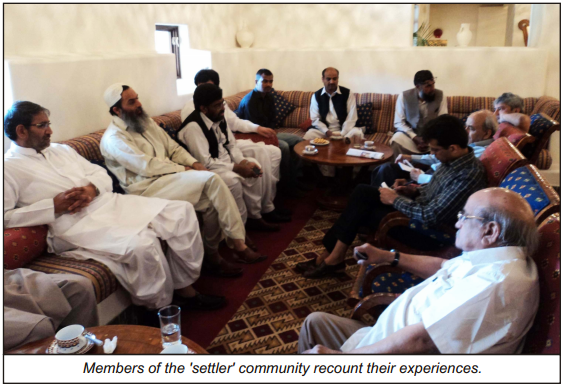 Related report: HRW Report 2010: Balochistan Militants Killing Teachers
Based on The Human Rights Commission of Pakistan's (HRCP) 2012 Report on Balochistan
An HRCP mission had visited the province from May 15 to 19 in order to assess the situation of human rights in the province. The full report is available online at: http://www.hrcp-web.org/pdf/Balochistan%20Report%202012.pdf.
The team held meetings in Quetta, Mastung and Pishin. HRCP Core Group coordinators in districts Bolan, Chaghi, Gwadar, Harnai, Jafarabad, Jhal Magsi, Kalat, Lasbela, Mastung, Naseerabad, Nushki, Panjgur, Pasni, Pishin, Qilla Abdullah, Qilla Saifullah, Sibbi, Turbat, Zhob and Ziarat travelled to Quetta and briefed the fact-finding team on the prevailing situation in their respective areas. Chairperson Zohra Yusuf led the five-day (May 15-19) fact-finding team that also comprised HRCP provincial vice-chairpersons Tahir Hussain Khan (Balochistan), Sher Muhammad Khan (Khyber Pakhtunkhwa) and Amarnath Motumal (Sindh), HRCP Executive Council members Asma Jahangir, Zahoor Ahmed Shahwani and Habib Tahir, journalists Arifa Noor and Amir Mateen, novelist Muhammad Hanif and academic Prof. Azizuddin Ahmed. HRCP Secretary General I.A. Rehman, Hussain Naqi and Najam U Din from HRCP Secretariat and HRCP Quetta office coordinator Farid Ahmed were also part of the fact-finding mission.
There are excesses by the Baloch insurgents against 'settlers', essentially members of all ethnic groups other than Baloch, and those considered to be pro-federation, including teachers at schools in Baloch-majority areas who are threatened and targeted if the national anthem is played in the morning assembly or the national flag is flown. The so-called settlers, ethnic Punjabis, Sindhis and Urdu-speaking, who have lived in Balochistan for generations, and some for centuries, have been hounded out of Baloch-majority areas by threats and violence by insurgents and at times also by opportunistic property mafia keen to capture land and buildings of the settlers and the more intimidated the settlers the more likely they were to accept any price for their property as they seek shelter elsewhere. The general law and order has also plummeted across the province.
The settlers' complaints
The arbitrary classification of victims and perpetrators on the basis of ethnic identity had made families and whole communities living in Balochistan for generations and centuries 'settlers' who were considered fair game for harassment and murder. The problems of Punjabi, Sindhi or Urdu speaking settlers among others were often overshadowed by the overall conflict in the province. The so-called settler communities had shrunk mainly to Quetta and Pakhtun-majority areas of Balochistan "We had never considered ourselves any less than others who called Balochistan home. But now there is a label for us," said a businessman when the fact-finding team met representatives of the so-called settler communities in Quetta.
They shared the following thoughts with HRCP:
The difficulties for settlers in Quetta were different from their problems outside the city. Many settlers had businesses in Balochistan, which had suffered because of threats to them and also because technical people no longer wanted to come to the province from Karachi and Lahore. "I can no longer oversee construction standing on the road," said a contractor. Some skills that had traditionally been with the settlers were sorely missed. Carpenters had become hard to find.
The situation was far from ideal even earlier but there had never been such a steep deterioration. Problems had started aggravating fast after Akbar Bugti's murder. If there was peace, neither settlers nor anyone else would go anywhere because there would be no need to. Earlier, the worst threat was murder now there was kidnapping for ransom as well. No one could have round the clock water-tight security everywhere.
The main political parties had not reacted to the killing of settlers, with the exception of Pakhtunkhwa Milli Awami Party, which had held rallies to condemn violence against settlers. But since they were an opposition party and had boycotted elections, their voice was not duly resounding in corridors of power.
News about violence against settlers was covered by the media in Quetta but not outside the province.
Balochistan was known for its liberal tradition. There could be law and order issues anywhere but Quetta had always been very peaceful. There had been various causes of the deterioration of the situation. One could be financial and another could be interests of other countries in the province.
The settlers had suffered double persecution. They were denied jobs in Balochistan where quotas dominated and also suffered from infrastructural deficiencies in the same manner as other residents of the province. The first right was of the locals and then of the domicile holders in education/admissions. The quota was introduced in 1950 for 10 years but had remained in force to this day. Back then the quota system was justified by saying that the settlers were better educated. That was no longer the case. Efforts had been made to correct this wrong but nothing had happened. When the so-called Punjabi settlers went to Punjab they were told that they were not domiciled in Punjab and could not compete on open merit. The settlers had little hope from the elections and believed that the same people would be re-elected and would rule in the same manner.
There were so many problems in Balochistan that one did not understand what was going on. If something happened across the border target killings started in Quetta. A new problem was the target killing of Deobandi religious scholars. Around a dozen had been killed in a year and a half.
If the executive and the subordinate judiciary were not corrupt the free flow of weapons could be stopped within 24 hours. Weapons came from Chaman. Everyone knew. All check-posts along the route had their fixed rates. No government had shown the required commitment to develop Balochistan. There could be no investment, industry or employment without law and order.
Even settlers who had married into ethnic Baloch families have been killed. There are people whose families had settled in Balochistan in the 1920s from parts of India such as Uttar Pradesh. They kept no link with their roots. We have rendered services for Balochistan. Settlers have not an iota of investment in Sindh or Punjab, nor any services there. From some schools in Quetta around 2,000 settler children have left. From interior Balochistan all settlers have left. Only those who cannot go anywhere else and say they have roots here and nowhere else have not moved away. Doctors, lawyers, teachers, businessmen, PHDs have left. Even well-to-do Baloch have left for Lahore, and other cities. If the children of Baloch and Pakhtun moneyed people cannot study here you can well imagine what the situation would be for the settlers. Even three-year olds are asked which Pakhtun or Baloch tribe they belong to. Many ethnic Baloch still bear no ill-will towards settlers, who share with the local people all occasions happy or sad. But we have never seen such discrimination before. The environment of hatred developed in the 1980s and after the Soviet-Afghan war. It became more widespread in 2000 and things aggravated fast after Nawab Bugti's killing. We have talked to political parties who cite the overall situation in the province and the country. Only PkMAP has raised this issue. If the government has the will there are ways. There has been no effort or practical steps from the government to help improve the situation. When settlers are murdered, cases are registered but no one has been arrested. – Asettler
Excesses reported
Nushki
The district coordination officer's father had been kidnapped for ransom.
Eight families of Hindus from Nushki had migrated to India and another six were selling their property.
Taliban's influence was growing. There had been rapid Talibanisation of both Baloch and Pakhtun people.
There was a shortage of nurses, as settlers had gone away and there were not enough locals in this field.
Now pilgrims headed for Iran travelled with security escorts.
Wall-chalking everywhere had a single slogan: 'Shia kafir' (infidel).
Baloch Liberation Army had blocked roads and torched trucks
Loralai
Settlers had moved out. Hazaras, Hindus and Christians w
Harnai
Punjabi settlers were being killed
Insurgents had blown up electricity pylons. A team that went to repair the damage was attacked. One person, a settler, was killed and the rest abducted. They were later released under an agreement
Two years ago the pressure in Balochistan was on settlers, now it had ethnic, sectarian and religious overtones, focused on Shia Hazaras, Pakhtuns and Hindus.
Settlers had left many parts of Balochistan and Quetta on account of insecurity after Nawab Akbar Bugti's killing by the military. The land mafia had also tried to make money out of the misfortune of the settlers who had faced threats and intimidation from insurgents.
The Hindu community had migrated from Dera Bugti and Khuzdar in large numbers. Their migration was prompted by kidnappings for ransom. A leading Hindu religious leader had been abducted in Kalat. Hindus were a trading community and departure of many Hindu families from Nushki for India and other countries had led to the collapse of the local business. Pakhtun traders had left Panjgur and Turbat for Quetta and Chaman.
Ethnic Punjabis, Seraikis and Sindhis who had come to Turbat, Panjgur and Makran as labourers had left. Hazaras were going abroad in any manner that they could. Parsi MPA Faridoon Abadaan remained missing after being abducted a decade earlier. Initially, his captors had demanded ransom for his release. Abadaan's wife was abducted last year and released after payment of 30 million rupees some nine months later. 50 Parsi families who used to live at Jinnah Road in Quetta had all left Pakistan.
The chief secretary said that the problems were also compounded by constraints such as the inability of the administration to post Hazaras, settlers or members of religious minority communities in areas where their lives would be at risk because of their ethnic or religious identity. There were gaps in the education staff that could not be filled due to similar reasons.
There were complaints of the state's inability or unwillingness to protect the lives of religious minorities as well as members of some Muslim sects from sectarian killings. Killings and harassment of the settler population by the insurgents had led to the settlers shifting to Pakhtun-majority areas or to leave the province altogether. Target
killings and crime on the basis of religious and ethnic identity of the victims had grown. The continued persecution of Shia Hazaras was as ruthless as it was unprecedented. The people the mission met said that if the authorities had the commitment to stop the killings or punish those responsible the killings could not
have expanded in the manner that they had. Questions were raised about absence of ability or willingness on part of the government to protect the people from faith-based violence as well as its lack of priorities. Heightened threats including kidnappings for ransom had forced Hazaras, non-Muslims, settlers and wealthy people to migrate to
other parts of the country and even abroad.
Talibanisation was growing in several areas. Unlike the past, religious fanaticism was not merely being exported to the province from elsewhere. It was now being bred in Balochistan. A growing network of madrassas had contributed to aggravation of inter-sect tensions. There were fears that the security forces were patronizing militants and Quetta was being turned into a haven for militants. There were said to be militants' training camps in the province.
Aspiring irregular migrants from or passing through Balochistan took great risks in their quest for a brighter future and the human smugglers were only too happy to exploit them. Little was being done to address the reasons that forced people to migrate.
Unlike the past, the insurgents had systematically targeted infrastructure and development work.
Nothing says more about a state than the way it treats its minorities. The record is particularly damning in Balochistan. A holistic view of the difficulties and concerns of all people in Balochistan, including the Baloch, Pakhtuns, Hazaras, settlers and non-Muslims, must be taken in the ongoing strife. The most fundamental of all rights, the right to life, should be given the sanctity it deserves and all efforts of the state should be focused on securing that right. Those taking away that right should be pursued with the diligence that reflects a conscientious society's respect for life. The alarm expected of a responsible state at the migration of a considerable number of its citizens due to safety concerns should not remain absent in the case of Balochistan.
Excesses against Shia Hazaras are a test case of the state's resolve to protect its citizens. So far the state has failed this test miserably. Bringing the killers to justice at the earliest is the only way to reassure the Hazaras and to belatedly salvage the reputation of the law enforcement and security agencies and of the government itself. People wonder how state agencies are easily able to pick up nationalists they suspect of terrorism, but fail to check the Lashkar-e-Jhangvi. Many sectarian and ethnic killings appear to be aimed at instigating wider violence and conflict. Instead of being a passive spectator the government should take note of that and formulate a strategy in consultation with the communities concerned.
The powers of decision-making and governance must be restored to civil political authorities in the province. The provincial government needs to assert its authority and act in the interest of the people. The provincial government must meet its obligation of ensuring law and order and respect for all the rights of all the people. It should not remain a spectator as people are killed because of their religious beliefs or ethnic identity. The government must ensure protection of all teaching staff and see to it that educational institutions function in a peaceful manner. The rights of all the people, including the so-called settlers, must be protected and violators brought to justice.
Comments
comments