Baloch Jundullah-LeJ terrorists kill Shia judge, guard, driver in Quetta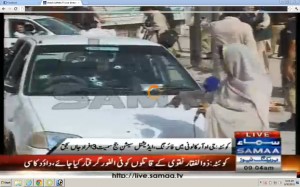 Radicalized Deobandi-Wahhabi militants of Lashkar-e-Jhangvi Balochistan (also operating as Jundullah and Sipah-e-Sahaba) shot dead a Shiite judge, his bodyguard and driver in a yet another anti-Shia attack in Quetta city of southwest Pakistan today (30 August 2012).
Only four days ago on 26 August, 5 Shia Muslims were killed in the same city by the Jundullah-LeJ terrorists.
The Jundullah-LeJ terrorists represent radicalized Deobandi-Wahhabi fringe of Sunni Islam. They are responsible for attacks on both Shia and moderate Sunni Muslims.
The Jundullah-LeJ terrorists in Quetta are 100 per cent Baloch and are allegedly sponsored by Pakistan army. They find convenient shelters in Baloch population areas and there are instances in which secular Baloch parties have expressed support for Jundullah.
Zulfiqar Naqvi, a sessions judge, was attacked today as he came out of his home in Quetta. The slain judge was a Shia Muslim.
The judge was heading to work when the gunmen, waiting outside his home at Saryab Road, fired indiscriminately.
"Gunmen were waiting for him at a railway crossing, the moment the car slowed down, the assailants sprayed bullets and fled," senior police officer Wazir Khan Nasir told AFP.
The bodies were shifted to Civil Hospital while police has started investigation.
Saryab Road is a Baloch dominated area with small number of Pashtun and others in and around Saryab.
Saryab Road has become a death-spot for Shia Muslims of all ethnic backgrounds.
The attackers, who were riding a motorcycle, fled after the shooting.
Banned extremist Deoband group the Lashkar-e-Jhanvi (also operating as Jundullah and Sipah-e-Sahaba) is usually blamed for such attacks.
Quetta and other parts of Balochistan and Pakistan have witnessed a series of anti-Shia attacks over the past few years. At least 19000 Shias have died in these incidents in what is described as a slow motion Shia genocide.
According to an estimate, 7,000 to 10,000 Shias have been killed across Pakistan since the PPP current government came into the power after the Pakistan General Election 2008.
There is an increasing resentment against PPP leadership (President Zardari, Interior Minister Rehman Malik etc) in Pakistan's Shia Muslims. Only yesterday (29 August 2012), a crowd of Shia Muslims on Skardu airport chanted slogans against the PPP government and Rehman Malik. Skardu Airport reverberated with: "Down with Shaitan Malik"
The Balochistan Bar Association condemned the killing of Naqvi and announced lawyers would boycott court proceedings across the province.
The Tahafuz-e-Azadari Council, a leading Shia group, called for three days of mourning and appealed to the Chief Justice of Pakistan to take suo moto notice of the targeted killing.
For a detailed account of how this incident was misreported by foreign and Pakistani media, refer to this post: An example of how Pakistan's English press blindly follows foreign news agencies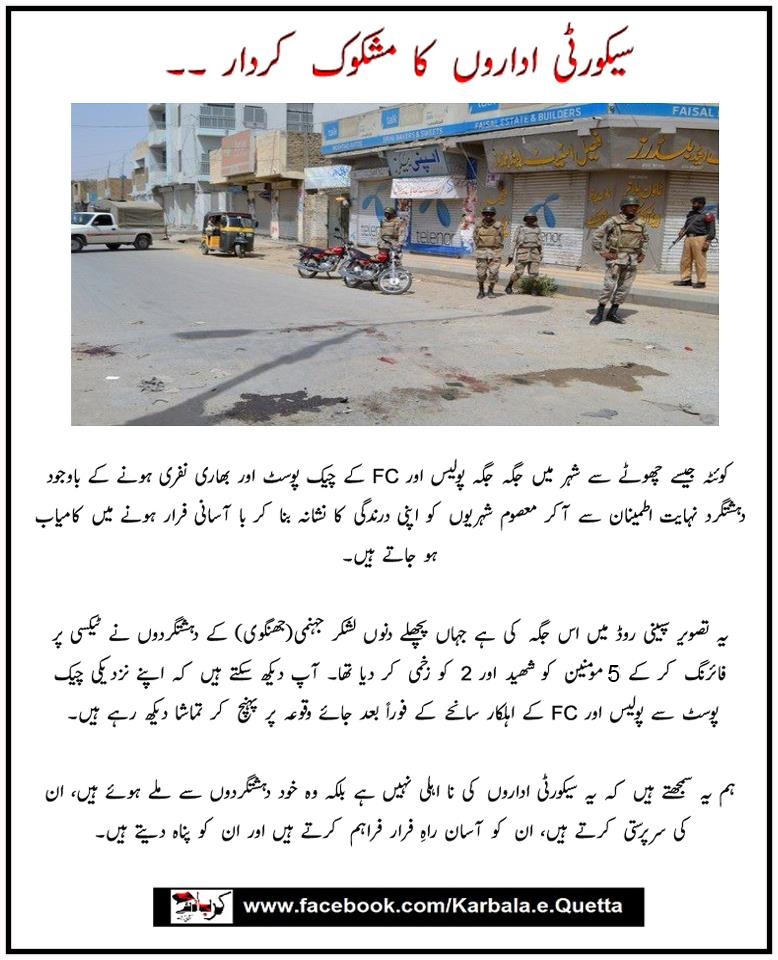 Comments
comments