Former PM Gillani: Pir Mehar Ali Shah's 'holy mission' to defeat Qadianis was completed by Bhutto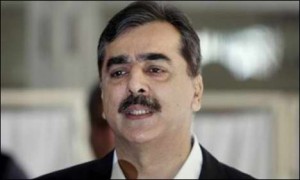 Pakistan's recently ousted premier Yousuf Raza Gilani reportedly addresses an anti-Ahmadi rally organized by a splinter faction of Khatima-e Nubuwwat movement, the infamous extremist hate group operating in various parts of Pakistan.
The conference, held in the town of Golra Shareef near Rawalpindi, was to commemorate the anti-Ahmadiyya activities of the group's now deceased religious leader, Pir Mehar Ali Shah, who during his life, launched several campaigns aimed at destroying and denouncing of the Ahmadiyya Muslim community and its leaders.
Mr. Gilani attended the Golra Shareef Khatim-e Nabuwat conference on behalf of Pakistan Peoples Party (PPP), it was reported.
Mr Gilani, according a news bulletin carried by the local Aaj TV channel, praised the anti-Ahmadi works of Pir Mehar Ali Shah and noted the actions of his own political party's founder Zulfiqar Ali Bhtto in this regard.
ZA Bhutto, who served as a prime minister of Pakistan during the seventies, enacted a constitutional amendment declaring Ahmadis as non-Muslims.
The 1974 amendment was passed with great fanfare celebrating a special cooperation between liberal and Mullah groups in Pakistan.
As a direct result of the anti-Ahmadiyya constructional amendment, the scholars say, the Ahmadis became a unique sub-group of 2nd class citizens in Pakistan.
Mr. Gilani said that Pir Mehar Ali Shah's 'holy mission to defeat Qadianis was completed by Bhutto Shaheed (martyr),' the TV channel reported.
Bhutto, now considered a martyr by the party loyalists, was sentenced to death after his conviction on charges of ordering the murder of a political rival during his premiership in the 70's.
'Qadiani' is a derogatory term used by extremist to describe Ahmadi Muslims because the community's 19th century founder, Mirza Ghulam Ahamd, hailed from Qadian, a small town in Punjab, India.
By now, leaders from all major political parties of Pakistan (PPP, PML-N, PTI) are on record for attending various anti-Ahmadi Khatima-Nubuwwat conferences and perpetuating anti-Ahmadi hate campaigns in Pakistan and abroad.
Courtesy: Al Ufaq
Comments
comments