A tale of two TV programmes that proved extra beneficial to CJ Iftikhar Chaudhry – by Ali Asad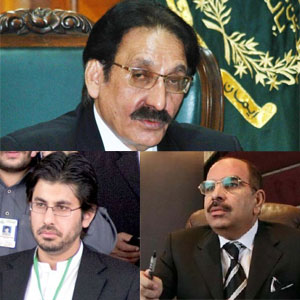 In the recent past, two TV programmes got attention of the whole country from Supreme Court to the media and from political parties to ex-generals aka civil society. Both of these programmes proved extra beneficial to The Chief Justice, and at the same time proved extremely detrimental to Malik Riaz Hussain, the main character of these programmes.
The first programme has been repeated. It had been telecast as ek Din Geo Ke Saath a long while ago. The guest was Malik Riaz along with his wife. The whole country was conveyed the message with the words of Malik's wife about his telling lies. It was the same day when the apex court had taken up the Arsalan-Malik case. Next day these words were on every one's tongue and Malik Riaz was the biggest liar in the world. The CJ got the credibility of the public.
A few days later Malik Riaz appeared before the apex court and submitted statement. The court did not allow him to speak. Malik addressed a press conference and produced some evidence in favour of his contentions on The Holy Quran. The next day he was dragged in the contempt of court.
A day later a programme was telecast live on DUNYA TV with Mehar Bokhari and Mubashir Luqman as hosts and Malik Riaz as guest. Again Malik Riaz told the gory story of blackmail by Arsalan Iftikhar. Mysteriously a video containing the gossip between Malik Riaz and the anchors appeared on the media the very next which proved disastrous to Malik Riaz. All channels played that video and CJ himself admonished PEMRA Chief.
The question that comes to my mind is; is the relation between the TWO programmes cited above? In both the cases CJ emerged a Hero and Malik Riaz emerged as a villain. How come such a finish?
It appears that both of the programmes achieved the target set by the perpetrators. There have been hundreds of Political talk shows and numerous TV interviews have been telecast, but none of the background gossips have ever been leaked. Why only this one? Also there was no such need to re-telecast Ek Din Geo Ke Saath. But this was done just to pass on the message that Malik's wife holds him as a LIAR. A thorough investigation in the matter may prove that both the programmes were directed by the same DIRECTOR.
Comments
comments