Missing Baloch vs Missing Tweeple: On NYT Pakistan bureau's priorities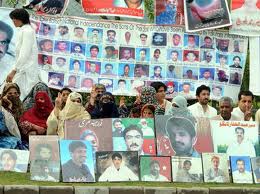 In Pakistan's alternative media and critical circles, increasingly there are concerns about elitist agendas and dubious discourses of foreign correspondents in the country.
One such example of crooked priorities is Declan Walsh who has an elaborate trail of dubious journalism and choice of topics when it comes to Pakistan. His recent piece in The New York Times is focused on an anonymous Twitter account (most probably owned by Walsh's own friends) while he continues to ignore issues which have not only much more information value but are also extremely important in terms of human rights, e.g., Babusar top massacre in which 25 innocent indviduals (22 Shias and 3 Sunnis) were massacred by ISI-sponsored LeJ-Taliban terrorists. Similarly, the ongoing attacks on anti-Taliban Pashtuns and moderate Deobandis by the Taliban or the recent discovery of four bullet-riddle dead bodies of the Baloch missing persons are not his priority.
Read Karrar Hussain's excellent take on Declan Walsh's choice of topics.
The case of other foreign correspondents e.g. Omar Waraich, Rezaul Hasan Laskar and other alleged members of the Najam Sethi /Sherry Rehman Club is not much different. Barring a one off tweet or a rare column in one or two years, foreign journalists in Pakistan remain as shallow and selective in their choice of topics as their counter-parts in the phony-liberal dominated Pakistan's English media.
For example, here is a recent news report which was TOTALLY ignored by all foreign correspondents working in Pakistan:
Four mutilated bullet-riddled dead bodies of Baloch missing persons
Four mutilated bullet-riddled dead bodies of Baloch missing persons were found from Sui and Mastung towns of Balochistan here on Monday (20 August 2012).
A mutilated body recovered from Mastung was identified as Babu Jatak who was abducted by Pakistani forces few days back.
Three other dead bodies were recovered near Sui were identified as Chillaw Bugti s/o Shah Zaman Bugti, Akhtar Bugti s/o Shera Bugti and Kamalo Bugti s/o Mir Hassan Bugti. All three men were abducted by Pakistani army from Dera Bugti in 2005. They remained in torture cells for seven years and their dead bodies were hardly recognisable as the bodies bore signs of brutal torture and their bones were broken.
Meanwhile the BRP spokesperson has said that on the same day a deadly military offensive was carried out by Pakistani forces in Ghari and several other areas of Naseerabad. The forces took away tractors, motorcycles, livestock and other valuables of the houses with them. The spokesperson further added that more than hundred people were abducted from different areas of Sui and Dera Bugti before and on August 14.
The BRP has urged the United Nations, European Union, International Community, Human Rights Organisations, International courts of justice and other civilised people to take notice of state atrocities, human rights violations and crimes against humanity committed by armed forces and intelligence agencies of Pakistan in Balochistan. (Source: Baloch Warna)
In the meanwhile, families of Baloch Missing Persons continue to protest against the illegal abduction of their loved ones. Of course, to no avail. CJP has long gone after his trademark eyewash proceedings on Pakistan army's excesses against the Baloch nation.
QUETTA: Families of missing persons held demonstrations on deserted roads on Eid day to protest against the non-recovery of their dear ones.

The rally was organised and led by Voice for Baloch Missing Persons (VBMP) Chairman Nasrullah Baloch. Sister of Zakir Majeed Baloch, sister of Mir Abdul Wadood Raisani, Baloch Republican Party (Women's Wing) President Huran Bibi and hundreds of others also tooK part in the protest.

Shouting slogans against state functionaries, the protesters, including women and children, carried portraits of their missing relatives. They were also carrying placards inscribed with slogans, 'Stop enforced disappearances' and 'Recover all missing persons'. They marched through different roads of the city and later dispersed peacefully outside the Quetta Press Club.

Addressing the protesters, Nasrullah said that they had been protesting the kidnappings of the Baloch by security forces, adding that the Supreme Court and the international community too seemed convinced that the Baloch missing persons were in the custody of security agencies.

Talking to reporters, VBMP Vice President Mama Qadir Baloch said that the sole purpose of rally was to draw the attention of the world community towards tragic state of the Baloch.

"How can we celebrate Eid when our sons and brothers are abducted, tortured and later their decomposed bodies are thrown away. There is no home left in Balochistan from where a person is not killed, tortured or abducted by security forces and intelligence agencies. There is mourning in every home in Balochistan and the pain of missing persons become more critical for families when people around them celebrate Eid or other festival and our loved ones are tortured in cells," he said. (Source: Daily Times)
Update: Mr. Omar Waraich has alerted me that @declanwalsh has written more extensively on the Baluch than any foreign correspondent, that he has been writing about the Baluch since 2006.
My response is as follows:
Ever heard of tokenism? One or two columns on the Balochs a few years ago, and the box is ticked?
Let's have quick look at NYT archive of articles written by Walsh: http://topics.nytimes.com/top/reference/timestopics/people/w/declan_walsh/index.html?offset=0&s=newest Not a single column on Baloch, scores on Taliban, US policy etc.
Incidentally but not surprisingly there is almost complete blackout on Shia Genocide too. In fact in only one column that Walsh published in NYT on Shia massacres (more than 19,000 have been killed so far!), he misrepresents State-sponsored Shia genocide as a Sunni-Shia sectarian and Hazara ethnicity specific issue. http://www.nytimes.com/2012/01/16/world/asia/shiite-muslims-target-of-bomb-blast-in-southern-pakistan.html?ref=declanwalsh. Can we forget and forgive that while foreign journos including you (Waraich) and he (Walsh) rushed to write on Taliban's attack on Kamra air base, the massacre of 25 Shias on the same day was completely blacked out by both of you and several others? And now this eulogy for a disappeared anonymous Tweeple. Priorities anyone?
Comments
comments