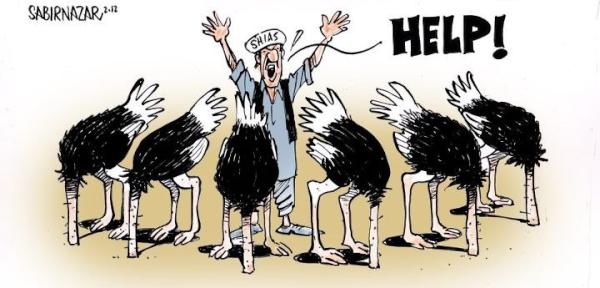 In last few months and years, numerous attacks on Pakistan's Shia Muslims have been carried out in various areas of Pakistan, from the Northern Areas (Gilgit-Baltistan) to Balochistan and from Karachi to Parachinar. Shias and other religious minority communities are concerned that those behind the violence – such as the banned Sunni-Deobandi militant organisation Lashkar-e-Jhangvi (currently operating as ASWJ) – are rarely caught or punished.
However, the overall response to Shia genocide in Pakistani media, including by foreign correspondents based in Islamabad, varies from downright blackout to misrepresentation of Shia genocide in ethnic or sectarian terms.
Here are some excerpts from Twitter and media about incidents of Shia genocide in Pakistan and the ambivalent state of concern and apathy in Pakistani society.
This extract is from a BBC article about a Shia who had decided to move to the safety of Islamabad.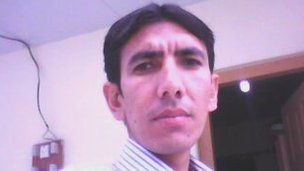 NIAZ ALI, 30, development worker who travels between Islamabad and Skardu, in Pakistan's Northern Areas
I was on a bus when we were stopped in the town of Chilas, and the Shias were singled out and then killed.
Niaz Ali says the danger of attacks has stopped him travelling to Islamabad by bus.I had been on my way from Islamabad to Skardu. I don't know how I survived, given that I'm Shia, but for some reason they were discussing among themselves how they would kill Shias from Gilgit, and not Skardu.
One man tried to run away, but he was shot. Another old man died on the spot after they threw large stones at his face. You wouldn't even beat animals in the same way that these people were beaten. All this happened right in front of all the policemen who were there!
It's not safe to travel by road any more. They send two policemen on every bus now, but I don't think that makes any difference.
You never know whether you'll be alive or dead after travelling on that road to Skardu, but it's the only one. Most of the people who travel are students, because there aren't any good academic institutions in Skardu. My family has forbidden me to travel by road now, so I fly now, but not everyone can afford to do that.
The government of Pakistan does nothing for the people here. They never stop the people who are killing us, so they are either supporting them or don't care.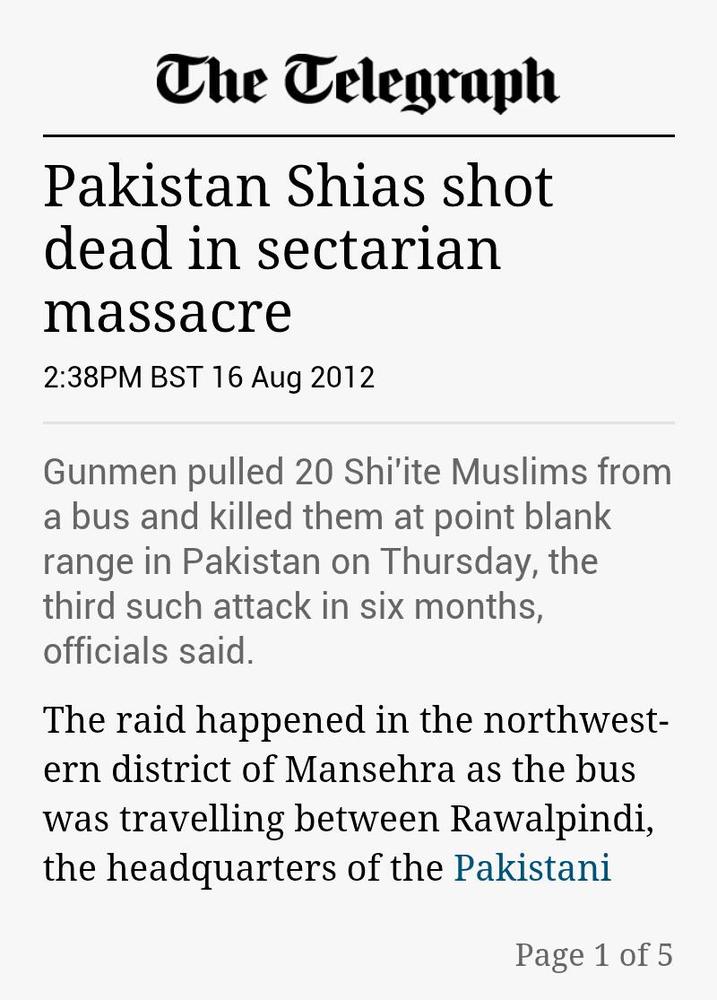 In the meanwhile, LeJ-ASWJ militants continue killing Shia Muslims.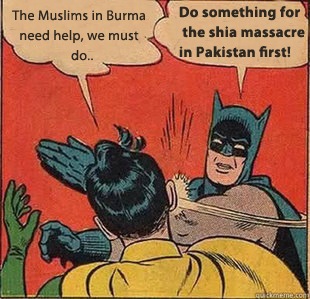 Majority of Pakistani liberals remain busy in misrepresenting Shia genocide in Hazara specific ethnic terms or Sunni-vs-Shia sectarian terms. Pakistan's right-wingers, in the meanwhile, are more concerned about what is happening with Rohingya Muslims in Burma and Palestinian Muslims in Gaza. Pakistan President expresses concerns over the situation of Muslims in Myanmar while remaining completely silent on Shia genocide.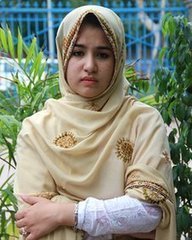 FARISHAT HAIDERI, 20, an ethnic Hazara student from Quetta, capital of Balochistan province
Life used to be different in Quetta. The situation now is bad. There is a lot of fear. Farishat Ali says her parents want her to seek safety in a life abroad.
We can't even go to the bazaar and the shops near our homes because we are being targeted. We have been warned that all Hazara men will be killed. Even women are now being killed. We'd love to live in a safe place. We are peace-loving people and we want to be treated like normal human beings. If the current situation continues it will become impossible to live in Quetta. People are now moving to Afghanistan and other foreign countries.
A friend of mine was targeted when they went to the bazaar. Recently, two taxis full of people going to the funeral of a victim of a targeted killing were stopped, and all eight people inside were killed, including one woman.
We never know who these killers are. They're never caught. Until now, no woman has been kidnapped, but that's because no-one dares to move from their own designated areas in the city. My parents insisted I do my studies here in Islamabad. They want me to find another scholarship so I can move abroad. My parents themselves might move to Afghanistan.

There is a visible presence of Shia, Sunni and Ahmadi bloggers on Twitter and other social media who are unified in their condemnation of Shia genocide at the hands of State-sponsored Jihadi-sectarian militants (who do not represent Sunnis). While such voices are in minority, they still manage to challenge mainstream media's lies and misrepresentation of Shia genocide. It's important to join such voices in order to work for human rights and equality in Pakistan.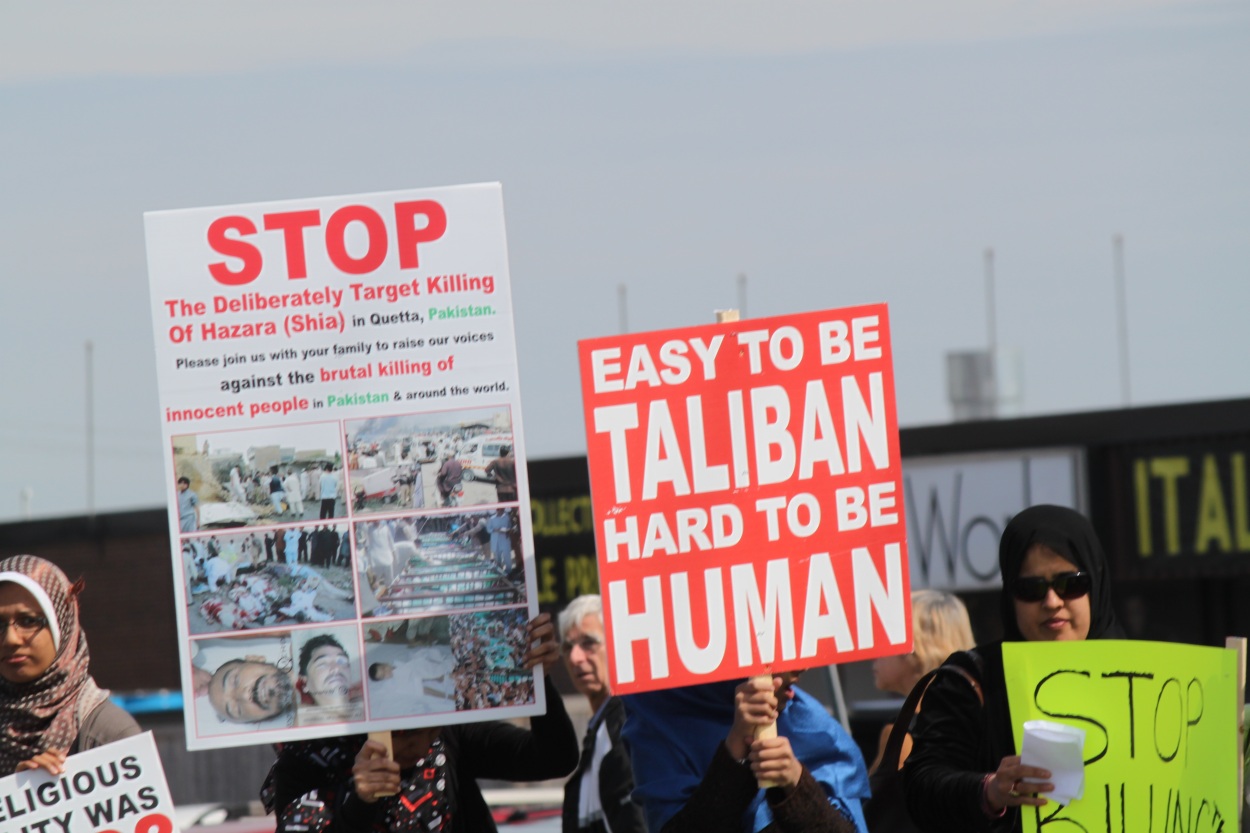 Source: Adapted and edited from Storify