Fittay Moonh Tera Iftikhar Chaudhray – by Ahsan Shah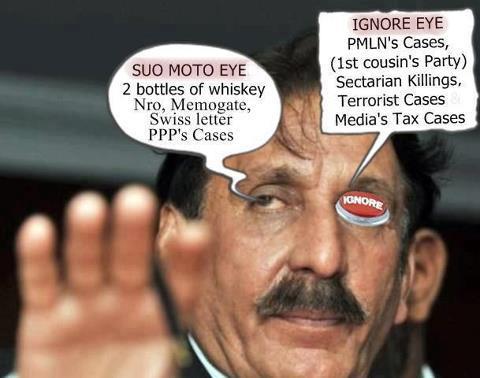 Iftikhar Chaudhry
PCO Sworn Judge
Supreme Court of Pakistan
Constitution Avenue
Islamabad
Dear Mr. Chaudhry
Big Shame on You
All praises to Allah Almighty who tested the courage and patience of the brave Pakistani Nation, twice with "One Eyed Monsters". First at the time of Ameeirul Momineen Zaiul Haq and now by you, the "Emerging Ameerul Momineen". The final one being the "Dajjal" and all you 3 share is "One Eye,False Flag of Islam and Pseudo Justice". I believe the Pakistani Nation would definitely stand with the Army of Imam Mehdi (as) and unlike majority of Arabs, would not support Dajjal as our Children would have already read in History how you and Zia be fooled the public taking hide behind "Islam" and "Justice".
Galloping at 150km/hr on the Road to "Judicial Coup" you have now become the biggest disaster for Pakistan and Pakistanis all over the world, whom you blame as "Un loyal to the State", as they took an oath to to become a Law Abiding Citizen of another country.
It makes me plunge into river of wonder, how shameless a person you are, you first took an Oath as a Judge to be faithful to the Law, then took Oath from the Dictator Musharaf as a PCO Judge, assuring him of your faithfulness to him and let him rule this country illegally for 10 years, then again broke this Oath coming to the roads after being released from House Arrest by the Elected PM Gillani (Certainly his "Unpardonable" mistake to save a Python. And you bit him as expected)
To the pride of every Pakistani, let me count how many "World Records" you have made a CJ of Pakistan
1: Released more than 50 most dangerous terrorists each of whom was arrested with head bounty about Million Rupees and each of them acknowledged to kill 100s of innocent people in Mosques, Markets, Funeral Processions, blowing up Schools, attacking Police, Army Personnel, GHQ, Naval Bases and killing Iranis and Chinese "to take revenge of Drone Attacks from America" as claimed by JI and IK.
Your Chaudhry Court do not have any "Proof" against any of them.
While you do have "sufficient Proof" against Waheeda Shah for Slapping a woman.
2: Declared Lal Masjid Terrorists as "Innocent" who were declared as " Doing Fasad Fil Arz and worth killing" even by Imam e Kaba.
3: Ordered the Govt to pay them Financial Compensation but NEVER ordered any compensation for those innocent men, women and children who are killed by these beasts.
According to Quran and Hadith (Which you very often quote now to please the right wing), all the curse and punishment for these terrorists and mass killers will be shared by you in this world and here after as well.
4: Sent an elected PM home out of Constitution, who was your benefactor as well
(Did not you feel shame how badly the people rejected your decision in NA 151?)
5: Refused to accept what is written in Article 248 of the Constitution, declaring "None is above the Law"
My Lord!
If the PM, Governors and even the President is not exempt by the Law, HOW comes your Son Arslan Ch who got all his career and promotions through your "Legal" Push and is now enjoying lavish living in Parliament Lodges and roaming with 30 armed Police Guard under your Courts orders?. How many accused criminals are treated like this in Pakistan or any where in the world?
210 million people including the PM can be accounted by NAB but NOT your Son. Why?
6: Every Government Employee can have 1 Plot as per the Constitution says. How then the PCO judges belonging to your "Gang" can have 2 Plots each and they refuse to appear before the Public Accounts Committee?
7: Your most shameless statement:
Just like Zia, you are taking hide for your every illicit act behind Quran and Hadith
You told Arslan Case to be decided "As Per the orders from the Holy Quran" and then you ordered to Register the case against the Complainant instead of your Son and are openly backing him now. Is it according to Quranic Law?
Now you are going to address the "Public" (Which unfortunately takes lead in Jang News) telling reason for declaring the new law of Contempt of Court as Null and void, saying
"If the Daughter of the Holy Prophet is not above the law, how can a PM and President be"?
I ask you the same question
"If the Daughter of the Holy Prophet is not above the law, how can be the Son of a CJ"?
Considering all this,
You have been nominated as the "Most Corrupt and Nepotist Person" in Pakistan.
I hope your name would very soon be included in Guinness Book for destabilising the State and Nurturing the Terrorists
Biiiiiiiiiiiiiiiiiiiiiiiiiiiiiiiiiiiiiiiiiiiiiiiiiiiiiiiiiiiiiig Shame on you and your Corrupt Son
Yours hatefully,
Ahsan Shah
Freelance Columnist
Birmingham
Comments
comments