Please Raise your voice in support of Nausheen Qambarani – By Naseem Chaudhry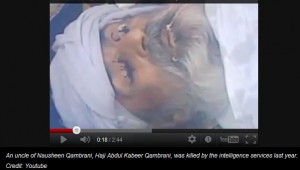 Editor's Note:  The following bulletin has been forwarded to us via our friends and supporters on social media.  We urge Pakistan's media and alternative/social media activists and human rights groups to highlight this issue on an urgent basis. We are also cross-posting a related news item sent to us by Naseem. 
 Recently, Pakistan's notorious Jihadi journalist Hamid Mir was being promoted as a champion of the Baloch cause by pseudo liberals.  These dishonest activists use the misery of others to gain fame and money and burnish their fake liberal credentials.
The media and its pseudo liberal supportors have played an atrocious role in allowing Pakistan's Judiciary to ride roughshod over the Constitution.  The dishonestly present the Judiciary as being sympathetic towards the Baloch cause. Nothing could be further from the truth. 
For more than five years, this Judiciary has done nothing for redressing Baloch grievances or anything of substance in the Missing Persons case.  Their kid gloves treatment of the military establishment on this crucial issue contradicts the propaganda of those like Hamid Mir and Najam Sethi who praise this judiciary.  If this Judiciary could sack an elected Prime Minister for the latter's unwillingness to go against the Constitution, should they not have done something CONCRETE against the Military Establishment that is held responsible for the situation in Balochistan.  Contrary to the rubbish peddled by the likes of Najam Sethi, the 3-Jeem alliance persists.
We urge social media activists and all those with conscience to stand in solidary with Nausheen Qambarani.
Respected Baloch Poetess and SBK University Lecturer Nausheen Qambarani is being harassed in Quetta Balochistan for 3 continuous days -armed men coming to her home in day time (luckily in her absence) on a No Number Plate vehicle shouting and abusing outside of her house, have beaten her servant and misbehaved with her family members.  She is receiving continuous life threats. Social / Human rights activists , Poets, Lecturer, Journalists are requested to raise voice for this peace-loving educationist.  Support her today as tomorrow they may snatch another precious life that can be YOURS too.

Pak spooks raid home of Baloch poetess, beat up her mother

Source: Examiner.com

Pakistan security and intelligence services raided the home of Balochistan university teacher, poetess, intellectual and social activist Nausheen Qambrani Tuesday evening in Quetta, capital of Balochistan, and beat up her mother.

The raiding party ransacked the home in Satellite Town. Ms Qambrani was not at home at the time of the raid.

The raiding party is said to have abused the folks. "They have threatened to kill me and my child," Qambrani told the Balochi language Bam Haal.

Nasir Qambrani, whose father Maulana Abdul Kabeer Qambrani, was killed in April last year by the intelligence services, told this correspondent on phone from Quetta, that for the last seven or 10 days intelligence agencies personnel had been coming to the Killi Qambrani on Sariab Road to ask about Ms Qambrani's address.

"They come in vehicles with tinted glass without any number plates," Nasir Qambrani, a first cousin of Nausheeen Qambrani said.

He said the raiding party tried to abduct a Pashtun boy who works as domestic help at the Qambrani's home, but the neighbors intervened. "Our crime is we want to see Balochistan free," he said.

Nausheen Qambrani, who is daughter of prominent Balochi intellectual Nadir Qambrani, teaches literature at Balochistan unviersity.

A high official of the Pakistani intelligence services had written to Nausheen Qambrani warning her, "We know you have a small child. So behave like a mother not a rebel."

Pakistani intelligence services accuse Ms Qambrani of being linked to the militant Baloch Liberation Army.

Miran Bizenjo, a grandson of the founder of modern Baloch nationalism the late Mir Ghous Bakhsh Bizenjo, shamed the intelligence services over their action. "Raid on brave Baloch poetess, teacher, social worker sister Nausheen Qambrani's house today shows the cowardliness of the intelligence agencies," he said. "Shame on them."

A founder of the American Friends of Balochistan in Washington DC strongly condemned the raid on the home of the Balochistan university teacher and called the charge against her "purely fabricated and totally unfounded."
Comments
comments