Pakistan's Crony Supreme Court obstructs corruption investigations against Chief Justice's Son
In yet another controversial decision smacking of extreme bias, prejudice and cronyism, the Supreme Court stopped the National Accoutability Bureau (NAB) from investigating massive corruption charges against Arsalan Iftikhar, the son of the Chief Justice.  With a pathetic track record of supporting and justifying military dictatorships, the current Judiciary has also been deeply compromised due the Chief Justice's continued nepotism and cronyism on behalf of his academically-challenged and corrupt son.
While respected international legal experts and Jurists have been categorical in calling out and critisizing the current Judiciary, Pakistan's corporate media elite continues to lionize them.  In this they are supported by Pakistan's "civil society" –  an inter-connected group of urban psuedo-liberal elites with deep ties to Pakistan's civil-military bureaucracy.  Together, both the media and Pakistan's elitist "civil society" have been cheerleading this Judiciary to continue hampering and destabilizing the elected PPP-lead government.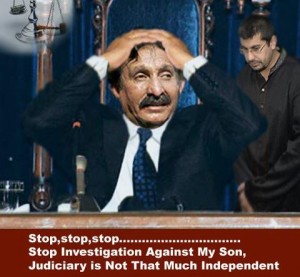 The Media-Civil Society combine is the same group of compromised individuals who took part in the increasingly discreditted Lawyer's Movement.  Since 2007, Pakistan's media, civil society, Islamist political parties (PML N, PTI, Jamaat-e-Islami) and Jihadist organizations have (mis)used the Supreme Court to express their hatred, contempt and disregard for electoral politics.  The only leader whose stance towards the Judiciary was principled was the Late Benazir Bhutto.
She opposed General Musharaf's unconstitutional acts (in stark contrast to this Judiciary) and was also critical of this compromised Judiciary and its biased rulings.  After her murder,  PML N scuppered the Charter of Democracy that disallowed PCO judges like Iftikhar Chaudhary and his gang.  In return, he got immunity from massive corruption allegations.  Jihadi organizations like Al Qaeda and their supporters like Hamid Gul, Roedad Khan and Tahira Abdullah also used this movement of contradictions to burnish their tarnished reputations.
For their efforts, pro-establishment dictator-enabling characters like Gen. Hamid Gul and Roedad Khan were reinvented as pro-democracy activists by the corporate media. For supporting the Lawyer's Movement, also referred to as the "Liar's Movement", Al Qaeda managed to get immunity for its chief Pakistani affiliate, Malik Ishaq.
The same "civil society" that made a career out of supporting military dictators and cursing the Bhutto family reinvented itself as "pro-democracy activists".  They are still reaping the financial rewards via generous endowments from foreign consulates.  They are also positioning themselves to hit a pay day jackpot by getting a piece of the Kerry Lugar Bill aid money.  Yes, the same KLB for which the PPP government was nearly derailed by anti-democracy forces (media-ISPR) and which civil society selectively abuses and undermines.
Today, the same Judiciary that had attained a divine status amongst Pakistan's corrupt anti-PPP elite with their self-righteous sermonizing in air-conditioned drawing rooms and social media forums stands utterly exposed.  They have cast their support behind the gambling, degenerate corrupt son of their Chief Justice Boss.  History will be the judge of Pakistan's civil society  elites that first supported the army-US backed PNA movement against Shaheed Zulfiqar Ali Bhutto; just like they backed bureaucrats during the much hyped Lawyer's Movement.
In both these movements, the dark forces of Islamofascism were allowed to flower. While civil society elites malign Shaheed Zulfiqar Ali Bhutto and Shaheed Mohtarma, history will in turn hold media-civil society accoutable for standing with dictators, corrupt bureaucrats and Islamofascists. Only Benazir Bhutto possessed a principled stance when this Chief Justice was first sacked by the dictator that he himself  had enabled and reinforced for 8 years.
If civil society was really concerned about the rule of Law, where were they when Malik Ishaq was released.  Where are they now that the Chief Justice's prodigal son has once again been bailed out by Daddy's Court.
For pure farce, kindly refer to the headlines which detail this story, the summary of which is provided below:
The Supreme Court blocked the investigation because one NAB officer was  seen walking with Malik Riaz as they were entering the Court premises.  Yes, you read it correctly. A law enforcement officer on the premises of the Court is akin to collusion. The footage of this stroll was provided illegally to the Petioner seeking an end to this investigation.  Meanwhile, the Supreme Court Registrar refuses to submit to the valid concerns of the Public Accounts Comittee for extravagent salaries, perks and land assets given to the Judiciary at the tax payer's expense.  The Court and its cronies then proceed to malign the law and Constitution abiding Attorney General on the basis of innuendo and gossip even as they continue to resist investigations into the corruption allegations of "Dr." Arsalan Iftikhar.
Comments
comments