Dirty politics, now or always? – by Shaista Aazar
Related article:
MQM and PML-N introduce each other
The recent war of words between PML-N and MQM leaderships and a showdown in front of the parliament house that saw the parliamentary leaders dragging in each other's families and personal lives in to the brawl, the mud slinging and all this has exposed a very dirty face of our politics.
Though not new for the people as they already are listening to this in their conversations, reading in third grade magazines like Takbeer, Ghazi etc and SMS campaigns and Emails for several years, only mediums have been changed with time.
I remember the days when "Weekly Takbeer" had dedicated the whole "weekly issue" to photos and stories about the Bhutto family and no one was spared in these false photographs campaigns, from ZA Bhutto to Begum Nusrat Bhutto and Murtaza, Shahnawaz and Benazir Bhutto, everyone was portrayed in a very disgusting manner, and people were asked, "Are you going to vote them?"
However, Pakistani voters always rejected such allegations and witch-hunt, and the PPP came into power.
What happened then, how the right-wing media and the likes of Takbeer joined hands to destabilize the Govt, the rest is history and Takbeer's editor Salahuddin's name in the Mehran Bank beneficiaries list can tell the rest.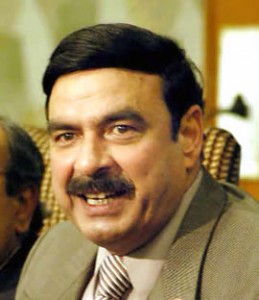 Bollywood movies have a bad habit of adding humour to almost every movie plot, from action thrillers to dramas and historical epics. We have practiced this in politics as every political party has some characters like that in different times.
In the 1990s politics, the same was shown in the person of Shiekh Rasheed Ahmed when he got prominence via his speeches in the public meetings of PML-N, but all these stunts turned an unpleasant way when Shiekh Rasheed on the stage in the presence of its prominent leaders started cracking jokes on the personal lives and marital relations of the the Premier Benazir Bhutto and her husband Asif Zardari. Previously Nawaz Sharif's IJI's media advisor Hussain Haqqani had shown the same performance against Benazir Bhutto and her mother under direct instructions of the ISI. No one asked the political mime to stop this wish-wash. Even the mullahs were cracking jokes over the Fazlur Rehman's support to the PPP in a very awful way.
PPP elements rebutted with recovering Kalashnikov from Shiekh Rashid residence and putting him behind the bars. He became a hero and people like Muhjibur Rehman Shami were campaigning for his release, interestingly he was asking  Nawabzada Nasrullah Khan, the Chairman Kashmir Committee to stop supporting the Government on this issue and was attacked by Nawabazada sahib's party worker, when he criticized Nawabzada sahib in a harsh way at a seminar.
Here comes the next episode of the PML-N Govt, the Sifur Rehman commission and his tactics, what happened is a known fact.
Being a woman in Pakistan and a  politician too has some very serious drawbacks, as it is known to all who have observed and suffered the character assassination of Benazir Bhutto and other PPP members, just Google any woman politician name from any political party and you will find the level of discussion on various web forums prevailed by the likes of Jamat Islami and other right wingers.
……………………………………………………………………………………
With the rise of cellular technology and availability of cheap SMS packages, you will get irritated with the outpouring of  SMS as NFP describes in his post "Holy SMS", "Pakistanis love emailing and text messaging quotes from hadiths and assorted religious paraphernalia." But it does not stop here as in the next phase you will receive SMS mocking and flouting about politicians mostly President Zardari, Altaf Hussain and women politicians who frequently appear on Tv channels.
Intererstingly, you will find a very rare case when holy people like Mian sahiban, Qazi sahib, JI leaders and Imran Khan were bemocked in any of these messages.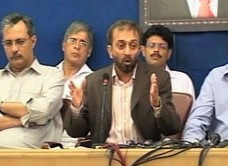 When Chaudhry Nisar spoke outside the Parliament house, he had such stuff in abundance even in his SMS inbox, and believe me "no one could have taken notice" if Mian Sahiban and their families were not dragged into the whole saga. The problem arisen when MQM responded in a much harsher way.
The depoliticized elites  have enjoyed the whole story as in their views these politicians have over stepped the expectations of them and the way they were described their private gatherings, in gossips stories, fake jokes and text messages."
Comments
comments