Terrorist Khariji cleric Mufti Munir Shakir is back in Bara, Khyber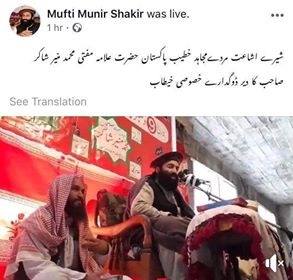 This notorious Mufti Munir Shakir had organised a terrorist outfit, Lashkar e Islam, in Bara, Khyber District back in 2006. In 2009 a military offensive was launched which resulted in 6 years curfew, artillery shelling and terrorist activities which resulted in devastating Bara and Tirah valley, destroying everyday life while hundreds of people got killed and thousands of families got displaced. Prior to his mission in Bara, this Khariji Takfiri cleric had ignited sectarian hatred in Kurram District against Sunni Sufis, Barelvis and Shias.
Ironically, the Mufti isn't only alive and free but is running his own page, churning out religious hatred and sectarian rift. He lives a life of luxury in sectarian Panjpir Seminary which belongs to Major (r) Amir's family in Swabi and travels in a Vigo with tainted windows escorted by bodyguards.
Comments
comments