Obfuscated Media Discourse on Takfiri_Deobandi Militancy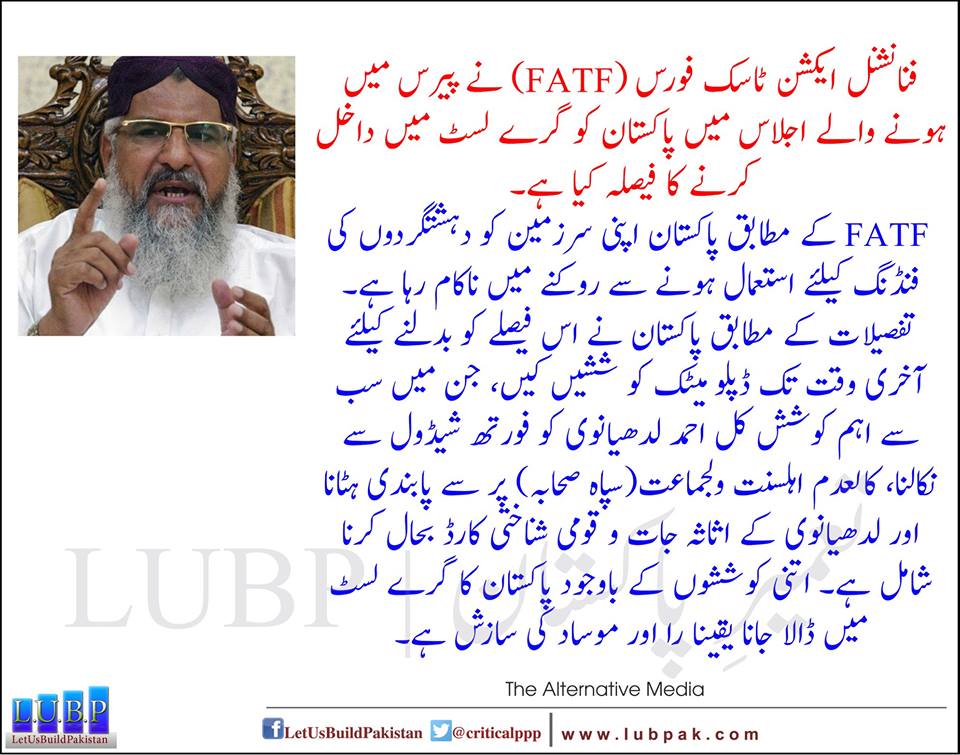 On June 26, 2018, SSP Counter Terrorism Department- CTD Karachi held a press conference. He revealed that CTD Karachi had arrested two terrorist involved in collecting funds and in providing logistic support for Tehreek Taliban Pakistan- TTP,a lethal Takfiri Deobandi Terrorist organization.
SSP CTD Karachi Jabar Shaikh told in-detailed about profiles of those two held suspected Takfiri terrorists.
Pakistani Media gave details fully about Abdurahman, a doctor turned terrorist and reprted that he was radicalized during his student life due to joining JuD, and got militant training along with Shah Faisal, another comrade of JuD, who had convinced Abdurahman to join JuD. (that was in fact Lashkar-i-Tayyiba- LeT which was not mentioned any media outlet)
But interesting thing is that when media outlets come to describe the profile of Mufti Rizwan then near about all obfuscated some very important details which were necessary to know ideological and sectarian identity of these two terrorists held by CTD Police Karachi.
For example official website of daily Dawn describes about profile of Mufti Rizwan who was held along with Dr.Abudrahman while collecting donations for TTP:
'Malik Rizwan, the CTD SSP said that he originally belonged to Mansehra and had studied up to intermediate in Karachi. He then studied at a famous seminary and memorised the Holy Quran. He also completed a course to become a religious scholar and Mufti and started teaching pupils at the seminary.
Mufti Rizwan told interrogators that during his studies at the seminary, he became friends with a student who has links with TTP in Orakzai Agency where he went in 2009 and met the TTP leadership. He had told his family that he was going on a preaching mission.
In 2011, he went to South Waziristan to receive militancy training.
Rizwan told CTD interrogators that his elder brother, Zafar Iqbal, had remained associated with TTP and the Islamic Emirate of Afghanistan, and with his (brother) help he also visited Afghanistan.
He informed investigators that he had also remained a prayer leader at different mosques in Defence, KDA and PNS Karsaz and also provided Quran tuitions.'
From this reporting you can neither know the name of 'a famous seminary in Karachi' nor you can know about names of those mosques situated in different areas of Karachi and in which sect they belongs to.
This report also obfuscated name of that mosque in Gulshan-e-Iqbal Karachi, where both suspected terrorist were collecting funds for TTP.
Pakistani mainstream media often like international mainstream media obfuscated ideological and sectarian identity of faith based militants and of their organizations particularly in the case of Takfiri Deobandi militacy in Pakistan or abroad.
Such obfuscation based media discourse paved way for mainstreaming of Takfiri Deobandi militant sectarian organizations like AhleSunnat WalJamat- ASWJ. Such selective and obfuscated reporting and discourse adopted mostly by English Liberal Press create big hurdles in gaining world-wide support against Takfiri-Deobandi militancy, which is not only national threat to Pakistan but it is also regional and global threat also.
https://www.dawn.com/news/1416448
Comments
comments
Tags: Al-Qaeda, Commercial Liberals & Fake Liberals, ISIS Daesh ISIL, PMLN, Religious extremism & fundamentalism & radicalism, Sectarianism, Shia Genocide & Persecution, Sipah-e-Sahaba Pakistan (SSP) & Lashkar-e-Jhangvi (LeJ) & Ahle Sunnat Wal Jamaat (ASWJ), Takfiri Deobandis & Wahhabi Salafis & Khawarij, Taliban & TTP, Terrorism