ECP should cancel registration of Rah-i-Haq Party – by Aamir Hussaini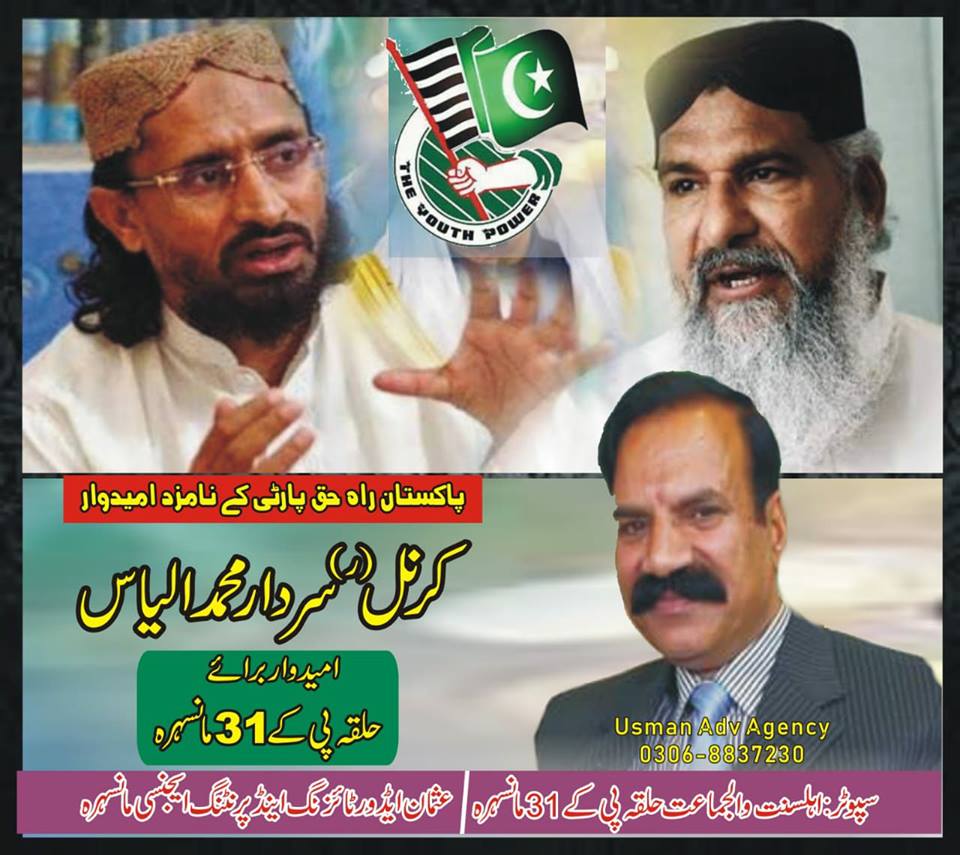 Election Commission of Pakistan-ECP rejected application of Milli Muslim League-MML for registration as Political Party while calling it a cover name of banned organization #JuD. But same ECP has registered 'Rah-i-Haq Party' as political party, which is also cover name of banned #ASWJ aka banned #SSP. Why?
Official website of Election Commission of Pakistan uploaded news about rejection of application given by MML which informs us:
"In its short order, the bench stated that the decision had been taken in light of observations of the Ministry of Interior which had expressed its reservations because of the party's alleged links with the banned Jamaatud Dawa's (JuD) leader Hafiz Saeed."
#ECP deals with case of registration of #MML and denies to register #MML as political part due to links of its head with head of banned #JuD.
But when #ECP deals with application forwarded by banned #ASWJ with cover name 'Rah-i-haq party Pakistan' then ECP does not object on links of its head or other office holders with head and other office holders of banned #ASWJ and easily registered it as political party and allows to contest the elections.
Has #ECP any doubt about alleged links of Ibrahim Qasmi President of #Rah_i_Haq party with leadership of banned #ASWJ?
Why #ECP ignored that four provincial chapters of #Rah_i_haq party have those office holders that are also office holders of banned #ASWJ or they are members of #ASWJ?
Why #ECP gives such favor that it denies in case of #MML?
Why #ECP ignored horrible facts linked with #ASWJ whose all leadership from top to lower level has taken refuge in Rah-i-haq party.
Does #ECP allow hatred campaign against #Shia_community and other sects if that is committed by #ASWJ ? Does #ECP allow Takfiri-militant organizations involved in terror activities in Pakistan to register with cover name?
.#ASWJ, notorious sectarian militant organization having Takfiri-fascist tendencies against Shia, Sufi Sunni and other sects is banned organization according to NACTA's proscribed organizations submitted to SC. Now this banned organization and its banned outfit leadership is taking part as 'Rah-i-Haq Party' in Election 2018.
43 prominent leaders and members of banned #ASWJ have submitted their nomination papers from different constituencies all over the country.
Alarming aspect of this practice is that all efforts and struggle made by human rights activists from Quetta like Jalila Haider along with victim women of #Shia_Hazaragenocide campaign through hunger strike till death and sit-in of #Hazara_Shia community of Quetta seem lost.
COAS General Qamar Bajwa had promised to wipe out all banned out-fits organizations involved in hatred campaign against #Shia_Hazara particular in #Quetta and generally in #Baluchistan. But this promise could not be full filled.
#ASWJ type Takfiri-sectarian organizations are not only freely conducting their hatred activities and spreading sectarian literature all over the province but they are contesting Election 2018 with cover name 'Rah-i-Haq' party and has been registered by #ECP
Provincial President of Baluchistan chapter of banned organization #ASWJ is Molvi Ramzan Mengal, wanted by many courts and involved in #Shia_HazaraGenocide in #Quetta is contesting election from PB-32. President of #ASWJ_Quetta Hayat Moavia Adovocate , provincial general secretary of #ASWJ Baluchistan Molvi Farhan Siddiqui, and spokesperson of #ASWJ_Baluchistan Abdulwali Farooqi and other banned outfits are also contesting election from three seats of National assembly and 8 provincial assembly seats of Quetta Baluchistan.
Why big liberal guns are silent on this issue and they are not even uttering their voice on registration of banned #ASWJ with cover name Rah-i-Haq Party by #ECP?
Commercial liberal campaigners who tweeted and made posts again and again against awarding PTI's ticket to son of Molvi Sami-ul-haq or awarding #ANP's ticket to Himmayatullah Khan and made huge cry are not active at social media on this issue. Why?
I demand to cancel registration of Rah-i-Haq Party,a cover name of banned #ASWJ as ECP denied to register MML as political party.
Comments
comments
Tags: Al-Qaeda, Commercial Liberals & Fake Liberals, ISIS Daesh ISIL, Military Establishment, Nawaz Sharif, PMLN, Religious extremism & fundamentalism & radicalism, Sectarianism, Shia Genocide & Persecution, Sipah-e-Sahaba Pakistan (SSP) & Lashkar-e-Jhangvi (LeJ) & Ahle Sunnat Wal Jamaat (ASWJ), Takfiri Deobandis & Wahhabi Salafis & Khawarij, Taliban & TTP, Terrorism