Muslim Women Speak About Sexual Harassment in 'Holiest City' of Mecca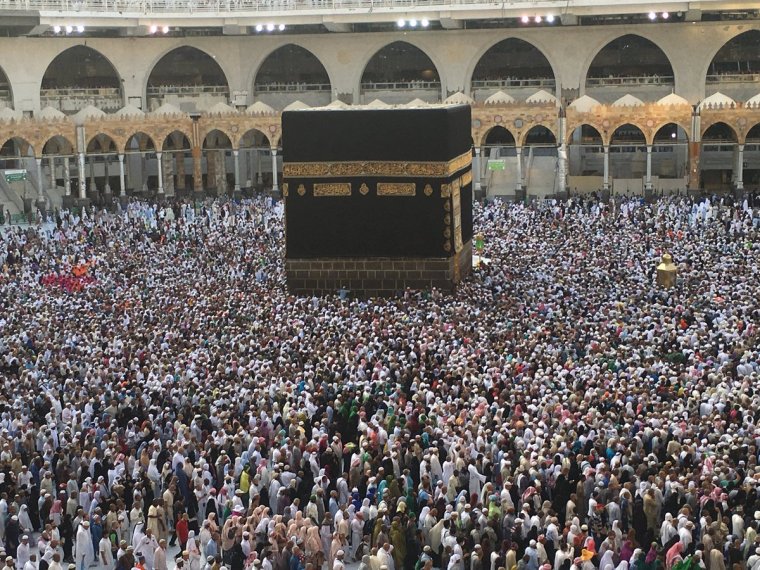 While many Muslim women say they get a sense of serenity in Mecca, hundreds of others have spoken up over the past few days about their experiences of sexual harassment in what they thought was the "holiest city on earth".
Egyptian-American journalist Mona Eltahawy, who first talked about her experience of sexual assault during the Hajj in 2013, began using the hashtag #MosqueMeToo after a Facebook post by Sabica Khan went viral. Khan is a Pakistani woman who recounted her assault in Mecca.
Alaa Yasin, a 33-year-old teacher and mother of three from Liverpool, told MEE that she too was sexually assaulted during the Hajj. For her one of the biggest issues was that she could not tell who it was because of the crowds.
"I was with my brother doing Tawaf when I felt someone bumping into me repeatedly and grinding on me. It wasn't someone just pushing and shoving.
"It was so crowded I couldn't tell who it was; I wasn't about to accuse anyone. I told my brother and he walked behind me from then on."
No way to report
While Yasin told MEE that if she had been able to discern who it was, she would have confronted the offender and reported him to the police, other women complained of not having anyone to report the incidents to.
"There are police here, but with the crowds, it is very difficult to reach them. I also didn't feel that they [police] would have taken what I said seriously," added Omar, as she recalled Saudi police once berating her when her headscarf had slipped and exposed some hair strands.
While many women have spoken up about experiencing physical and sexual assault in Mecca, many more have shared accounts of other forms of harassment.
I was naive going there, thinking that Mecca is the safest place. It actually turned out to be the opposite

– Alaa Yasin, 33, Liverpool
"I was walking with my mother-in-law right outside the holy mosque in Mecca when a few guys stopped their car, rolled down their windows and started catcalling us," Fatima Kaya, a 28-year-old mother of two from Istanbul, told MEE.
"I never went anywhere without my husband from then on," she added.
Like Kaya, 23-year-old Sarah Matar from Boston did not experience any physical assault, but recalls feeling unsafe whenever she moved around in Mecca alone.
"I remember feeling men's eyes on me when I walked from the mosque to my hotel. I felt like a prey and I didn't feel safe at all," she told MEE.
Total shock
For many women who were visiting the holy city for the first time, the experience of sexual assault came as a huge shock as they expected to visit what they called "the purest place on earth".
"I wasn't a practising Muslim before I went for Umrah and I was so excited to be in Mecca. I was expecting a lot more respect and love between Muslim brothers and sisters," said Kaya.
It's important for women to be aware that this sort of thing can and does happen all the time

– Alaa Yasin, 33, Liverpool
Like many women, Yasin believes that much more needs to be done to raise awareness and protect women against such harassment.
"People who act like that are opportunistic and they hide behind anonymity. The person who did it to me probably didn't know what I looked like. It was just a female body for him," Yasin told MEE.
"If there were less crowds or more guards, then maybe this can be prevented."
"It's important for women to be aware that this sort of thing can and does happen all the time."
'Not my experience'
Other Muslim women spoke of having a positive experience throughout their pilgrimage to Mecca.
"I've been to Mecca many times, and I felt truly peaceful and safe while I was there," Zeynep Ergun told MEE.
Echoing Ergun's sentiments, Yamima Talukder, 41, told MEE: "I felt safe and my husband left me to walk around whenever [to go the mosque]. Nigerians were lovely and caring. Indonesian brothers were protective. Bangladeshi street cleaners treated me like their sister."
"I loved best how their [men's] gaze was so clean in my experience."
Reading the testimonies of women who had been harassed, Talukder said she felt sickened.
"I have not experienced anything like that. I can't imagine how a situation like that would arise."
Source:
https://thewire.in/224402/muslim-women-sexual-harassment-mecca/
Comments
comments