Radical Deobandi under garb of Trustees of Tablighi Jammat lose legal battle for construction of Tableeghi Markaz, mosque in London – by Muhammad Usman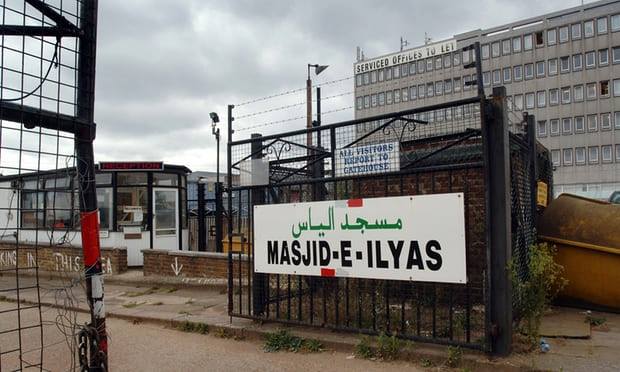 Note: Masses of British society are now getting more and more awareness about disguised Wahhabi radicals's modes operandi under garb of Deobandi Tablighi Jamaat. Such disguised Wahhabi radicals under grab of Tablighi Jammat set up their factories of Takfirism, Jihadism and radicalism in the name of construction of Mosques and then promotes pro-ISIS, Al-Qaeda and Taliban ideology among young British youth. They ran successfully their centers for many decades but now at community and government level awareness about their real mission and face is growing and now TJ is not in this position to set freely its propaganda centers freely.
London High Court Judge Reject Tablighi Jammat's petition for dismissal of Decision given by DCLG.
TABLIGHI Jamaat's (TJ) plan to build Europe's biggest mosque in East London suffered another blow when a high court judge last week threw out their petition seeking suspension of an injunction for the demolition of a smaller mosque located on the site.
(Neo-Deobandi radicalism inclined to Saudi funded Wahhabism is being promoted under grab of Deobandi Tablighi Jammat-TJ in British society. British citizens now are getting awareness about those challenges and potential threats which are growing due to increase in influence of TJ in their society.
TJ promotes Wahhabi-Jihadist plus Takfirist ideology through its so called Markaz-e-Islami ( Islamic Centers) which are built in the name of Mosques plus community halls. In such centers TJ's preachers promotes radical ideology of pioneer of Deobandi sect like Shah Ismael Dehlvi, Syed Ahmed( both were founding father of Takfiri and Wahhabi Jihadist movement in Indian Sub-continent who had declared Sufi Sunnis and Shias of Indian subcontinent apostate and deserved to kill and called Jihad obligatory against them.) Rashid Ahmad Gungohi and others who were inclined toward ideology of Muhammad bin Abdul Wahhab, founding father of Wahhabi movement in Arab peninsula.)
The high court judge also disallowed the TJ plea for an appeal against the judgement reviving chances of the demolition of existing structures starting within weeks.
Only a restraining order from the European Court of Human Rights, where trustees had filed an application in the second week of this month, can save Masjid Ilyas and stop council bulldozers rolling into the 17-acre land which remained under a chemical factory for a century before trustees of UK Tablighi Jamaat bought it in 1995 for 1.6 million pounds.
In the absence of any restraining order from the European Court of Human Rights, the Newham Borough Council can start demolition of the mosque if it is not pulled down by the trustees within six months. The council can also initiate legal proceedings to get a CPO (Compulsory Purchase Order) if it faced resistance from the TJ trustees or their followers.
Judge Walden-Smith sitting on the bench as a judge of the High Court also ordered trustees of Tablighi Jamaat to pay London Borough of Newham £22,207 as costs within four weeks. The council can initiate enforcement proceedings for the recovery of cost if the trustees failed to pay the cost by Feb 23. Various local groups have announced plans to build pressure on the local authority for an early demolition of the existing mosque.
"Tablighi Jamaat has procrastinated and delayed, has ridden roughshod over planning regulations and regularly broken the law," Alan Craig, campaign director of Newham Concern, a local group campaigning against the construction of 9,500-capacity mosque, told Dawn.
"Their plans have been rejected by every level of authority from Newham Council to the High Court, their latest appeal has been thrown out of court," he said. "It is now time for Newham Council to send in the bulldozers and knock down the illegal temporary mosque on the site and liberate the land for a mixed use development that will benefit the whole community," he concluded. Another local group has announced holding a prayer meeting in front of the mosque next Saturday.
"Stop #Mega-Mosque. Prayer meeting Saturday 3rd February at Abbey Mills, West Ham, Newham London 10.30am — 12.30, Postcode E15 3ND. Tablighi Jamaat has just failed in latest legal to overturn Newham's Council's refusal so TJ are off to the European Court of Human Rights," Gracey Knoll, a member of the group tweeted after the announcement of the judgment on Friday.
There is unlikely to be any major disruption for the majority of TJ members as a group led by TJ's London emir has already shifted Thursday weekly Mashwara or consultative meeting to 800-capacity old London Markaz in Tower Hamlet area. The petition to suspend the demolition injunction for one year was filed on behalf of three trustees of Tablighi Jamaat.
During the latest hearing of the case on Jan 19, the court was told that there was currently a mosque with a capacity for 2,500 worshippers and a large parking area on the site. A large number of Tablighi Jamaat members from different parts of London gather at the mosque every Thursday night for listening to sermons of senior clerics and go out for their missionary work involving door-knocking in different areas, inviting ordinary Muslims to mosque for prayers. The counsel for the London Borough of Newham informed the court that it wanted to demolish the mosque, parking lot and other structures which it considers illegal after trustees appeal against Secretary of State's decision to disallow temporary planning permission was rejected by the Appeals Court in July 2017.
Moiz-ur-Rahman, a representative of the trustees, informed the court that they were in touch with a group of developers and could sign agreements with it in days if given an opportunity with extension in the current suspension order. He said the TJ was a different organisation where all the decisions are made through consensus and after consultations with elders. He said that the trustees wanted to move fast but things were not in their control.
Mr Rahman also informed the court that there would be considerable disturbance in the large number of people in the Muslim community as it catered to the large catchment area in and around Greater London Authority. He informed the court there was a possibility of return of protests previously organised by the Newham Community Alliance.
The judge, however, disregarded the hardship resulting from the enforcement saying that the current activity at the site was unlawful and it had to stop and the court wanted to hold the trustees to account for legally binding undertakings they had given during the court proceedings in the past.
The judge said that of the 12-month suspension period sought by the trustees, five months had also passed and there was very little progress on the part of trustees to find policy compliance partners to develop the 6.5 hector of land located in the "arch of opportunity" in East London in line with the development aspirations of London Borough of Newham.
Related Link :
https://www.dawn.com/news/1386043/setback-for-tablighi-jamaats-plan-to-build-mega-mosque-in-london
Comments
comments