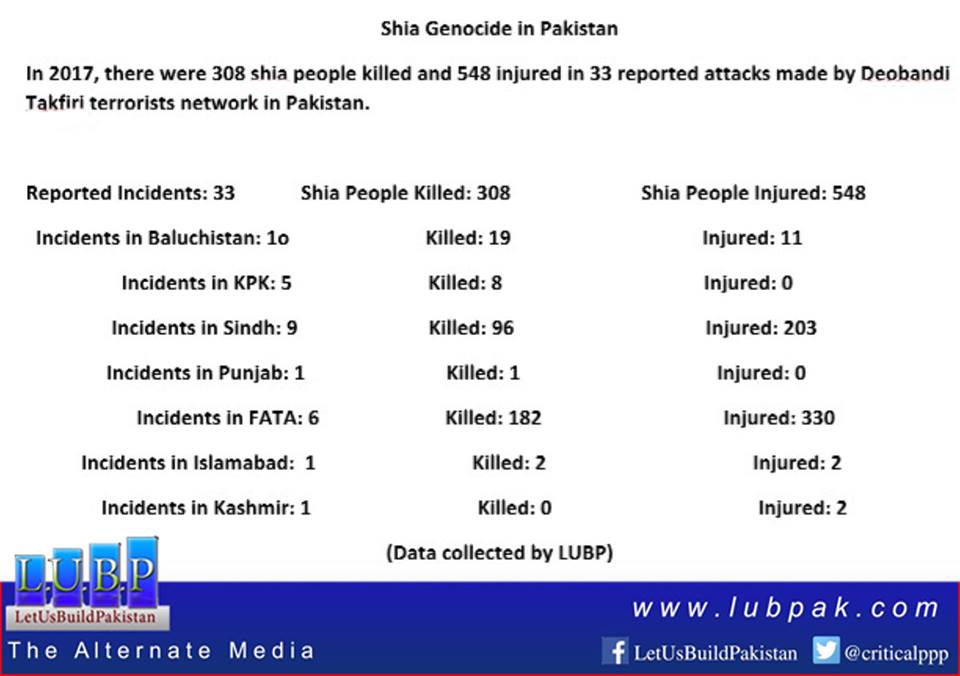 Let Us Build Pakistan has issued in-detailed report about attacks on Shias of Pakistan during 2017.
According LUBP report on Shia killing in Pakistan total 33 attacks on Shia community due to their Shia identity were reported in Pakistan during 2017. Report reveals that 308 people lost their lives and 548 got injuries in these attacks.
A study of this report shows that Parachinar headquarter of tribal Kurram Agency of Fata was repeatedly hit by Takfiri Deobandi terrorists and sole targets were Shia living there. Six big suicide bombing were occurred there in which total 182 Shia-Pashtun were killed and 203 injured. Main markets and Imambargahs were targeted.
Responsibility of all these attacks was accepted by Lashkar-i-Jhangvi , Jamat-i-Ahrar and TTP jointly (all Takfiri Deobandi terrorists groups).
During all month of 2017, in Baluchistan Shia-Hazara community was targeted again and again by Takfiri Deobandi terrorist groups. In Quetta capital city of province Baluchistan 15 Hazara Shia people were targeted to death and 11 injured in 9 targeting attacks and 4 Shia Hazra were targeted to death in Mastung city of Baluchistan.
In KPK total 5 attacks were made on Shia people in which 8 people were targeted to kill. Noteworthy thing is that these all attacks were made in Dera Ismail Khan District of KPK. This district is worst affected district of KPK where hundreds of Shia were targeted to kill and injured during a decade.
In Sindh total 9 incidents of attacks on Shia community were reported in 2017, in which 96 people were killed and 203 injured. Suicide bombing on Shrine of Lal Shahbaz Qalandar at Sehwan was the biggest attack in which 90 Shia people were killed and 200 were injured(although there were total 150 people lost their life in which 90 were identified as Shia, rest martyred were Sufi Sunnis). 5 of total 6 incidents of target incidents happened in Karachi, capital city of Sindh.
Two people were killed and two injured during an attack on Imambargah at Islamabad capital city of Pakistan. One attack was reported in Muzaffarabad, capital city of Azad Kashmir, in which a Shia scholar got injuries.
After 9/11 during in 17 years, near about 25000 Shia people were killed and thousands of injured in attacks made by Takfiri Deobandi jihadist organization all over the country. Imambargahs , Shia mosques, Mourning processions, Mourning meetings at both public and private boundary walled were targeted by Takfiri Deobandi terrorists organizations. Even women and children of Shia community were not spared. This is clear cut slow genocide of Shia community in Pakistan run by Deobandi Takfiri terrorist's organizations.
Despite all these details mentioned above, discourse of mainstream media, elite liberal civil society is still inclined to obfuscation of, denial about or justification for such attacks on Shia community. This discourse has been made on false binaries, cheating and deception. Mostly commercial liberal mafia is responsible for this misguided discourse.
Shias of Pakistan are persecuted community which is being marginalized, victimized and targeted to kill by Takfiri (Excommunicators) Fascist network mainly emerged from Deobandi School of thought. Ahl-e-Sunnat-Wal-Jamat- ASWJ aka Sipah Sahabah Pakistan-SSP is mother organization of this network.
ASWJ is in fact running a slow genocide campaign in Pakistan against Shias of Pakistan. According to ideology of founding father of ASWJ Haq Nawaz Jhangvi Shias of Pakistan are biggest enemy of Islam and apostate and they should be declared non-Muslim like Ahmadis. ASWJ runs very organized and deep rooted network all over the country having main mission to spread extreme hate and creating anger leading to violence against Shias of Pakistan.
ASWJ has its roots not only in state institutions but in structure of civil society ( From lawyer to doctors community and from trading chambers to journalist community, from teachers to social activists) and its network in state institutions, in Political parties, in civil society exerts pressure on state to impose ban on traditional Shia practices in Pakistan. Hundreds of thousands traditional Shia Mourning processions and mourning meetings have been banned by provinicial and district governments all over the country. Even now Shia cannot hold Mourning meeting-Majils in their houses without permission.
Even now Shias cannot wave black flag to commemorate Ghazi Abbas broth of Imam Hussain, who was flag holder in Battle of Karbala. Hundreds of cases registered by Police in all provinces on waving Alam Ghazi Abbas in Public places and in all cases complaints were members or sympathizers of TakfirI Deobandi organization ASWJ. So marginalization is real thing happening in Pakistan in case of Shia community and target killing of Shia community due to their religious identity is also another reality.