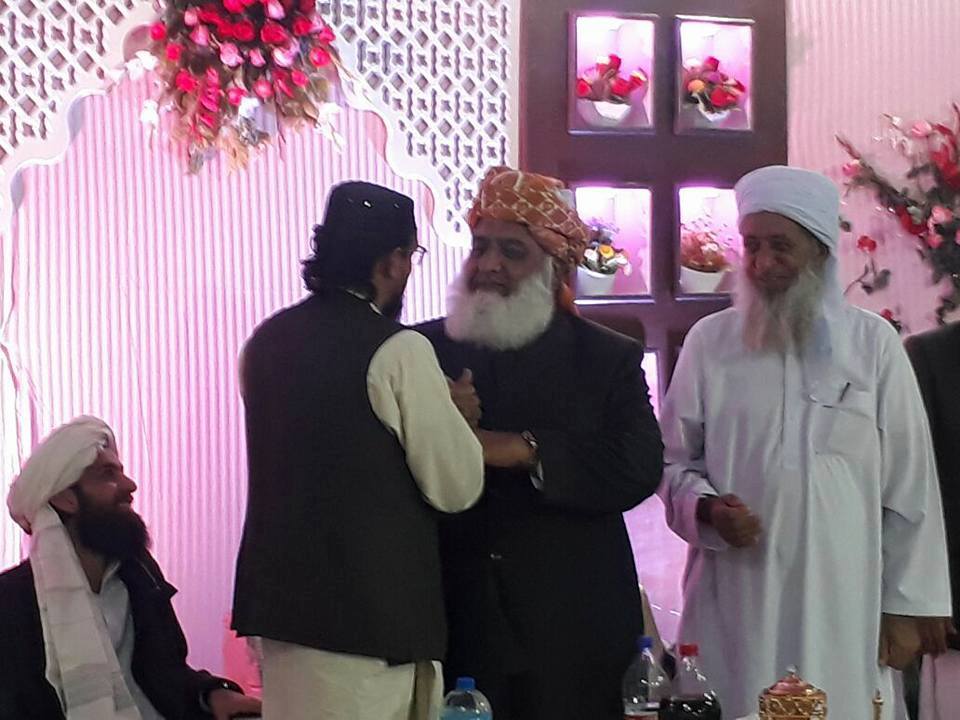 Maulana Fazal-ur-Rahman, head of JUI-f met Auranzaib Farooqui, head of banned(just in papers) ASWJ aka SSP and official pages of ASWJ on Facebook and twitters uploaded images of their meeting.
As usual we saw a criticism and debate on this meeting on social media, but very rare we see any coherent and consolidated debate on issue of new arising of ASWJ, its growing roots and its expansion in Pakistani society.
Ahle-Sunnat-Wal_Jammat ( ASWJ) is cover name of Sipah Sahabah Pakistan(SSP) and both names are included in b list of proscribed organizations, submitted by NACTA and federal interior ministry of Pakistan to SC. But on ground this banned organization is fully functional in all over the country with out any hurdle. Neither federal nor provincial governments bother to see it working in their territories.
So we can say that ban on this organization has become totally ineffective and just in papers.
ASWJ/SSP emerged from Deobandi Sunni sect in 1985 during dictatorship of Ziaulhaq. Its manifesto based on excommunication/Takfir of Shiite community and this organization is working to force state to declare Shia community as non-Muslim community through constitutional amendment in 1973 constitution as state of Pakistan had declared Ahmadi community non-Muslim in 70s during parliamentarian democratic era.
ASWJ/SSP not only is running an organized, well-connected political campaign to convince parliamentary political forces for introducing amendment in constitution of 1973 for declaring Shiite sect non-Muslim but it is running a nasty, hatred and sectarian campaign against Shiite community all over the country from 1985. This campaign is being run in Deobandi Seminaries, mosques, in public places.
Anti-Shia hatred campaign run by ASWJ/SSP not only marginalizes and demonizes Shiite community but it declares Shiite community sole responsible of alleged Sunni-genocide in Syria, Iraq, all over the Muslim world. Even this terrible campaign instigate Deobandi young minds on violence against Shiite community while calling Shiite community a great threat to Sunni Islam.
This hatred campaign not only demonizes Shiite community but it also declares traitors and hypocrites those Sunni Muslim individual and groups who do not call Shiite Muslim apostates (Murtid), do not spread its slogan 'Kafir Kafir, Shia Kafir(Apostate ,Apostate, Shia Apostate) and neither they support its hatred and its campaign of isolating and paving way for transforming Shiite people into un-touch. So its campaign is also against Sufi Sunnis, Christians, Hindus, liberal secular and left.
Violent Takfiri fascist campaign of ASWJ against Shiite, Sufi Sunnis and others is very organized campaign and funded/sponsored by Gulf states including patronizing by Saudi Arab. This organization gets support from Takfiri and pro-Jihadists elements and section in states and civil society. This organization have very strong and firm roots in media establishment and mainstream political parties.
My view is that now ASWJ is not an isolated, tiny social phenomenon in our Pakistan society. With the passage of time ASWJ/SSP expanded its network all over the country on large scale. This organization receives ideological support and sympathy from Salafi (particularly remnants of Ihsan Allahi Zaheer, a Saudi-funded and promoted Salafi cleric,who had run very sharp and critical ideological Takfiri hatred campaign against Shia and Sufi Sunnis, wrote two polemical books against Shia and Sufi Sunnis and Saudi government published this into many languages and hundreds of thousands copies free of cost distributed in Muslim countries.), from Deobandi clergy particularly from remnants of Ahraris, who are working in International Khatam-i-Nabawat Movement, from Jihadi and Takfiri elements in JI, Deobandis, Salafis. Takfiri campaign of ASWJ gets support from so called modern Wahhabi educational institute like Alhuda foundation run by Farhat Hashmi , Tehreek Islami founded by Dr.Israr and Ghamdi network.
Attitude of those, who are running Deobandi religious seminaries and mosques towards ASWJ and its hatred Takfiri fascist campaign is not based on enmity and they do not take it as big ideological challenge for their sects. Laymen from Deobandi and Salafi often are caught in the deception of Takfiri-net. ۔
Electoral Power of ASWJ
ASWJ/SSP has transformed itself such organization which have ten thousands to twenty thousands in many national and provincial constituencies of Pakistan. For example PML-n made an alliance with ASWJ during last election due to 19 seats of national assembly in Punjab, where ASWJ's vote bank was from 10000 to 20000. And it is said that PML-n had issued its tickets for 21 such persons,who were staunch leading workers of ASWJ. Abad Dogar from Muzaffargurh, Ch Abid Gujjar were included in said those persons.
ASWJ here in Punjab particularly set up its strongholds in district like Jhang, Faisalabad, Sargodha, Rawalpindi, Bahawalpur, Deraghazi Khan, Raheemyar Khan,Bahawalnagar, Khanewal, and many others districts. In Sindh we have observing a rising of ASWJ not only in Urban Sindh but in rural Sindh also. Khairpur, Shikarpur, Sukkar, Sultanabad and other many areas ASWJ has recruited many native Sindhi speaking deobandi young people.
ASWJ/SSP changed many Deobandis in Saraiki, Sindhi, Baloch and Pashtun communities who were part of peaceful and plural culture and radicalized them and now they also promoting Takfiri culture in native Sindhi,Pashtun, Saraiki people.
ASWJ/SSP uses its political influence and expanded social network and its vote power as weapon to intact itself in mainstream. Its political strategy is very flexible. For example when ASWJ founded and started its work in 1985 then it pushed back and shrink traditional Deobandi religious-political Party JUI-f in Punjab first then it got popularity in Karachi in those constituencies where JUI-f had vote pockets. Then it captured some constituencies in KPK, like in Dera Ismail Khan, Peshawar.
But from Musharraf era to era of Raheel Sharif ASWJ/SSP started to face some hurdles in its working. First of all Musharraf banned SSP but after just one month there was Millat Islamia Pakistan a cover name of SSP. Millat Islamia Pakistan was also banned by Musharraf Government then ASWJ was formed and started SSP again its work. But at this time ASWJ made its political strategy more flexible.
When Pakistan Army started Zarb-i-Azab military operation and then after APS tragedy there was national action plan devised and state made tall claims. In period of great pressure and some strict reaction from start ASWJ started to camouflage its Takfiri campaign and started to mix up with more and more mainstream deobandi organizations like Wafaq-ul-Madaris, JUI-f, JUI-s and others. In that era 26 Deobandi political and religious parties and groups were brought close to each other and united front was formed. Its aim was to release pressure on Jihadi-Takfiri elements being applied through National Action Plan. That was the time when ASWJ and JUI-f came close to each other.
After joining of MPA Masroor Jhangvi in JUI-f, this has been cleared that ASWJ will contest next election under banner of JUI-f.
Maulana Fazal-ur-Rahman is well aware of vote and political power of ASWJ in Punjab and Sindh, while in KPK and Baluchistan also. He wants to make its bargaining position in Sindh and Punjab where before alliance with ASWJ its organizational network and its vote power bank had become so weak. Maulana Fazal-ur-Rahman wants to get decisive share from provincial seats in KPK and Baluchistan and to get this target on one side he made alliance with ASWJ from its Deobandi circles and on other side he has convinced JI to form again MMA and he has convinced JUP-Noorani also.
Although maulana Fazal-ur-rahman couldn't convince Maulana Sami-ul-haq to come and join MMA again for coming election 2018 and JUI-s has made an alliance with PTI and enjoying funding and other privileges from PTI-led KPK government. But in my thought Maulana Fazal-ur-rahman has made possible to cover this disadvantage through making alliance with ASWJ.
JUI-F and ASWJ both are allies of PML-n and these two organizations will support PML-n in Punjab in 2018 election. And possibility is that JUI-f will made seat adjustment with JUI-f supported by ASWJ in Baluchistan and PML-n will make an alliance with JUI-f , Grand National Alliance Sindh against PPP.
So we can say that ASWJ/SSP has been already mainstreamed politically all over the country and it has been successfully camouflaged its Takfiri Campaign.
Who played Role in camouflaging Takfiri Campaign of ASWJ?
This question is very important and we should seek its Reply also. First of all this was PML-n who not only made an alliance with ASWJ/SSP in Punjab but fully supported and patronized this organization. But here we should also raise another question also: Is Pakistan's military establishment saw such alliance and patronage as dangerous development and did it tried to stop it? Reply is NO. We saw Rangers Sindh, FC Baluchistan supporting leadership of ASWJ in Baluchistan and Sindh.
Another section of liberal-left media having sympathies for Nawaz Sharif and PML-n is that section which opportunistically ran soft image building campaign in support of Takfiri Deobandi elements like ASWJ particularly. This section not only projected JUI-f but ASWJ also.
Saudi Arab is also playing big role in mainstreaming project of ASWJ.
Commercial Liberal mafia in Press and civil society makes soft images of present leadership of ASWJ and obfuscates its camouflaging of Takfiri campaign. This commercial liberal mafia exaggerates about rising of Takfiri elements among Sufi Sunni and Shia community.
But another big reason of mainstreaming and expansion of ASWJ is compromising politics and short-sighted decision made by secular mainstream political parties of Pakistan like PPP, ANP. These secular parties never devised long term and short term political policy and strategy to combat Takfiri Fascism.
Conclusion:
Takfiri Fascism is deep rooted in our society. Discourse of mainstream media and civil society elite is either denial or obfuscation or legitimacy based.
Although victim sects and communities of Takfiri Fascism have denied to surrender and some religious scholars did very good intellectual job against Takfiri ideology. But socially and politically Anti-Takfiri Fascist discourse in our society has very weak social foundations. On national level still we could not build up institutionalized campaign promoter of anti-Takfiri discourse.