APS incident – Molvi Tariq Jameel's message – by Peja Mistry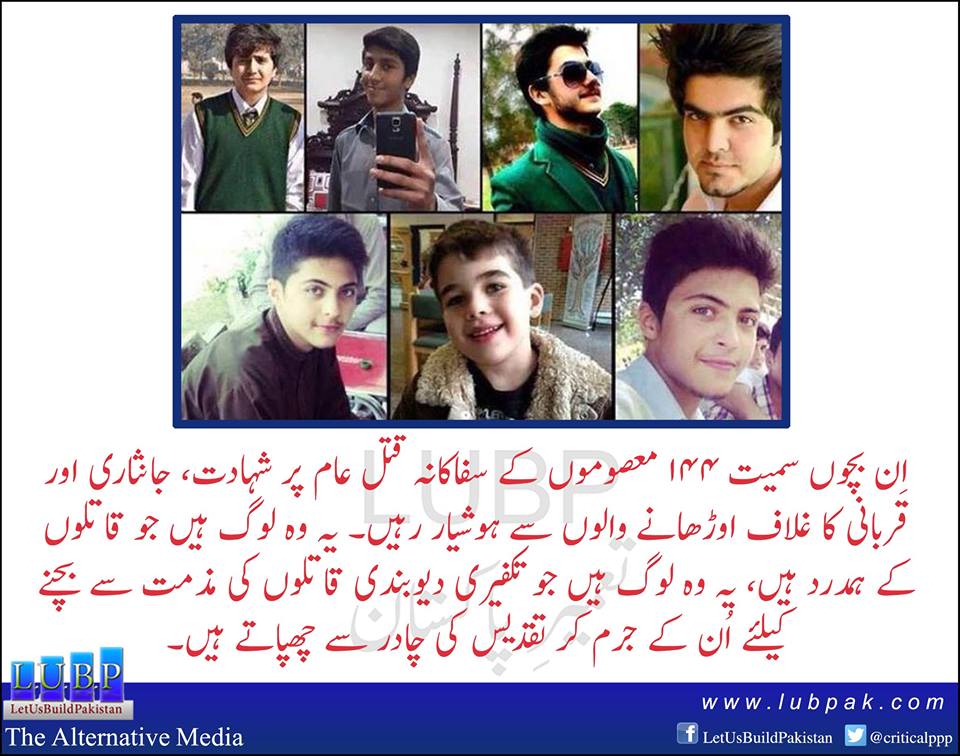 https://www.facebook.com/syedraza1105/videos/1746116442364457/
Note of the author: Please note I wanted to title this article as "APS – 144 suicide bombers" but it appears to be provocative although ironically the readers of this article will not consider molvi Tariq Jameel's message as provocative who claims and proves this assertion.
One day after the APS attack Deobandi molvi Tariq Jameel gave this message on this incident. On every APS anniversary this message is a must listen.
Before I explain this message in detail let me first round up the media coverage last night on the third anniversary of APS attack. There are very rare situations where Liberal mafia and Takfiri Deobandi Journalists openly agree on the same "narrative".
Recently when Khadim Hussain Rizvi did his sit-in in Islamabad, both commercial liberals likes of Nusrat Javed, Imtiaz Alam, Wasatullah Khan, Asma Jahangir to Takfiri Deobandi Mafia likes of Ansar Abbasi, Umer Cheema, Ahmed Noorani, Talat Hussain, Shahzeb Khanzada agreed passionately on the same narrative.
This was the second such situation in recent history when these two opposite poles have come together. APS incident was first of these.
If you watch any talkshow last night you will notice one common pattern – it is deliberately refraining from the impulse of uttering the name of Taliban or even uttering the word "extremists" in those shows.
All the shows adopted a simple pattern consisting of two segments. First bringing in the survivors and their families to praise them for their "sacrifice" and in order to soothe the common men anger they condemned civilian government for not supporting the survivors and martyred children families.
Second they spoke about National Action Plan and some of them even dared to highlight Bralevi molvi Khadim Hussain Rizvi as the extremist, obfuscating the takfiri deobandi identity of the attackers on APS. This theme is important to note in the context of the message by molvi Tariq Jameel.
Now coming to Tariq Jameel's message, do listen it two three times. It is one of the best demonstration of the heinous doctrine of best deception. The first aspect of this message I would like to point out is in the context of Jihadist recruitment process. In 80's when I was youthful teenager, Deobandi Islami organisations (including Tablighi Jamaat, Jamaat-i-Islami, JUI etc), will visit homes regularly after Maghrib prayers and will try to talk to both of my father and mother.
They will be trying to recruit teenagers like me for Afghan & Kashmir Jihad. These recruiters will tell my mother exactly the same ahadees and stories which molvi Tariq Jameel was telling in his message when she will tell them that she can not agree to send me. They will tell my parents how I would be able to save them from hell fire.
Tariq Jameel's message was actually to give assurances that the sacrifice of their children is for a greater cause and they should be glad that their children will become the means for their salvation. In other words he was explaining to them that these 144 children were 144 suicide bombers who have given their lives for Jihad and their parents should be proud of them and thank God.
The second aspect which is even more sinister is that Tariq Jameel is attempting to portray this heinous act as act of God. In order to understand the logic of this argument, you will have to know the true facts about the APS attack.
APS attack was internal rift between two factions of extremists in military establishment. It was also timed to force the end of sit-in by Imran Khan. Molana Fazlur Rehman admitted that APS attack was done to get rid of PTI's sit-in.
"Islamic" history is full of such incidents in which two "sincere" faction of "pious" muslims fight each other and not only kill each other but also rape women and kill children.
If you would like to understand this you must listen to Javed Ahmed Ghamidi who explains in very "eloquent" manner how such acts happen not because people doing these acts are "bad" people but because of the "laws of nature". He explains this not only in the context of fights between Sahaba (companions) of Prophet Muhammad but also from the more recent Islamic history including Taliban factions fighting on the "Amarat" after the death of Mullah Omer & Mullah Akhtar Mansoor.
APS was also the result of such fight between two pious factions of takfiri deobandi extremists. It is in this context that molvi Tariq Jameel refers APS incident as the act of God. He gives the glad tidings to the parents of children who died that they are waiting for them in heaven
Comments
comments