Nawaz Sharif: How a Saudi stooge purchased Pakistan's Commercial Liberal Mafia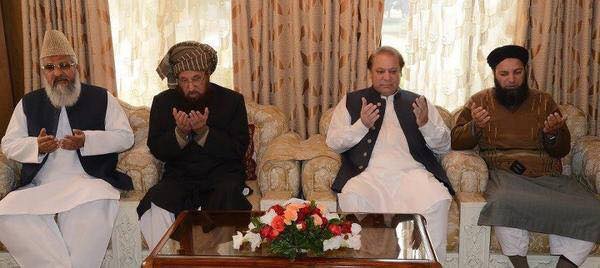 I am Nawaz Sharif, the over-privileged spawn of CIA-Jamaat e Islami backed military dictator, General Zia ul Haq. I am so pleased that my investment in Pakistan's liberatti, through my henchman, Najam Shady is paying off. Truly, it is heartwarming to see my deposits blossoming amongst the commercial liberal Mafia whose task it is to preach selective amnesia as far as my, ahem, shortcomings, are concerned.
Me and the Takfiri Deobandi nexus, that have killed 70,000 Pakistanis, have (nearly) always employed a warm and mutually beneficial relationship. Here I am praying with them, asking our Saudi masters to deposit a few billion more Riyals in our off shore accounts. I generally prefer Pound £ sterling for obvious reasons as it helps me with the payrolls for my housekeeping/management staff at my £160 million Mayfair properties. Just to emphasise, praying with me in a select gathering are Sami ul Haq, Taliban godfather and acclaimed whore monger. Next to him is Ahmad Ludhyanvi, the chief of the ISIS-affiliated Deobandi terrorist hate group ASWJ-LeJ.
When the time came to bomb the Yemenis, I publicly gave my consent before even consulting with parliament. Shame on them for voting against me.
Thanks to my investments in a few journalists and social justice warrior type hypocrites, at least the English media is largely under my control. They have anointed me as "anti establishment" which is really quite ironic given that I have been a core and consistent part of this establishment for 40 years. Not only that, the Saudi and other international establishments support my kleptocratic regime.
In 2011, when me and my party radicalised and collaborated with Khadim Rizvi to incite and plan the murder of Taseer, this same bunch of sellouts like Cyril Almeida blamed the murder of Taseer on my PPP rivals.
When I poked fun at the weight of my Hindu minister and made some meaningless token statement, I was also anointed as the "secular liberal hope" by my hired hacks. Even though me and my party actively support the Deobandi and Salafi terrorists groups who lead the forced conversion of Hindus in Pakistan and who are flanking me in this picture below. And it was my fellow intriguer, Saeed uz Zaman Siddiqui who shot down PPP's legislation against forced conversion.
Comments
comments
Tags: Al-Qaeda, Commercial Liberals & Fake Liberals, Democracy, General Zia-ul-Haq, ISIS Daesh ISIL, Military Establishment, Nawaz Sharif, PMLN, PPP, Religious extremism & fundamentalism & radicalism, Sectarianism, Shia Genocide & Persecution, Sipah-e-Sahaba Pakistan (SSP) & Lashkar-e-Jhangvi (LeJ) & Ahle Sunnat Wal Jamaat (ASWJ), Takfiri Deobandis & Wahhabi Salafis & Khawarij, Terrorism