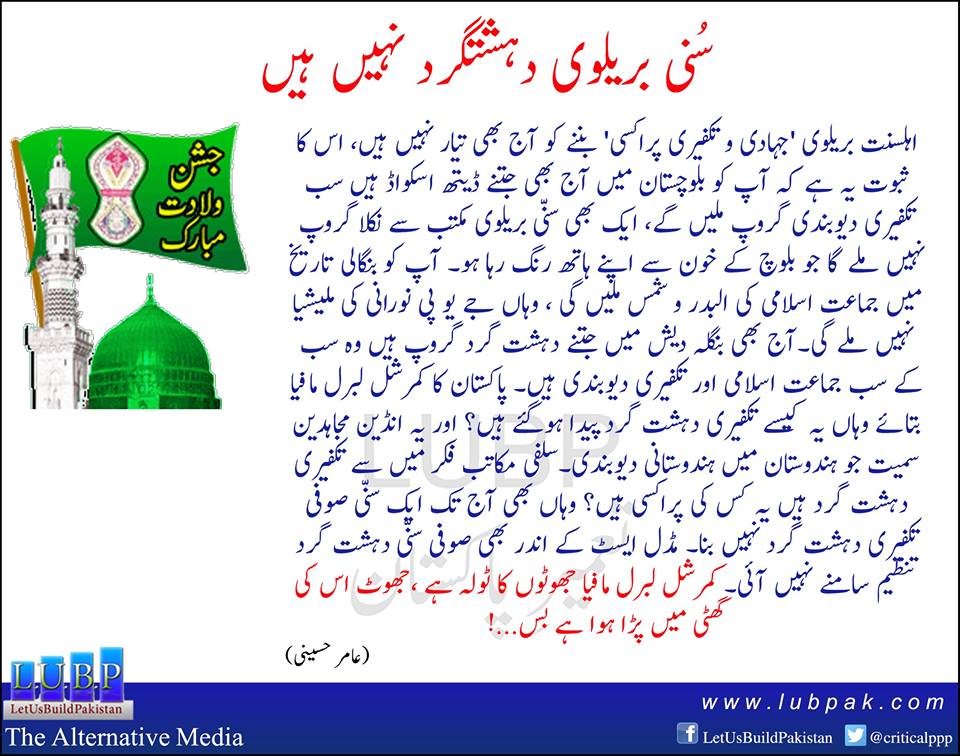 Pakistan's leading Sunni Barelvi cleric, Dr Tahir ul Qadri preaches against the thuggish and abusive conduct of Khadim Rizvi and requests his congregation to
1. Respect other religions and accommodate other beliefs as hosts
2. Desist from abuse
Meanwhile, Pakistan's dubious commercial liberal Mafia has not called out Deobandi Terrorism. It continues with the dishonest tactics of Falsely equating Khadim Rizvi's thuggery with the Takfiri Deobandi nexus of the Taliban that has not only claimed 70,000 Pakistani lives. The same Deobandi nexus has also committed terrorism in Afghanistan, India, Syria, Iraq, UK, USA and Bahrain.
Some of the dishonest commercial liberals consider Sunnis to be a bigger threat than the Deobandis. This is in spite of the fact that there are Sunni Barelvi groups who simply want Rana Sanaullah and the Sharif brothers to be tried for their complicity in the 2014 Model Town massacre.
However, never underestimate the more-loyal-than-the-king liberal supportors of Rana Sanaullah. These are those who claim to represent the legacy of Taseer on the one hand while also supporting Rana Sanaullah who incited the murder of Taseer. It was Rana Sanaullah who shared the private family photos of Taseer and it is the same Rana Sanaullah and his Sharif family bosses who are being protected by the commercial Liberal Mafia.
https://www.facebook.com/JaggaKhoji/videos/1651448214921051/