Muharram and persecution of Shias in Pakistan – by Muhammad Tariq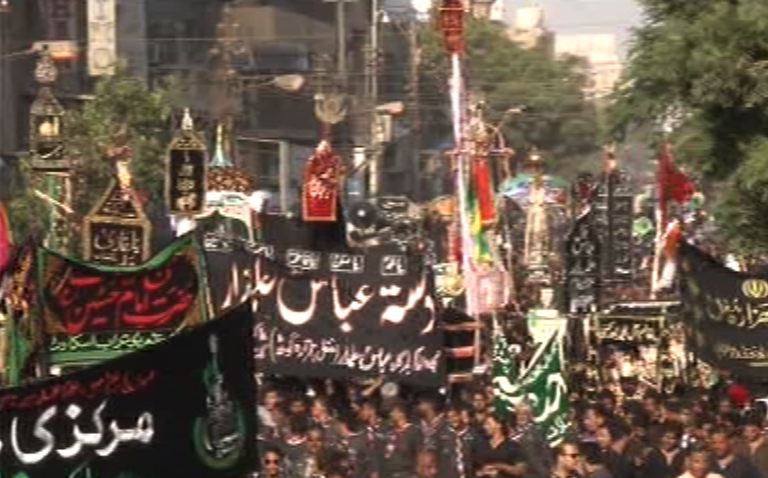 Being a journalist I go to attend many press briefings made by provincial, district civilian administrations including Police on law and order in Punjab. Last series of meetings I attended in start of Muharram. In these meetings members of Peace committees from different sects and trader class and civil society persons were also present.
In this meetings a term 'Trouble Spots' was used again and again by Police officers and civil officers during briefings on arrangements made by administration to maintain peace and calm in society during Muharram not only but in other months.
I talk to IGs, DIGs, RPOs, DPOs and I talked to Commissioners and Deputy Commissioners in detail on this.
For examples 'trouble spots' are those places on the routes of main and other mourning processions of Muharram organized by Shiite community of Pakistan, where either some shops or Mosques or seminaries of Deobandi sect or Ahlehadith are and owners or seminaries or mosques administrations made objections on Noaha Khawani, Marsia reciting or hands thumping on their chests by mourners. According to guidelines provided by provincial governments, local police and district administrations asked organizers of processions to pass through those 'trouble places' silently. Silently passing is allowed just for those processions who are licenced by governments not for others.
There were thousands of traditional, non-registered and non-licensed mourning processions and gatherings all over the country before partition and after partition now they all have declared illegal and if anybody insists on organizing that then he/she faces stern legal actions from local and provincial administration.
From last few years' provincial governments directed local administrations not to allow even private mourning gatherings in the houses without permission or without registration. And in practical now it is impossible to get permission or register private mourning meetings in their houses not only by Shiite community but for Sunni Barelvis it is impossible to organize such gatherings in their houses because Deobandis who belongs to #ASWJ / #SSP or such pro-Takfiree organizations have objections on such mourning gatherings.
So in practice now it has become crime to mourn Imam Hussain according to your own faith and beliefs for Shia community and in often in case of Sufi Sunnis also.
I have checked those cases mostly against persons from Shiite community and in some examples against Sunni Barelvis made by local administration due to so called violation of code of conduct made by district administrations. Alleged crime were mentioned in registered FIRs is Mourning of Imam Hussain, Marsia reciting , Noaha reciting not only during processions near Deobandi's shops or seminaries or mosques but organizing non-registered and non-licensed private Majlis in homes.
' Deobandi shops owners or administration of mosques or seminaries on the way of licensed processions on eve of Muharram says that Marsia , Noaha and beating chests by mourners are sectarian provocation so we take stern action against organizers if they refuse to pass through silently Deobandi shops, markets in some cases and often Deobandi Mosques and seminaries that are on the way of mourning processions licensed and registered by local administrations', said a police officer while defining trouble places during a briefing at his office.
Dozens of Urs ( annual gatherings on the eve of death anniversaries of Sufi saints) and cultural festivals in Public and often are restricted to boundary walls of shrines by local administrations due to objections made by sectarian, Takfiri organizations mostly by Deobandis and Salafis.
'All most same situation is happening in every where in Pakistan. One of half century old procession in our town on martyrdom of Imam Ali a.s. has been banned which was taken out from a mosque of Shias adjacent to Imam Bargah and no house situated in the whole mohalla except Shias', said a journalist from Bhakkar district of Punjab.
Now it has become impossible to hold musical, cultural festivals in public while Islamic fundamentalists create trouble and even they apply force and terror on masses who participate in such cultural activities.
Saudi funded campaign against composite culture and diversity not only restricted freedom of religious communities and they cannot practice their rituals freely in pubic but in case of Shia community they can not hold mourning meetings in their homes while making public announcement through ads or other way.
In other words we can say that our federal, provincial and local administrations are involved in dying composite and diversified culture of Indian subcontinent while accepting pressure exerted by Takfiri,Jihadi Deobandi-Salafi Wahhabi network active in Pakistan.
I talked privately to members of peace committees from Shiite and Sufi Sunnis, they revealed that they are forced to accept such restrictions imposed on them by state officials under several pressure of Takfiris, which are totally against their religious freedom.
Experts on sectarianism and terrorism in Pakistan has said that It would be impossible for Non-Deobandis and Salafis to live without fear and sense of insecurity with the passage of time. I think that time has arrived.
Comments
comments