How dishonest "Social Justice Warriors" work to curb the religious freedoms of targeted groups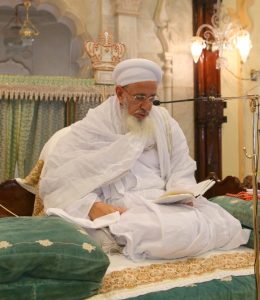 As Bohra Shia Muslims congregate to welcome Syedna Mufaddal Saifuddin's visit to Pakistan, we must both extend our support as well as appreciate the security concerns of Pakistan's Bohra community.
Bohra Shias are a peaceful Muslim community – not ONE of whose members has engaged the terrorism that has engulfed Europe, Iraq, Syria, UK and Yemen.
Pakistan's Bohra Shias are concentrated in Pakistan's largest metropolis, Karachi. For nearly two centuries, Bohras have contributed to the welfare of the city. From lawyers to businessmen, doctors to architects and traders to craftsmen, Bohra have been one of the founding groups of Karachi and have enriched it with their diverse contributions.
Yet, today they have to make exhaustive security arrangements to ensure that their spiritual leader's visit to Karachi is safe. In recent years, this peaceful community has also suffered and endured the scourge of WSD (Wahhabi Salafi Deobandi) terrorism. The Bohra Shia Muslims of Pakistan have been subject to multiple targeted attacks by ISIS-affiliated Deobandi terrorist group, ASWJ-LeJ and its various spinoffs like Jundullah, Jaish and Jamaat ul Ahrar.
Today, parts of central Karachi are experiencing traffic jams due to the Syedna's visit which are entirely understandable – given the ever present threat of terrorism that we have to contend with. Similar security arrangements have to be made for Pakistan's majority Sunni and Shia communities when they commemorate, often jointly, the annual events of Maulood and Ashura. Even the country's majority Sunni (Barelvi) population is not safe from the terrorism of hate groups like ASWJ-LeJ and their Taliban affiliates.
Interestingly, Pakistan's liberal elites don't call out ASWJ and their spinoffs. The ire of these elitist social Justice warriors (SJWs) is instead reserved for the victim communities. So if Sunnis and Shias, Christians and Hindus are forced to make security arrangements that disrupt ordinary civic arrangements, Pakistan's SJWs reserve their outrage for the targeted communities. These hypocrites are either muted or silent about the perpetrators of violence whose terrorism compelled these civic disruptions in the first place.
This elite class which also likes to be referred to as "civil society" is constructed on the pillars of (Deobandi) sectarian privilege. It consists of those who mask their bigotry with an elitist veneer of selective and shallow liberalism. It also consists of token Uncle Tom Shias; so desperate for acceptance to elite circles that they would willingly trash their own communities facing grave security challenges.
As Muharram approaches closer, the same elites will regularly mock and abuse the commemoration practices of Sunnis, Shias and Hindus who jointly participate in Ashura ceremonies. If only this outrage was directed at the suicide bombers of terrorist groups like the Taliban, Al Qaeda/ISIS and ASWJ-LeJ/Jaish that regularly target Muharram processions globally…. Thus, it is not just terrorists but those who deliberately deflect their crimes and consequences, who have brought us to this situation.
Civil society's dishonesty in holding terrorist and hate groups accountable has now become a global phenomenon. Ever wondered about the connections between the daily inconvenience to millions of air travellers taking flights and the global Saudi patronage of Salafism/Wahhabism?
If one has not made the connection between Richard Reid, the infamous Wahhabi "shoe bomber" terrorist and the daily inconveniencing of millions of travellers, then one is either poorly informed or deliberately obtuse.
We wish the Bohras well on this occasion and pray that their event in Karachi proceeds smoothly. They are just one of many faith communities whose religious rights are increasingly under threat. And not just by terrorists but by dishonest SJWs who will complain about civic disruptions but never point out the real reasons which caused them.
In 1970's Karachi, the annual Ashura processions did not lead to the closure of main roads and other important city arteries. While the processions proceeded on one side of the street, traffic continued smoothly on the other side. However, an evolution from vicious thuggery to suicide bombers by PML N/Saudi-sponsored groups like ASWJ-LeJ lead to a situation where faith communities have to be caged in. Wouldn't it be a relief if those who were caged in were the hateful beasts of Sipah e Sahaba.
Source:
http://worldshiaforum.org/2017/09/bohra/
Comments
comments
Tags: Al-Qaeda, Balochistan, Commercial Liberals & Fake Liberals, General Zia-ul-Haq, ISIS Daesh ISIL, Jamaat-e-Islami, Jihadi and Jihadi Camps, Shia Genocide & Persecution, Shia Hazaras, Sipah-e-Sahaba Pakistan (SSP) & Lashkar-e-Jhangvi (LeJ) & Ahle Sunnat Wal Jamaat (ASWJ), Takfiri Deobandis & Wahhabi Salafis & Khawarij, Taliban & TTP, Terrorism