All Deobandi-Salafi right wings parties are on same Page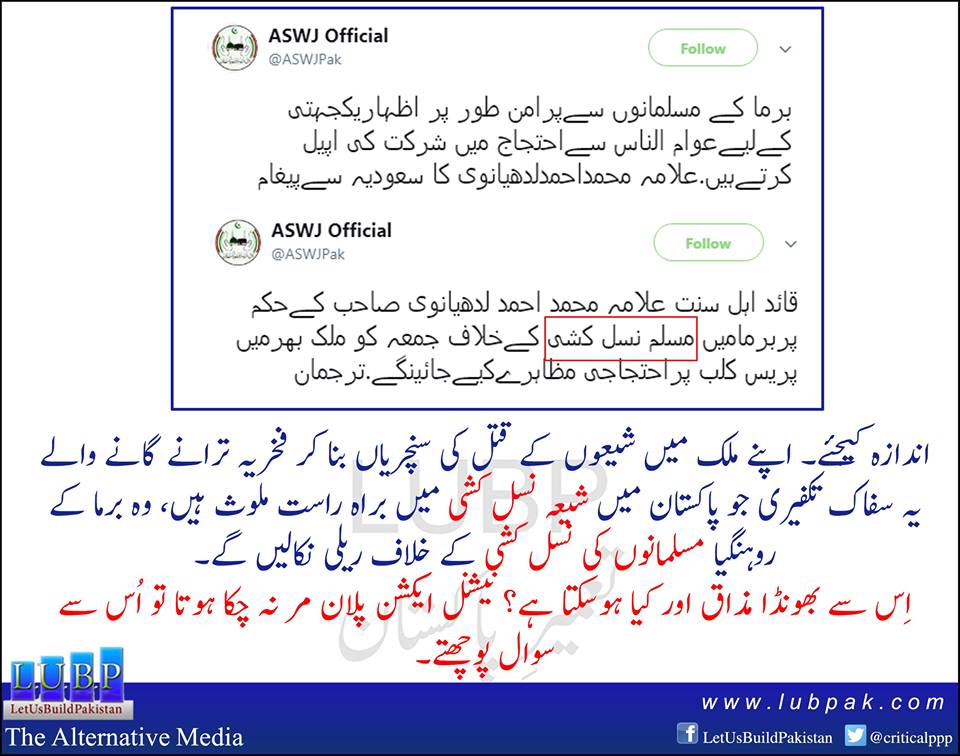 On Question of Talibanization( Deobandization plus Saudization) of Pakistan All Deobandi-Salafi right wings Parties are on Same Page.
Their Alliance with PML-N or PTI is just gain power,benefits, privileges and their drama of democracy is fake and deception.
They are not anti-establishment but they have reservations on restricting the scope of Jihadi militancy in Pakistan.
Former 3 star general (Lieutenant General) Amjad Shoaib has revealed that Inter Services Intelligence( ISI) agency had asked government to mainstream banned religious organization active in Pakistan and recruit the hard core militants in FC and other paramilitary forces of Pakistan.
Note: We have seen that Ahle Sunnat Waljamat-ASWJ is active in election politics with different names like Sunni Rabita Council in interior Sindh, Rah-i-Haq party in NWFP etc while #ASWJ is active in religious and charity while using same name included in the list of proscribed organizations.
Same case is of #JuD which is in the field of election politics with name of Mili Muslim League Pakistan and this has been registered in Election Commission of Pakistan.
General Shoaib Amjad's revelation tells us that Federal Government led by disqualified Nawaz Sharif, PM at that time had accepted this proposal put up by #ISI and it means that on question of mainstreaming of banned organizations and recruitment of banned hard core militants civilian elected leadership and military establishment were at same page. But may be our federal government and Nawaz Sharif do not want to provide this opportunity to #JuD as we now are seeing some actions taken by Punjab government against #JuD on Baqar Eid due to its political drive against #PMLN in NA-120 bye election, but #PMLN has no objection of mainstreaming of #ASWJ and its hardliners all over the country.
#ASWJ is extending its support to #PMLN and we can see the growing relationship and cooperation between #JUI_F and #ASWJ even in Baluchistan and Sindh also. In Punjab only one MPA of #ASWJ from #Jhang city Qari Masroor son of #HaqnawazJhangvi founder of #SSP aka #ASWJ not only joined #JUIF but he is now parliamentary leader of #JUIf.
We should keep in mind also that many staunch members of #ASWJ and followers of Haqnawaz's ideology were given tickets of #PMLN in last election like Abad Doggar from Muzaffargurh and Ch.Abid Ali Gujjar (now MNA from Gujrat).
Jamiat Ahlehadith Pakistan( Sajid Mir's faction) is also ally of PML-N. Sajid Mir head of JAP is senator from PMlN Quota and Hafiz Abdul Karim is federal minister and elected MNA on PML_N ticket.
To enhance our understanding on politics of Nawaz Sharif and PML-N we should also examine the position of JUI-F, ASWJ, JAP and its members elected on PML_N tickets.
All those Deobandi and Salafi politico religious parties allies of PML_N support Talibanization of Afghanistan through militancy in Afghanistan and they think that Al-Qaeda and other global Jihadist network's violent and terrorists acts have some legitimacy except their actions against Saudi Arabia. They officially do not support militarized efforts for imposing Talibanization on Pakistan but they think that our state has forced militants, so called to take up arms in their hands and to attack on Goverment installtion and people of Pakistan while denying enforcement of so called Islamic system in Pakistan. Their view on Question of insurgency of TTP and other groups is apologetic, obfuscated or garbed in cheap conspiracy or justified theories.
Interesting thing is that JUI-F, ASWJ, and their other faction JUI-S led by Sami-ul-Haq ally of #PTI , #JUD salafi Jihadist party as like JAP(Sajid Mir group ) and JAP ( Ibtisam Allahi Zaheer group) even #JI another ally of #PTI all have same position on Question of Talibanization of Afghanistan through Deobandi-Salafi Whhabi militancy and Talibanization of Pakistan through fake election politics. These all Salafi-Deobandi religious political parties active in Pakistani parliamentary politics have no difference with our military on question of jihadist intervention in Afghanistan and Kashmir but in fact all these parties blame some generals that they deviated from right path when they joined American War aganist Taliban regime and restricted Jiahdi business in Pakistan.They have no objection on alleged support of #JM , #LeT and Haqqani network or on limited scale Jihadi proxies in Baluchistan against Baluch militancy but they want full and free space for all militants working under the banner of Jihad, Islam and Ideology of Pakistan. They have reservation on some restriction not on Jihadi and deep state mentality exiting in Military circles.
So when our those liberals who glorified Nawaz Sharif as anti-military establishment and someone in them even not only glorify Nawaz Sharif but they admire Deobandi and Salafi political leadership while building their soft image and their so called journey from extremism to moderate parliamentary democratic politics then they in fact obfuscate their actual position on Jihad, alliance with Saudi Wahhabi elite, Takfirism and other nasty things.
All of sudden we saw lectures in support of mainstreaming of banned Takfiri Deobandi-Salafi organizations from those colomnist,analysts and anchors sitting in the lap of Nawaz Sharif that was not coincidence and not an idea devised by them independently but in fact they did so to please their His Highness Mian Muhammad Nawaz Sharif.
Comments
comments