SMBB's murder & Musharraf – the outcast – Pejamistri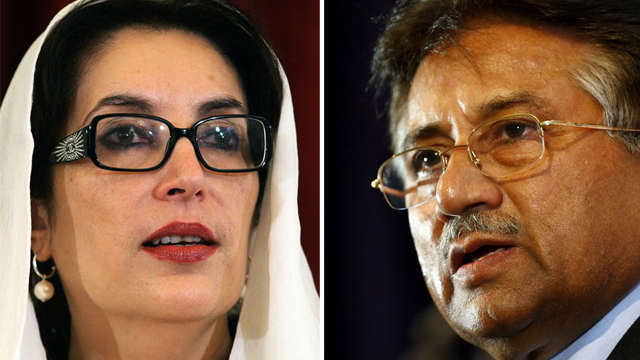 After almost 10 years, military's establishment felt itself as strong as ever and decided to rub the salt on the wounds of the terror victims by declaring the verdict in Shaheed Mohtarma Benazir Bhutto's murder. The verdict is not just a joke, it is actually designed to dense the existing smoke screen to hide the real culprits of SMBB's murderers.
Over the years I have not only maintained but proven by examples that there are two groups of establishment's paid touts in not only Pakistani media but in BBC, CNN and other media outlets. The commercial liberal group and the right wing extremist group. While the right wing extremist group is visible, the commercial liberal group is also not difficult to identify, their love for Saudi Wahabi Islam, selective criticism of Pakistan military generals and their hatred for the non deobandi/wahabi Islam makes them obvious. But this is just as a background on how the media is playing on the SMBB's verdict.
The right wing extremists group in media likes of Ansar Abbasi, Orya Maqbool, Hamid Mir etc. create the noise on how Asif Zardari is the murderer of his beloved wife. Their strategy is two pronged first provide the cover to real culprits and at the same time malign PPP and Bhutto family.
On the other hand commercial liberal mafia group's strategy is multi-pronged and much more sinister. The commercial liberal group consisting of the people like Nusrat Javed, Imtiaz Alam, Marvi Sirmid etc. hand in hand with their paymaster Pakistan's ISI devise a highly effective strategy to achieve multiple goals.
First of all, let me explain my personal point of view about Musharraf so that it does not cause any confusion. I consider Pervez Musharraf as the mad dictator of Pakistan who caused like many other dictators before him irreparable damage to Pakistan. His crimes against people of Pakistan are too many not to mention his Kargil adventure and then naked aggression against people of Pakistan by overthrowing democracy. But Pervez Musharraf has no comparison with many other dictators and military generals who came before and after him. Those who try to put him at par with the likes of General Zia-ul-Haq are suffering from acute lack of proportion syndrome (ALSPS), but I am not.
Pakistan's commercial liberal mafia, uses Pervez Musharraf as the scapegoat for the murder of SMBB. I must say few words on this. The fact of the matter is after 2006 Musharraf had become an outcast in the army. Just like Pakistan people are divided into groups Deobandi/Wahabi and Others. Similarly Pakistan military is also divided on the same lines. While the non-deobandi/wahabi generals commit the same or similar crimes against people of Pakistan but they do so due to their personal greed and ambitions as Pervez Musharraf did in Kargil and later in 1999. On the other hand Deobandi/Wahabi generals commit heinous crimes not only against people of Pakistan but against humanity on the basis of their religious beliefs. Musharraf had become an outcast in his group after he started going against them by removing Dr. Abdul Qadeer, providing vital information to NATO/US forces and even speaking to Benazir Bhutto for a potential deal (the so-called NRO which later-on was used by military mafia to malign Bhuttos. This campaign against NRO is run even now just because the Deobandi group (lead by Kyani at that time was dead against any deal with SMBB). By 2007, Kyani had devised a complete strategy to oust Musharraf. The clown Iftikhar Chaudhary was used to create the required movement against Musharraf.
As I said Musharraf was no saint, he was a mad dictator. SMBB and any other democratic leader would want him to quit, provided he hands over the power to elected people. It is for that purpose SMBB was not only willing to negotiate with him but also launch the campaign against him so that he is weakened.
The commercial liberal mafia group of Pakistan tries to blow out of proportion the role of Musharraf in SMBB's murder. There is no doubt that Musharraf would have been privy to many secrets and information regarding SMBB's murder. But truth is he is just one of the many and as an outcast in the army at that time he probably had much less say then any other general.
I also claim that the day the whole conspiracy to murder SMBB comes to light, that day will be the day when world celebrates their victory against Islamic terrorism. The order of SMBB's murder did not come from an outcast from military. SMBB was such an iconic leader that her murder order was given directly by the Islamic terrorism mafia leaders consisting of Saudi Arabia, Taliban, Pakistan military generals and other Deobandi/Wahabi extremist groups spread across the whole world including US, Europe and Asia. The day this conspiracy is unearthed we shall know all the names of these people who approved the murder of SMBB which will contain many surprising names, but that day will only come when world has eradicated the Islamic terrorism for good.
(P.S. I will write more on this "Musharraf – an outcast" in a separate article)
Source:
SMBB's murder & Musharraf – the outcast
Comments
comments