Is Takfiri Deobandi-Salafi Wahhabi a sectarian and biased term? – by Aamir Hussaini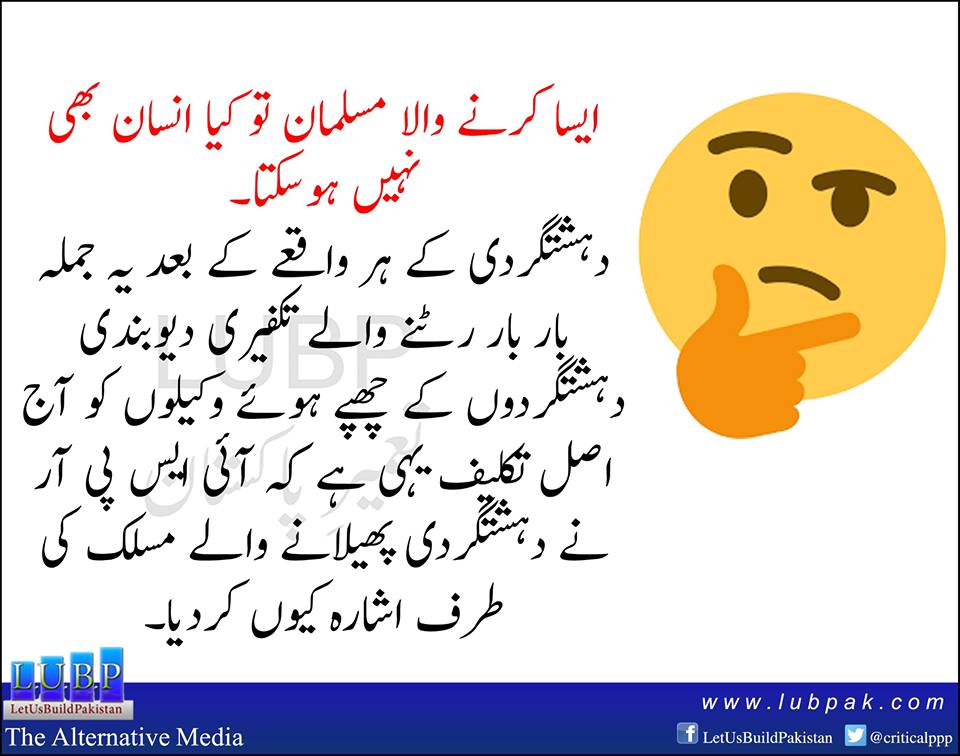 Director ISPR Major General Asif Ghafoor revealed that it was militants having Deobandi background from Jamatul Ahrar( A faction of TTP) from Bajor Agency were involved in attack on Deobandi Mosque and Seminary at Raja Bazar Rawalpindi on 10th Muharam,2013. He revealed that JA in fact made bad designed to incite Shia-Sunni (Deobandi) civil war in Pakistan through this act.
After this press conference when we pointed out that revelation made by ISPR confirms our view that there is no Shia-Sunni war in Pakistan and this is Takfiri Deobandi-Salafi-Wahhabi network who organizes such terrorists plan to strife Shia-Sunni divide in Pakistan and we again exposed hidden alliance between commercial liberal mafia and sympathizers of Takfirism in Pakistan then Liberal Commercial mafia started to cry and blame on us of sectarianism and biased approach against a sect. They tried to misguide young minds and made false propaganda. Even some little men (بالشتیہ ) bullied also on us.
In Pakistan Neo-Liberal intellectuals (Who are in fact part of western neo-liberal Lobby which provide cover Wahhabism, Radical Salafism and Alqaeda ,ISIS in Middle East and they falsely portray them as moderate rebellions or interpret their atrocities as reaction of Sunni genocide in Syria."the Pakistan Neo Liberal lobby, which depends on Western Neoliberal lobbies for ideological and material support, attempted to justify the Shia Genocide in Pakistan by applying the False propaganda of Al Qaeda in Syria. This Neoliberal apologist arguement did not make chronological sense as the regime change war in Syria started in 2011-12 and Shia Genocide in Pakistan predates that. Furthermore, it was based on sectarian incitement by Al Qaeda which was aimed to destroy the secular order of a multi faith Syria.
Al Qaeda tried and failed to peddle the lie about an alleged "Sunni Genocide in Syria"
Assad's mostly Sunni majority army continues to support him as does the chief Sunni Mufi and not to forget, his own Sunni wife. ) uses same false binaries and have same apologetic tendency while discussing faith based violence and religious militancy in South Asia generally and in Pakistan particularly.
These Neo-liberal (Our comrade Sartaj Khan says that these are post-modernist intellectual) resist whenever someone try to reveal origin of ideology and sect background of those terrorist and militant organizations who are involved in Shia-genocide, attacks on Sufi Sunnis, Christians, Hindus, Ahmadis and even on moderate Deobandis and Salafi Ahlehadith in Pakistan.
They promote false Shia-Sunni binary, obfuscation of identity of those culprits who are running organized genocide campaign of Shia community in Pakistan and false misguided balancing tendency on question of faith based violence and militancy in Pakistan.
In Pakistan very first time this was 'criticalppp.com' (after some time name of this web blog replaced with Let Us Build Pakistan-LUBP) web blog which started to expose this apologetic, misguided,obfuscated and falsely balancing tendency being promoted by a section of neo-liberals in Pakistan.
This was coincidence that I have also same conclusion. Today I reveal that Abdul Nishapuri and other bloggers at LUBP at that time were not using term 'Takfiri Deobandis'.
This was me who devised 'Takfiri Deobandi 'term to explain faith based violence and religious militancy emerged from Deobandi School of thought. And I asked Abdul Nishapuri and other bloggers to use this term which later became very popular among many other writers.
Then we all started to use 'Takfiri Salafi.Deobandi Wahhabi Network'( TSDWN) as a comprehensive term used for global faith based violence and religious based militancy having Salafi and Deobandi background.Interesting thing is that I had discussed and forwarded this term with brief background to some renowned journalist and leftist intellectual from Lebnon, Egypt,Tunis and other regions who also now frequently use this term.But here in Pakistan neo-liberal intellectuals, some elitist civil society section and their peers suddenly started to call this sectarian and biased term to cover their apologetic , obfuscated and false justified discourse on Shia genocide and question of identity of faith based violent organizations and their terrorism in Pakistan. Now they and their blind followers misguide common people that term 'Takfiri Deobandi-Salafi Wahhabi network' or Takfiri Deobandi Salafi Wahhabi Terrorism is sectarian and biased term.
They insist that we should use just Wahhabi terrorism or Sunni extremist or Sunni militants or Sunni terrorists and some say that we should use term just 'Terrorists'. Our stance is that such terms in fact obfuscate context of emergence of faith based terrorism and violence along with militancy in South Asia in general and particularly in Pakistan against Shia, Sufi Sunnis, Christians, Ahmadis, Hindus and others and it aslso provide space for false binaries, false balancing tendencies and de-face in fact faith based violence and militancy in Pakistan.
Commercial liberal mafia in Pakistan oppose us when we use following term and they call us 'Sectarian, biased' and says that to identify ideological base of religious terrorist organizations and origin of their sympathizers is anti-liberal, anti-secular,anti- Marxist and anti-enlightened. They are dishonest when they blame us because they know very much that in left and progressive journalist and intellectual circle this is very common practice to point out ideological origin and tendency while discussing faith based terrorism, violence and militancy.
For example Robert Fisk (an English writer and journalist. He has been Middle East correspondent intermittently since 1976 for various media; since 1989 he has been correspondent for The Independent, primarily based in Beirut.) uses Salafist Jihadist, Salafist Militants, Saudi backed Salafi terrorist and even Deobandi militant and Takfiri extremist and Suiside bomber etc terms while discussing Al-Qadea, Al-Nusra, Daesh/ISIS and Taliban. Here I give just one example of usage of such terms in his various articles:
"I suspect these roots lie in the Deobandis, one of several Sunni groups founded in the aftermath of the Indian Mutiny, a Muslim rebellion which we, of course, crushed with our usual ruthlessness.
The Deobandis' House of Learning was to become the leading theological school in India, founded 10 years after the Mutiny by Mohamed Abed Husain in Uttar Pradesh. It was partly intended to counter the pro-western Muslim colleges whose curriculum included both Islam and western liberal sciences – not unlike the French "inculturation" of Egypt at about the same time."
In this article he tells us that Ahmad Rashid ( Pakistani liberal journalist,expert on CIA funded Afghan Jihad project and admired much by Liberal commercial mafia also who makes criticism on us due to usage of the term ' Takfiri Deobandi terrorism' by us.) :
"As my esteemed colleague Ahmed Rashid has pointed out, while the Deobandis restricted women, opposed Muslim hierarchies and rejected the Shia, the Taliban "were to take these beliefs to an extreme which the original Deobandis would never have recognised."
(http://www.independent.co.uk/…/isiss-undoubted-skill-in-exp…)
Here my question is that if Robert Fisk and Ahmad Rashid are not sectarian and biased despite revealing Deobandi origin of Taliban and Salafi origin of Al-qaeda and ISIS despite like us both explain that distortion which was made by these terrorist organizations as we also point out many times then this commercial liberal mafia why call us sectarian and biased due to same practice made by us like Ahmad Rashid and Robert Fisk?
Another renowned journalist and analyst is John Pilger (an Australian journalist and documentary film maker based in the United Kingdom since 1962.) who also used such terms in his analysis, reports and books written by him.
"The LIFG is proscribed by Britain as a terrorist organisation which seeks a "hardline Islamic state" in Libya and "is part of the wider global Islamist extremist movement, as inspired by al-Qaida".
"The Manchester atrocity lifts the rock of British foreign policy to reveal its Faustian alliance with extreme Islam, especially the sect known as Wahhabism or Salafism, whose principal custodian and banker is the oil kingdom of Saudi Arabia, Britain's biggest weapons customer."
http://johnpilger.com/…/terror-in-britain-what-did-the-prim…
This is just one example of writings of John Pilger in which we can see that he used terms Wahhabism, Salafism, Extreme Islam and other terms to define and explain origin of terrorism and extremism of religious based terrorist and extremist organizations.
There are many Marxist and left intellectual activists from Egypt and Lebanon and other regions who also used such terms and words in their writings to define and explain the origin and ideology of extremist and terrorist organizations working in Middle East, North Africa and South Asia.
Gilbert Achcar ( a Lebanese academic, writer, and socialist. He is a Professor of Development Studies and International Relations at the School of Oriental and African Studies of the University of London) who is Marxist ideologue of faction Fourth International and our comrade Farooq Tariq is also related to his and his faction on international level. He tells us in detail in an article that why Political Islam or Islamism is not sufficient term to explain extremist and faith based terrorist organizations and even he says that such terms are not sufficiently explain emergence and arising of organizations like Muslim Brotherhood, Jamat Islami and others but he uses term 'Islamic Fundamentalism' and then he gives argument and explanation on giving preference this term on other terms being used. We have our own reasons when we use term 'Takfiri Deobandi-Salafi-Wahhabi' while explaining faith based violence and terrorism in Pakistani context.
http://isreview.org/…/islamic-fundamentalism-arab-spring-an…
Samir Amin( an Egyptian-French Marxian economist. He is noted for his introduction of the term Eurocentrism in 1988.) frequently used Salafism, Wahhabis, Islamic Jihadist and like these others terms while writing on faith based teorrist organizations.
"There are also the Salafists. The Salafists are as bad as Muslim Brothers, they were eliminated by the Muslim Brothers because the Muslim Brothers wanted to have all the positions only for themselves. This is why the Salafists also moved into the movement. They have some influence among some sections of the middle classes and among those very poor who have very little understanding of politics, particularly in the rural area. Not more than that."
https://www.pambazuka.org/governa…/samir-amin-reflects-egypt
'The Salafists (fanatical Wahhabites, intolerant of any other interpretation of Islam) make no bones about their extremism, and they are behind a systematic murder campaign against Copts'
https://monthlyreview.org/commenta…/2011-an-arab-springtime/
In first excerpt is based on comments uttered by Samir Amin during an interview and here we can see that he use general term 'Salafists'while calling them 'as bad as Mulism Brothers'.And other paragraph is from an article written by Samir Amin. In which we see him using term Salafists while in bracket term 'Fanatic Wahhabites 'to tell us who are behind killing of Coptic Christians in Egypt. Here in Pakistan when we reveal that Takfiri Terrorists are Deobandi Fanatic Whhabites then Liberal Commercial Mafia starts to cry and declares us 'Sectarian and biased'.
So these examples proves that to point out ugliness of some religious faction from a particular sect or school of thought while using term revealing origin of their sect is not sectarianism and such discourse is not based on biased thoughts.
Comments
comments
Tags: Al-Qaeda, Commercial Liberals & Fake Liberals, General Zia-ul-Haq, ISIS Daesh ISIL, Rawalpindi Ashura Violence 2013, Religious extremism & fundamentalism & radicalism, Saudi Arabia KSA, Sectarianism, Shia Genocide & Persecution, Sipah-e-Sahaba Pakistan (SSP) & Lashkar-e-Jhangvi (LeJ) & Ahle Sunnat Wal Jamaat (ASWJ), Takfiri Deobandis & Wahhabi Salafis & Khawarij, Taliban & TTP, Terrorism