The Fascist " Chief Teray Jaanisar " slogan ruined Pakistan's Judiciary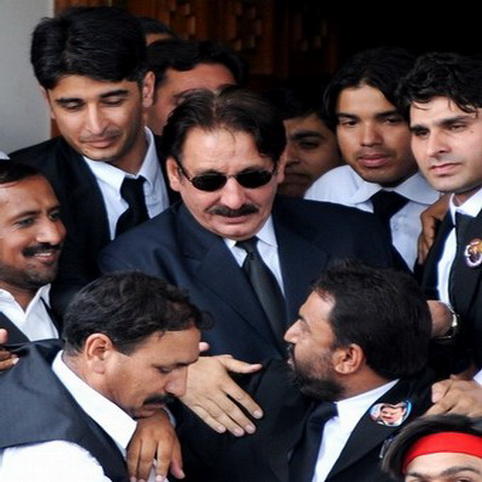 The fascist "Chief Teray Jaanisar, Beshumar, Beshumar" "movement" culminated in its logical end outside the Lahore High Court today. Lawyers who disagreed with Judges were pelting rocks and stones – echos from 2007 and 1997 when lawyers and thugs made the law captive to their whims.
Those who truly want to understand the violent and thuggish behaviour of lawyers outside LHC today need to acknowledge the precedents that set this motion. From the 1950s onwards, Pakistan's Judiciary has placed authoritarianism and vigilantism above the law.
The doctrines of necessity and the Judicial murder of ZAB dented the credibility of the Judiciary. Whatever little was left was frittered away by the dirty intrigues of Saeed us Zaman Siddiqui against his own Chief Justice Sajjad Ali Shah. It was lost when PML N thugs under the directions of "that great anti establishment Democrat" Nawaz Sharif, launched a physical attack on the Supreme Court.
Throughout these sordid episodes, the Judiciary failed to assert the law and instead preferred to be used as toilet paper by military dictator General Zia ul Haq and his spawn, Nawaz Sharif.
In the 1999-2000 Zafar Ali Shah case, the Courts went along with another military dictator General Musharaf. Their cosmetic and selective intransigence nearly a decade later was not just too little, too late. It was also stained with its association with the past and present of ISI.
In 2007, the movement hosting retired Generals like Hamid Gul and scheming bureaucrats like Roedad Khan never appealed to many. It never inspired one with confidence when thug groups like PML N and JI claim to care (selectively) about the law. And No, this does not make one a Musharaf/MQM supportor by default.
What followed was a one-sided and singular targeting of the elected PPP government with crucial derailments along the way. We also witnessed how the hyper-inflated Judiciary of PCO Chaudhary went out of its way to please PML N and their electoral allies LeJ, LeT and the Taliban.
From 2009-13, over a hundred judges were dismissed on the whims of other PCO judges. PCO Chaudhary literally ruled the Judiciary as his family fiefdom with his corrupt son being another significant beneficiary along with the Sharifs.
The subsequent course corrections have been insufficient. The Judiciary needs to interpret the law. They just handed a weak decision to a corrupt former prime minister and his family in spite of a damning investigation report.
For the Judiciary to regain its credibility, it has to come down hard on thugs. The 1997 attack on the Supreme Court would be a good place to start.
Comments
comments