Deobandi Quran teacher, jailed for 13 years after carrying out sex attacks on four girls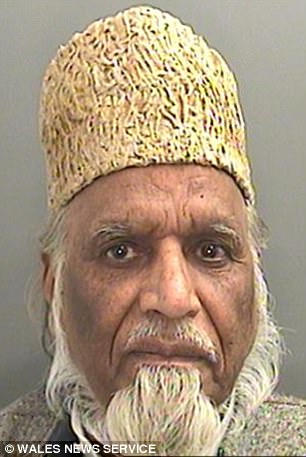 A 'dark and deviant' Koran teacher has been jailed for 13 years after carrying out sex attacks on four girls during lessons in a mosque.
Mohammed Haji Saddique, 81, would call the pupils to sit next to him and read in Arabic from the Muslim holy book.
He sexually touched girls aged between five and eleven in front of his class and slapped students repeatedly if they made mistakes during lessons.
Cardiff Crown Court heard Saddique had metal and wooden sticks, which he used to poke the children as they studied.
He taught primary school pupils, who called him 'uncle' at the Madina Mosque in Cathays, Cardiff, for 36 years.
Saddique would touch the girls under their traditional loose-fitting clothing during his lessons, and rub them against his groin and legs.
Cardiff Crown Court heard the assaults took place between 1996 and 2006.
Prosecutor Suzanne Thomas read a victim personal statement from one of the girls in which she described the lasting impact the assaults had had.
She said: 'I have had nightmares waking up in the night, and it can only be described as feeling unsafe.'
A statement from another girl said: 'My body didn't feel like mine anymore.
'I didn't feel safe in a place where I should feel safe. Mohammed Sadiq has put me off my religion.'
Sadiq, from Cyncoed in Cardiff, denied seven counts of indecent assault of a girl under 14, and eight counts of assaulting a girl under 13 by touching.
But a jury found him guilty of 14 offences – six indecent assaults and eight sexual assaults.
Judge Stephen Hopkins QC jailed Saddique for 13 years and ordered him to register as a sex offender indefinitely.
'All four complainants were very brave indeed in overcoming not only personal but cultural barriers which they faced in making formal complaints and giving evidence against you,' the judge said.
'There is a darker, deviant side to you which this trial has exposed.
'This was a gross breach of trust – parents sending their young, female children to be taught the Koran by you.'
Saddique, who insisted the allegations were a conspiracy by other members of the mosque, has 'no idea' of the harm caused by his actions, the judge said.
'You would attempt to maintain discipline and concentration by tapping or slapping the child sitting next to you who didn't read correctly,' the judge said.
'Every time one of these small children made a mistake you would slap them until they got it right and slap them for every mistake they made.'
Police first launched an investigation in 2006 following complaints by two girls but Saddique denied any wrongdoing.
The investigation was restarted in 2016 after two other girls came forward.
In victim impact statements read to the court, the girls, now in their 20s, spoke of the lasting impact of Saddique's offending.
Speaking of one, the judge said: 'It has put her off religion, she deliberately doesn't own a Koran.
'[For her] the ethos of going to the mosque at any time is that when you are there, God is protecting you.
'Her idea was shattered because you abused her when she was reading from the holy book.'
Another victim said giving evidence went against 'the culture and ethos of those who follow the Islamic faith' and she feared there would be consequences for Saddique's conviction.
The court heard Saddique was born in Hong Kong and moved to Pakistan before coming to the UK in 1967, eventually settling in Cardiff.
He was a member of the Madina Mosque and was involved in running it, including as a treasurer and teaching Koran studies to primary school pupils.
Classes took place four times per week after school and pupils referred to the imam as 'Uncle Saddique' as a mark of respect, the court heard.
Representing Saddique, Caroline Rees described her client as a 'frail and unwell' great-grandfather who was held in high esteem by his family and community.
'This is a man of 81 whose life expectancy is not good given his health and age,' she added.
The judge also made Saddique the subject of a sexual harm prevention order.
An NSPCC spokesman said: 'This was an appalling breach of trust and Sadiq has rightly received a significant prison sentence for these heinous offences.
'He abused his authority and the faith placed in him to carry out a succession of sexual assaults against vulnerable children.
'Clearly Sadiq's actions have had a huge impact on his victims, both at the time and since, but it is thanks to their bravery that he has been brought to justice.
'It is absolutely right that people who suffered child sexual abuse know where to turn for support and feel confident that their voices will be heard, no matter how much time has passed since their ordeal.'
Detective Chief Inspector Rob Cronick, of South Wales Police, added: 'Mohammed Sadiq abused his position of trust within the community he served.
'Last month's verdict shows the magnitude of Sadiq's offending and the devastating effect this has had on his victims.'
 Source:
Comments
comments