Why mainstreaming Takfiri-Jihadist organizations?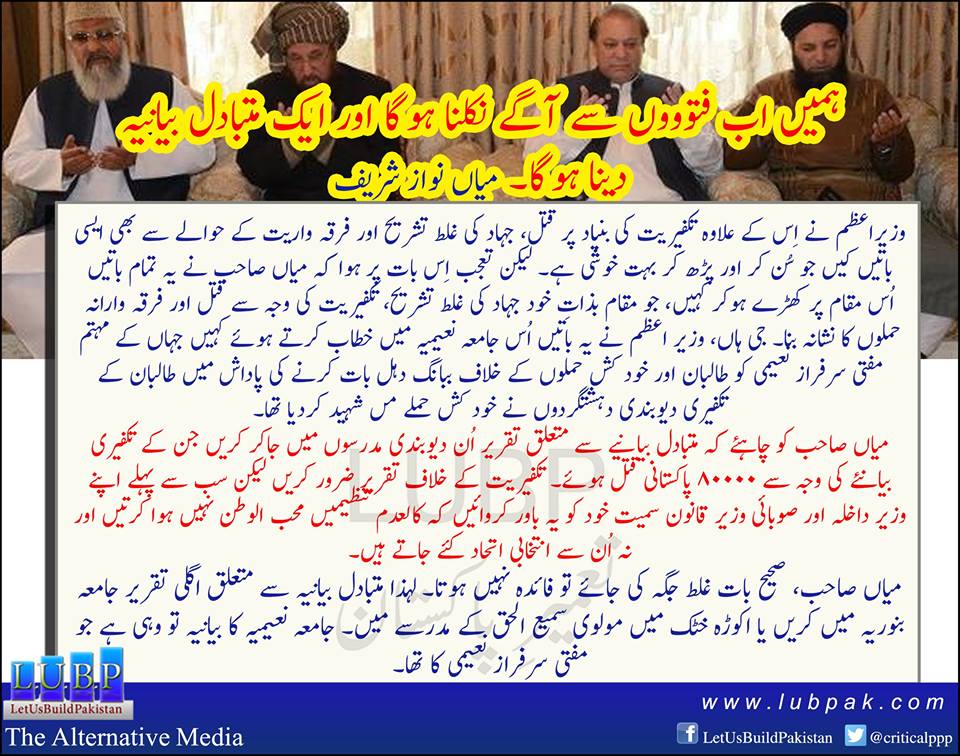 Bring Takfirism and Jihadism in mainstream politics officially. This is new project of commercial liberal mafia of Pakistan.
Pakistan Peace Institute organized in camera consultative meeting in Islamabad,where main leadership of banned Takfiri Deobandi organization Ahle Sunnat Waljamat-ASWJ aka Sipah Sahaba Pakistan-SSP and Salafi Jihadist and militant organization Jamat-ud-Dawa-JuD aka Lashkar-i-Tayyiba-LeT were present. According to director of PPI Rana Muhammad Aamir in that meeting both organizations asked state of Pakistan to allow them to become part of mainstream politics in Pakistan,he was talking to Geo TV's anchorperson Shahzaib Khanzada in his program.
Director of PPI Muhammad Aamir Rana appreciated and supported leadership of ASWJ and JuD. He did not tell us that banned ASWJ was founded on one point agenda of Takfeer of Shia Muslim community. Its founding document asks state to declare Shiite community in Pakistan apostate community and reduce their status as second citizens of Pakistan. This organization wants total ban on religious and cultural activities of Shiite community in Public. ASWJ is against constructions of new Imambargahs and issuing of licenses of old and historical mourning meetings and processions of Shiite community.
Ideology of ASWJ is totally religious fascist ideology and this organization is working for marginalization of Shiite,Sufi Sunnis and other communities. This is very dangerous move to get official certificate from state for them which allows this organization to spread ideology of spreading hate and enmity against Shiite community.
Jud is based on ideology of Wahhabist concept of Jihad and militancy and its enmity against mainstream Sunni and Shia Islam is very clear not only but its ideas are very hateful against Hindus,Jews,Christians and other communities also. This is cover name of LeT. When anyone who says that ASWJ or JuD type organizations should be allowed to enter in mainstream politics of Pakistan officially and state should do this then it means that Takfirism and Jihadism should be allowed to enter in mainstream politics with official support of state. It means that to pick up weapons against oppressed communities is wrong as to send suicide bombers in processions of Shiite community or in Milad processions of Sufi Sunnis or in Shrines or Churches or Temples or worship places of Ahmadiyya community but to preach against them or to make demand to declare them apostate or ban their religious and cultural activities in Public and to ban their religious freedom and to do politics based on Takfirism or Jihadism is not bad and this is not disgusted.
We know that already these both organizations are working all over the country despite banned from our state. Both organizations are fully functional and are running modern and religious seminaries where thousands of students are studying Takfirism and Jihadism. They are running social welfare projects in remote areas without any NOC and in the name of education and social services they are trying to recruit poor young guys and washing their brains and pouring Takfiri and Jihadiist militants ideas in their minds.
Takfiri and Jihadists mindset already has become part of mainstream politics due to state policies and marginalization of religious minorities is in full swing in Pakistan.
This is established fact that some takfiri and Jihadist have got important positions in mainstream political parties and they use their position for getting some concessions for their Takfiri and Jihadists elements working in Pakistan. We have seen very opportunist alliances between Takfiri-religious fascist organizations and mainstream political parties in many constituencies of Pakistan.
PML-N and its leadership is sponsor of ASWJ led by Muhammad Ahmad Ludhiyanvi and using this organization to gain some political gains in Punjab and KPK against rival parties. PTI's government in KPK got services of Takfiris and Jihadis of Deobandi religious seminary of AkoraKhatak Jamia Haqqania while providing a huge grant to counter PML-N and its Takfiri and Jihadist allies in their province.
I personally think that anti-Takfir and anti-militant camp in Pakistan still is scattered and this could not build up such institutes and organizational structures which can counter false narratives and false designs in the name of harmony and peace in society. Can peace and harmony be brought through allowing Takfirism and Jihadism entering officially in mainstream politics of Pakistan? Such questions were not never raised by commercial liberal mafia in Pakistan.
Comments
comments