What should we do? – by Aamir Hussaini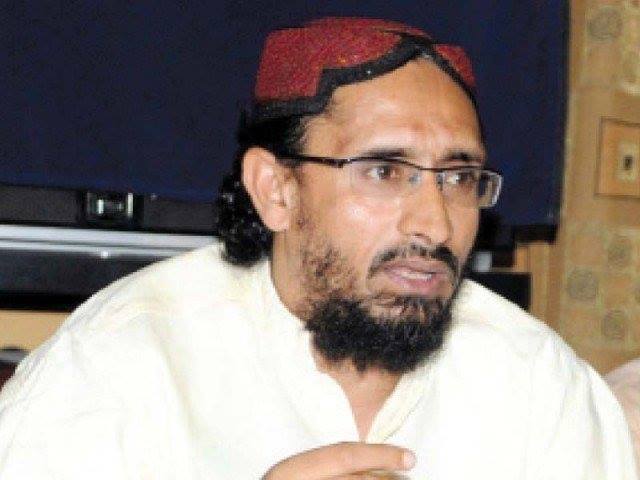 President of Ahle Sunnat Waljamat Aurangzaib farooqi was released on 15 March,2017 on order of Anti Terrorist Court Rawalpindi from Adiyala Jail. He had requested ATC Ralwapindi to accept his post arrest plea bail on June 24,2015 in a case of delivering hate speech during a Friday sermon in a Wah Cantt. This request of post bail plea was accepted according to Judge of ATC Rawalpindi due to weak evidences against accused Aurangzaib farooqi.
Aurangzaib Farooqi is head of a banned sectarian organization #ASWJ cover name of #SSP which is also banned and terrorist organization declared by Pakistani Government. His name is included in Fourth Schedule List so he can not make speech in public. According to law a person in Fourth Schedule list can not go out of his city without permission of local administration and this is unlawful for such person to make speeches and lead processions and rallies.
But in case of Aurangzaib farooqi , Muhammad Ahmad Ludhiyanvi or other leadership of banned ASWJ (mostly names of its leadership from top to bottom are in Fourth Schedule list) we see no law implementing on them.
On March 15,2017 Aurangzaib farooqi released from Adiyala Jail Rawalpindi and on 17 March,2017 he came in Central Deobandi Mosque of Havelian of Abbottabad district of KPK where he delivered Friday sermon and offered Friday prayer. During his speech he again told the people present in mosque that he would contest for National Assembly from NA 18.
Head of a banned organization, a name included in fourth schedule is visiting many cities all over the country,making speeches,running pre-election campaign but we see that neither federal government nor any provincial government is serious in implementing law and any local administration is not ready to take action against Aurangzaib farooqi on violation of law and breaking ban on his organization.
What examples are being set by our state when we see that every violent, Takfiri, extremist, sectarian, hatemonger, banned religious cleric (Majority are from Takfiri Deobandi faction of Deobandi school of thought ) is free to spread hatred messages, instigating his followers to wage violence and terror against other sect and religions. He always gets clean chit or bail from court due to insufficient evidences. In most cases he freely led a rally or public meeting under banner of banned organization, get prominent coverage in mainstream media and law never comes in action against such hatred clerics. Aurangzaib faroqi is not only one example we see Mullah Abdulaziz, Muhammad Ahmad Ludhiyanvi, Mufi Naeem, Khadim Hussain Rizvi, Irfan Mashahdi, Qari Rubnawaz Hanafi , Masroor Jhangvi ( now he is Parliamentary leader of JUI-f ), Taj Hanafi and dozens of other hatemonger Mullah roaming free and delivering hate speeches in Public.
We can find such hate speeches on social media, in adieu and video format in markets, published literature is also easily available, working offices of banned organizations all over the country, even running seminaries and schools by these banned outfits but our interior ministries including federal and provincials, local administrations and persecution departments could not find solid evidences against them so they are roaming free.
National Action Plan which was devised for Takfiris and Jihadis now is using just to suppress Sindhi,Baloch,Pashtuns, Saraikis,Urdu speaking, Gilgiti-Balti, Kashmiri political and social activists. Even There is an un-written article included in NAP which is false balancing actions. If you arrest four Takfiri Deobandis then you pick up four Shia,Sunni Barelvi also to create a balance. Aurangzaib farooqi and other many Takfiri Deobandi clerics were released by our courts in cases of violating Amplifier act but hundreds of moderate deobandis,Ahlehadith, Sunni Barelvi and Shia clerics paid heavi fines and in some cases imprisonment in same cases registered against them. You can not hold cultural events, you can not commemorate Urs,Mourning cermonies of Ahle-i-bait and Sahaba ,you can not celebrate spring arrival but Takfiri Mullahs are allowed to do what they want, this is National action plan in Pakistan.
Peaceful young men and women are asking me what should be done in such conditions because neither administrations from top to bottom are ready to stop extremism, Takfirism, Jihadism , hatemongering culture from society and nor we are seeing courts able to block such practices so we have only one way that is non-violent, peaceful but strong efforts to build a great social movement against extremism in Pakistan.
We need to start building of such networks of human rights defenders in every twin and village which reject all types of hate mongering and spreading of violence and that exert powerful mass pressure on state to take real step to curb all such menace.
Comments
comments
Tags: Al-Qaeda, Aurangzeb Farooqi, Commercial Liberals & Fake Liberals, ISIS Daesh ISIL, Religious extremism & fundamentalism & radicalism, Saudi Arabia KSA, Sectarianism, Shia Genocide & Persecution, Sipah-e-Sahaba Pakistan (SSP) & Lashkar-e-Jhangvi (LeJ) & Ahle Sunnat Wal Jamaat (ASWJ), Tahir Ashrafi, Takfiri Deobandis & Wahhabi Salafis & Khawarij, Taliban & TTP, Terrorism