Intra-ASWJ differences make ringleaders of banned terrorist outfit enemies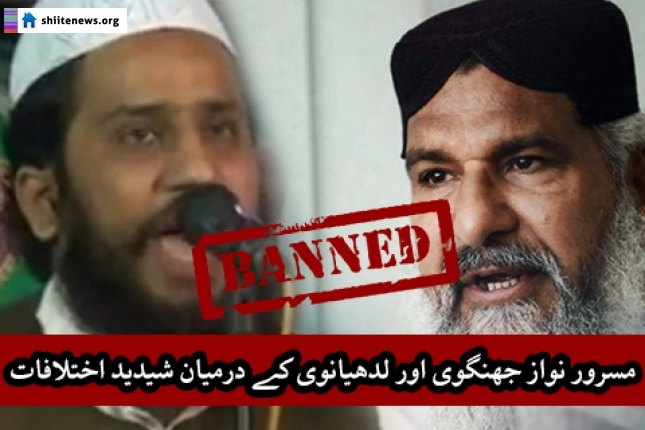 Ringleaders of proscribed ASWJ, mother of all terrorism in Pakistan, have been pitted against each other in the electoral politics of district Jhang, hometown of the founder of the banned Deobandi terrorist outfit namely Haq Nawaz Jhangvi.
Masroor Nawaz Jhangvi son of the founder of Sipah-e-Sahaba (now called ASWJ), has challenged the candidature of Ahmed Ludhianvi, present chief of his father's group, in the by-election to Punjab legislature from PP-78 Jhang. Masroor Nawaz Jhangvi made it clear to Ludhianvi that he must not file appeal against his disqualification from contesting the by-election. He has announced he himself would contest the election.
Reports had it that ASWJ was divided in many factions and the most influential within the group are led by Ludhianvi and Khadim Dhilloon on one side and supporters of Malik Ishaq led by the heirs of Azam Tariq and Jhangvi on the other side.
Jhangvi and Azam Tariq's heirs believed that Ludhianvi, Dhilloon and Aurangzeb Farooqi might have facilitated in the arrest and killing of Malik Ishaq. The intra-ASWJ tussle have led many to murder each other within the party and one major example of that was the targeted killing of Shamsur Rehman Muavia, Sipah-e-Sahaba Punjab chapter's president.
Source:
http://www.shiitenews.org/index.php/pakistan/item/25927-intra-aswj-differences-make-ringleaders-of-banned-terrorist-outfit-enemies
Comments
comments
Tags: Al-Qaeda, Intra Deobandi Feud, ISIS Daesh ISIL, PMLN's support to ASWJ LeJ Taliban AlQaeda LeT, Religious extremism & fundamentalism & radicalism, Saudi Arabia KSA, Sectarianism, Shia Genocide & Persecution, Sipah-e-Sahaba Pakistan (SSP) & Lashkar-e-Jhangvi (LeJ) & Ahle Sunnat Wal Jamaat (ASWJ), Takfiri Deobandis & Wahhabi Salafis & Khawarij, Taliban & TTP, Terrorism