Sabri's murderer confirms he killed Sabri because of his beliefs were closer to Shia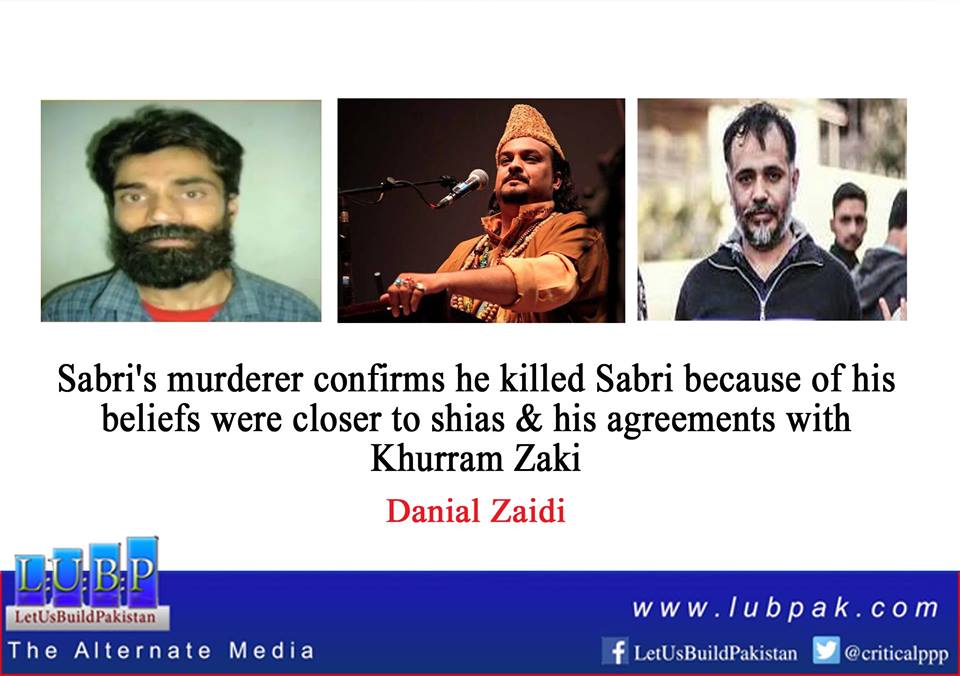 Two people have been arrested by the Counter-Terrorism Department for the murder of famed qawwal Amjad Sabri and other high-profile cases, Sindh Chief Minister Murad Ali Shah told journalists on Monday.
"The CTD headed by Raja Umar Khattab made a major breakthrough and arrested two people from Liaquatabad called Ishaq alias Bobby and Asim alias Capri. Their weapons were also recovered… After a probe and forensic investigation, we found proof of involvement in 28 cases."
The men are affiliated with the Lashkar-i-Jhangvi Naeem Bukhari group, the chief minister said. "There is no affiliation with a political party, it is a proscribed organisation."
"Asim alias Capri was Amjad Sabri's neighbour. We have not found any motive [behind the murder] as yet, but it seems sectarian to us because Sabri used to frequent majalis and had links to Ahle Tashi," he said.
Shah said there was 'conclusive proof' that the two were part of a gang involved in nine 'major incidents':
Oct 29 attack on Nazimabad majlis
Oct 17 attack on a majlis
July 26 attack on army personnel in Saddar
June 22 attack on Amjad Sabri
May 21 killing of two traffic constables at Aisha Manzil
April 20 attack on policemen
Dec 2015 attack on military police near Tibet Centre
Nov 20, 2015 attack on Rangers personnel in Ittehad Town
Aug 29, 2015 attack on Supreme Court judge Advocate Syed Hamid Haider in Hassan Square
"We will try to follow the lead through the arrested ones and apprehend rest of the gang," he said.
The weapons were matched using empty bullet casings collected from crime scenes and bullets retrieved during post mortems, the Sindh CM said.
The two men were also involved in various instances of target killing of 12 other police personnel and seven Shias, he maintained .
A largeQUANTITY
of weapons were recovered from the suspects, including three SMGs, two MP5 rifles stolen from police, 27 pistols, and lots of hand grenades and IEDs, he said.
'No sect being targeted'
"There have been protests in Malir today, but there is no particular community or sect being targeted," the CM said.
"This is to stop terrorism. If we have suspicions, we are detaining people. And when they are being cleared, we are releasing them… This is the biggest menace in our country and we will go to any extent to end it. I request the people of Karachi and across Sindh to support us in this matter," the Sindh CM said.
"Those involved in the killing of Ahle Sunnat Wal Jamaat (ASWJ) activists will also be apprehended, he said. Police personnel involved in the arrest of suspects will be rewarded, he added.
Offering clarification behind the detention of religious workers and leaders, Murad Shah said, "There were already cases against Mirza Yusuf Husain in which he didn't have bail and his name was in the fourth schedule. He was apprehended in light of the given situation."
"[ASWJ leader Taj] Hanafi was also picked up under the MPO because of the ongoing situation."
When asked about arrest of former senator Faisal Raza Abidi and his alleged involvement in sectarian killing the CM said, "Faisal Raza Abidi was arrested for possession of unlicensed weapons."
Adviser on Information to Sindh Chief Minister Moula Bux Chandio and Sindh Inspector General (IG) AD Khawaja were also accompanying Shah during the press conference.
Amjad Sabri was gunned down in Karachi June 22, 2016, after unknown assailants fired at his vehicle in the city's Liaquatabad area, critically injuring him. He was shifted to Abbasi Shaheed hospital immediately, where Sabri succumbed to his injuries.
Responsibility for the attack was earlier claimed by a spokesperson for the Tehreek-i-Taliban Pakistan Hakimullah Mehsud group.
Source:
http://www.dawn.com/news/1294840
Comments
comments
Tags: Al-Qaeda, Amjad Sabri, ISIS Daesh ISIL, Khurram Zaki, Nawaz Sharif, PMLN, PMLN's support to ASWJ LeJ Taliban AlQaeda LeT, Religious extremism & fundamentalism & radicalism, Saudi Arabia KSA, Sectarianism, Shia Genocide & Persecution, Sipah-e-Sahaba Pakistan (SSP) & Lashkar-e-Jhangvi (LeJ) & Ahle Sunnat Wal Jamaat (ASWJ), Takfiri Deobandis & Wahhabi Salafis & Khawarij, Taliban & TTP, Terrorism