Media Discourse on Current actions taken by Rangers and Sindh Police in Karachi – Aamir Hussaini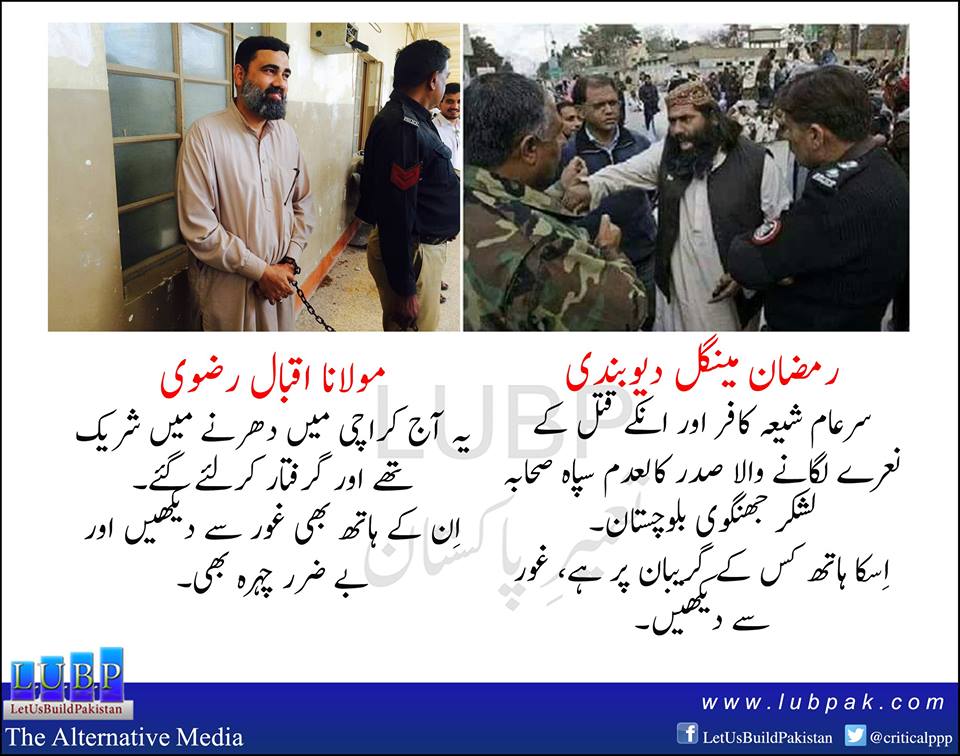 I have seen four main English dailies today and tried to understand their approach on current situation in Karachi Particularly.
All four English dailies ( Daily Dawn, Daily The News International, Daily The Nation, Daily Tribune Express) are not supporting the existing impression of discrimination and false balancing made by Sindh Government in Shiite community.
Daily The News International Karachi's headline on this situation is:
"Countrywide combing operation intensified"
Daily Dawn reported, " Shia clerics , ASWJ leader held:Abidi remanded to prison amid protest
Daily The Express Tribune Reported, " Action begins, Upstick in sectarian violence spurs crackdown"
Daily The Nation's headline is: " Rangers put operation against 'sectarian elements' in top gear"
In all four main largest English newspapers we see false binaries and seconding tendency of so called balancing policy while totally obfuscating Shia Genocide in Karachi Particularly and Pakistan in general by Takfiri Deobandi Terrorists. After reading such news reports and follow ups appeared in mainstream media you can guess in what conditions Shia community of Pakistan is living their days of life.
#ASWJ is outlaw and banned Takfiri Fascist organization involved in mass murders of Shia Community( Although Sufi Sunni, Christians, Ahmadis, Hindus and other non-Takfiri groups also are target of their Takfiri violence and Terrorism) and Shia community in Pakistan is facing open aggression, war and genocide from Takfiri Deobandi Fascist groups. This is not sectarian fights between two communities, this is not a battle between two sects, this is not Shia-Sunni war. But this is just only aggression of Takfiris like #ASWJ against Shia, Sufi Sunnis nd others.
Naked fact is that this is #ASWJ and its leadership from top to bottom fully functional and this organization is free to propagate against Shiite community and provoking young Deobandis against Shiite community.
MWM, Sunni Itehad Council, ISO, Shia Ulema , Trustees of Imambargahs and common Shia persons are not spreading hate against Sunnis. They are not running any campaign to declare Deobandis or Salafi as Non-Muslim then why media is not reporting this all that despite being victim of Takfiri Deobandi Terrorism Shiite clerics, Shiite Trustees of Imambargahs and other members of Shiite political parties which are not banned, neither their members are in fourth Schedule are being arrested and charged with terrorists acts.
Many examples are there of religious based discrimination applied on Shiite community in many areas of Pakistan. Many Shiite persons were booked just for holding Mourning processions for Martyrs of Karbla and chanting slogans of Slam Ya Hussain and under article 295 of PPC Shiite persons were booked. Recently in District Khanewal of Punjab an FIR registered against 150 peoples including 12 nominated under article 295 A, 7ATA and others of PPC due to their refusal not to organize hundred years old traditional mourning procession on 10th Muharrum and it is mentioned in that FIR that people were chanting hateful slogans like Slam Ya Hussain.
Shiite are not allowed to hold Mourning meeting at their houses with amplifier. Is mourning Imam Hussain and other Ahlebait is sectarian act? Shia perform their religious duties and state administrations now are calling it sectarian and prohibited things just objections made by Takfiri Deobandi people. Majority Sunni Population and their representatives have no objection but #ASWJ which is banned but fully functional and our federal , provincial governments and our men in uniforms are complying their complains.
This fact is totally absent from canvass of our mainstream media.
Shiite community in Pakistan is victim of state policies and Takfiri Terrorism both. State and mainstream media both are denying #Shiagenocide in Pakistan. They both are obfuscating genocide of Shia community and while distorting facts and reality while labeling this as sectarian violence.
Challenge for all true human rights defenders and workers is to unmask this clear obfuscation and distortion of facts on ground. We need to make a powerful social campaign which force government and mainstream media to change their false and so called non-partisan policy.
Comments
comments
Tags: Al-Qaeda, Faisal Raza Abidi, ISIS Daesh ISIL, Nawaz Sharif, PMLN, PMLN's support to ASWJ LeJ Taliban AlQaeda LeT, Religious extremism & fundamentalism & radicalism, Saudi Arabia KSA, Sectarianism, Shia Genocide & Persecution, Sipah-e-Sahaba Pakistan (SSP) & Lashkar-e-Jhangvi (LeJ) & Ahle Sunnat Wal Jamaat (ASWJ), Takfiri Deobandis & Wahhabi Salafis & Khawarij, Taliban & TTP, Terrorism