Hamid Mir – A sectarian bigot, not courageous Journalist – Aamir Hussaini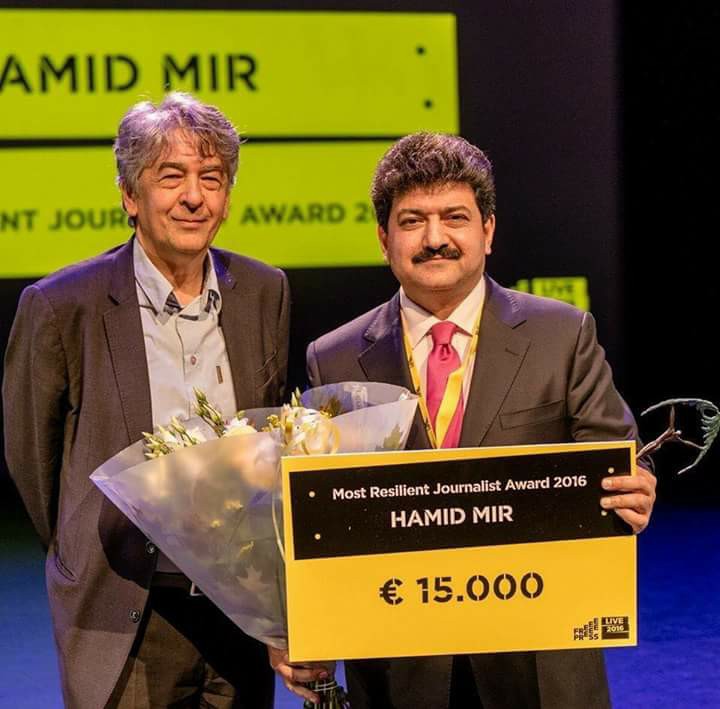 Hamid Mir is fake symbol of courage in field of journalism.He is worst opportunist and he is sympathizer of Takfiri Deobandi Mafia in Pakistan. I visited official web site of that organization who has given this award to #HamidMir. Website does not tell us about his so called services for people of Baluch but presents him as symbol of courageous and brave reporting against #Taliban. This is another big joke of the day. When he was working on daily Ousaf Islamabad he was not only admirer of Mullah Umar and Taliban but he was showing great sympathies with Al-Qaeda and other global Jihadists. He met Osama bin Laden and wrote a feature while praising him much.
When PPP came in power in 2008 then after few month this was Hamid Mir who was making fake and table stories about arrival of Blake waters and other agent of C.I.A in Islamabad.He propagated insanely against PPP particularly against Hussain Haqani. Can we forget his paid role on Issue of Kerry-Logar bill and issue of expanation of US Embassy in Islamabad. He gave many dates for removal of government of PPP. He did all this on directions of his masters in military establishment and lobby of Nawaz Sharif.
On Baloch Question, his role is very dubious.
But now-i-days he is silent not only non-stop enforced missing of Baloch people in Pakistan ( dozens of people requested him to say something on this issue particularly on #WahidBaloch but in vain) but he is silent on non-stop target killing of #Shiite people in Pakistan. He enjoys good relations with Takfiri Deobandi leadership like Ludhiyanvi and Farooqi and called these guy in his talk shoe on Geo.TV.He is not symbol of courage but in fact he was targeted due to his involvement in tug of internal war between ruling class of Pakistan.
Riaz Malik says : Regarding Hamid Mir's "support" for the Baloch cause, the Fake liberal Mafia always presents that clip of his interview with Shehzad Roy.
During that clip, Hamid Mir misappropriates and hijacks the Baloch cause to vent his prejudice against the previous PPP government and dilutes criticism for the army. but that is not the worst part. Hamid Mir also creates a False binary to equate Baloch Nationalist struggle with the cause of his favourite Takfiri Deobandi terrorist group, the Taliban.
In one part of that 7 minute interview, Hamid Mir chastised the army for allowing the US to "violate our sovereignty" when U.S. Seals came in and killed Osama bin Laden.
When Hamid Mir criticises the army's operation against Baloch nationalists, he in effect wants the army to stop any operation against the Taliban as well. This is a tactic that was used by others as well including Imran Khan and I think even PML N.
Hamid Mir is a sectarian bigot and a fraud who misuses the Baloch cause to create sympathy for the Taliban and also to create opposition for any operation against the Taliban and other terrorists.
Who can forget the despicable performance of Hamid Mir when he ganged up with Irfan Siddiqui and allowed Imran Khan to harass and abuse Dr. Hoodbhoy in a Capital TV episode in 2009. In 2010, leading alternate site LUBP was viciously targeted by Hamid Mir for exposing his anti-Ahmadi bigotry and his links with the Taliban which lead to murder.
Comments
comments