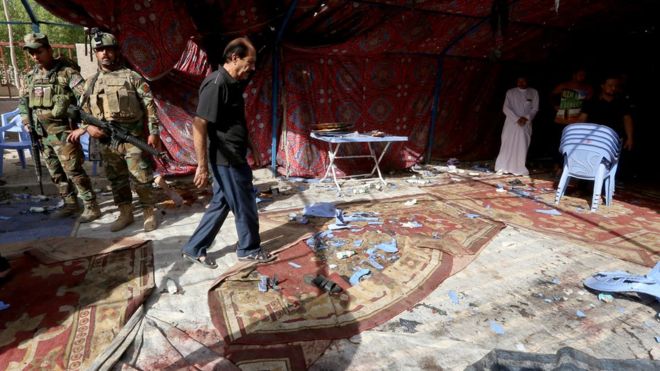 Editor's note: Once again we would like to implore lovers of Ahlul Bayt to focus on our common enemy. The Shia Muslims are the first line of defence against the Takfiri Deoabandi and Salafi terrorist who are manufactured in Saudi funded Madrassas and other institutions to destroy humanity. Shia must unite among themselves, unite with Sunni, unite with Christians and indeed people of all faiths. The Takfiri Deobandi and Salafi killers are enemies of everyone.
At least 35 people have died in a suicide attack targeting Shia in Iraq's capital Baghdad, officials say.
More than 60 were injured in the blast, carried out on a tent in a crowded market in a northern district of the city.
So-called Islamic State (IS) claimed responsibility for the attack.
Many Shia pilgrims are taking part in mourning rituals commemorating the killing of the Prophet Mohammed's grandson, Hussein, in the 7th Century.
Reports say a militant detonated a suicide vest in the tent at lunchtime, when it was full of pilgrims.
IS said in a statement, published through the messaging service Telegram, that the attack on Saturday was carried out "in the middle of a gathering" in the Shaab area of Baghdad.
BBC Middle East editor Sebastian Usher says Sunni militants have long used such pilgrimages as targets for attacks causing large scale casualties.
Elsewhere in Iraq, a suicide attack in Malha, an area east of the city of Tikrit, left eight people dead and 11 wounded, officials said.
In the village of Ishaqi, north of Baghdad, the wife and three children of a local commander were also shot dead by militants. There was no immediate claim of responsibility for these two attacks.
This year, IS revived its bombing campaign in Baghdad killing hundreds of people, in what is seen as a response to the group's loss of much of its territory in Iraq.
In July, a lorry packed with explosives was detonated in central Baghdad's popular shopping district of Karrada in what was the deadliest single bomb attack in Iraq since 2007.
The latest attacks come as Iraqi forces prepare for an offensive in northern Iraq on Mosul, the last IS-held major city in the country.
Source: