Lahore's maddeningly worsening traffic, the 'cheat' minister of Punjab & the chief justice of Lahore high court – Shoaib Mir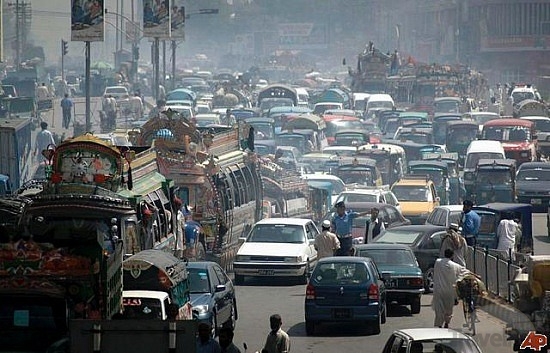 Hail the reform-minded, independent but, most importantly, just, impartial and fair Chief Justice Mansoor Ali Shah who has ruled against the disastrous Orange train project, and earlier against the signal-free Jail Road-Gulberg Boulevard corridor.
Unfortunately, he has to contend with Punjab's 'elected' chief executive who has been infamously condoned by his brother prime minister for failing to end load-shedding in 6/12/18/24 or 36 months, but still retaining his family name against his given word
He has hijacked the 'P' of CPEC to the detriment of smaller provinces especially on the right bank of the Indus; and despite that who is (dis)credited with a shameful myth of 'good governance' by our equally shameless media channels.
The problem with this latter 'gentleman' is that he is apparently immune from accountability of any sort as he goes scot free with his pro-privileged, anti-poor policies/projects, (ever decreasing returns on savings by the poor, and land scams I'll write later on) also with literally many murders that go unchallenged and unaccounted for under his charge, even many deaths owing to dysfunctional health equipment and facilities (just one most recent example at SZH).
He has already wasted billions, and continues to waste many more with impunity on his dubious 'U-turn" infrastructure and overhead bridges (most of which have not been trodden by a single pedestrian) policy on just one or two roads in the provincial capital that suffers from an inhumanly excruciating daily traffic mess to put it very mildly.
The right turn from the Doctors' Hospital to the Canal Bank road whose 'underpasses' are regularly choked to test the patience of even the most patient of commuters, is one example. The road in front of G-market in Johar Town with an ever-widening pothole for over a year now daily showcases what LDA, TEPA and the rest are (in)capable of.
But their top boss, who as a matter of policy doesn't believe in delegating authority, has the whole of Lahore dug up for just one or two routes that do not serve even 1% of Lahore's traffic.
What this historic city badly needs is an efficient, effective and affordable public transport system that is pro-awam (not solely for the privileged 4-wheel SUV owners) that inter-connects the airport, railway station, general bus stands, and major residential areas with public and private schools, colleges, universities, main markets and shopping centres in Iqbal Town, Johar Town, Thokar, Circular Road, The Mall, Multan Road, and not just in Defence, Gulberg and Cantonment.
And for that we may perhaps require a new provincial chief executive of unimpeachable integrity, in addition to an independent and fully-empowered Mayor of Lahore, who instead of turning Lahore into Paris, knows how to balance modernity with heritage, vehicles with pedestrians (roads with footpath) education with health, entertainment with recreation, parks with sports grounds, culture with history, tourism with business so that one may truly say that Lahore is Lahore (L'hore L'hore Aye)!
Countering the LHC judgement against the Orange train, and apparently meaning to assure that the project will not damage any heritage sites but actually communicating exactly the opposite, the latest statement of the incumbent CM is ample proof of his mental level:
"We will construct new heritage sites!" Oxymoron. Period.
Comments
comments