Prince Charles to visit Bahrain: Here are some things he should consider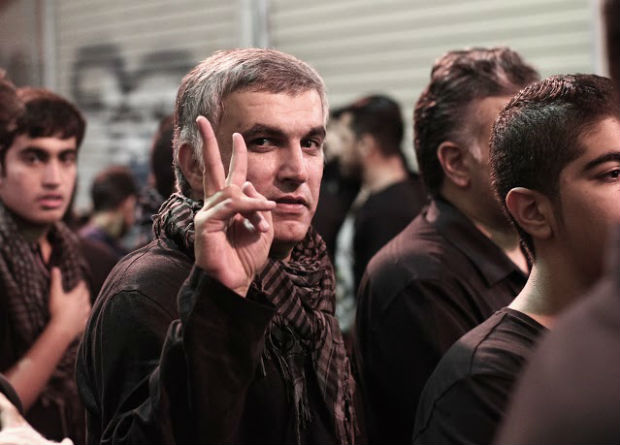 Prince Charles is to make an official visit to Bahrain in November despite the escalating human rights crackdown in the country. This endorsement comes after Queen Elizabeth sat next to the king of Bahrain at her 90th birthday celebrations this summer.
Last week, the UN Human Rights Council commissioner Zeid Ra'ad Al Hussein expressed grave concerns about the country: "The past decade has demonstrated repeatedly and with punishing clarity exactly how disastrous the outcomes can be when a government attempts to smash the voices of its people, instead of serving them."
Today, Sayed Ahmed Alwadaei, director of advocacy at the Bahrain Institute for Rights and Democracy, told The Times: "The timing of Prince Charles's visit suggests that the major human rights violations in 2016 are not in the British monarchy's mind."
Here are just a few things Index on Censorship would encourage the prince to keep in mind ahead of his trip:
1. The treatment of Nabeel Rajab
Human rights campaigner Nabeel Rajab, who has been arrested multiple times because of his peaceful activism, has been detained since 13 June for comments he made on Twitter. Charges brought against him for his tweets, and even retweets, include spreading "false or malicious news, statements, or rumours", "offending a foreign country" and "offending a statutory body".
Rajab was also recently charged with "defaming the state" after a critical op-ed he wrote appeared in The New York Times.
Just last week, the UK government was urged by a group of 50 NGOs to put pressure on Bahrain over Rajab's treatment. With news of the state-sanctioned Prince Charles visit, it appears these calls have of fallen on deaf ears.
Rajab is expected to be sentenced at his next court hearing on 6 October. He faces more than 15 years in prison.
2. The detention of critics
The Bahraini government has repeatedly used prison as a weapon to silence its critics. Opposition activist Zainab Al-Khawaja was sentenced to three years in prison in December 2014 for "insulting the king" after she ripped up a picture of him. Though she has now been released, her father Abdulhadi Al-Khawaja, a human rights activist and a member of the Bahrain 13, remains in prison along with over 3,500 other prisoners of conscience.
On 22 June 2011 a military court sentenced all members of the Bahrain 13 to between five years and life in prison, on trumped-up charges of attempting to overthrow the regime, "broadcasting false news and rumours" and "inciting demonstrations". All but two of them remain behind bars.
Last year, the Liberties and Human Rights Department of Al-Wefaq National Islamic Society recorded a total of 1,765 arrests by security services for reasons related to the opposition political movement, including the detention of 120 children and five women.
3. Rendering critics stateless
Another abusive tactic used by the government of Bahrain is to revoke the citizenship of many of its critics. This is illegal under several international agreements, including the Universal Declaration of Human Rights and the International Covenant on Civil and Political Rights. Regardless, 208 Bahrainis were rendered stateless in 2015 alone.
Since amending its citizenship law in 2014, Bahrain's judges can strip citizenship from anyone convicted under anti-terrorist laws. However, the law does not properly define "terrorism" and several of those subjected to this fate in 2015 were convicted under vague terms such as "inciting and advocating regime change" to "defaming brotherly countries".
Most of those rendered stateless have been deported, along with their families.
4. Censoring the internet
Named by Reporters Without Borders as an "enemy of the internet", Bahrain has been busy clamping down on the web over the last few years. Despite being one of the best-connected countries in the world from a technical perspective, Freedom House gives the country an online freedom rating of 72, with 100 being the worst possible score.
News, human rights and opposition websites are routinely blocked, with estimates putting the total number at over 1,000. Social media users have been arrested and had posts forcibly removed, including those of the satirical account @Takrooz whose only post is now: "They tortured me in prison."
The government is also working on a new Russian-inspired default search engine that would allow it to filter results without the cooperation of Western-based companies such as Netsweeper, which was exposed by the Associated Press as a facilitator of Bahrain's censorship program.
Source:
Prince Charles to visit Bahrain: Here are some things he should consider
Comments
comments