Syria conflict: US backed " moderate rebels " filmed beheading a Palestinian boy in Aleppo – Janice Kortkamp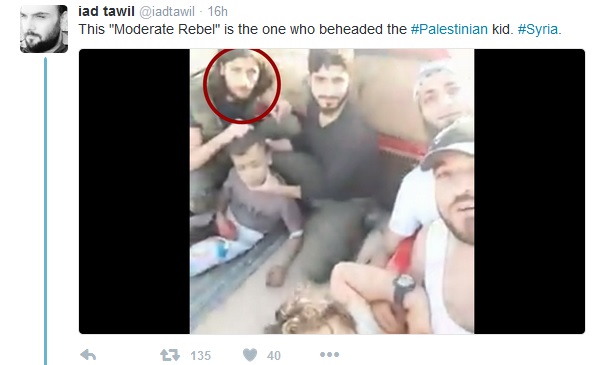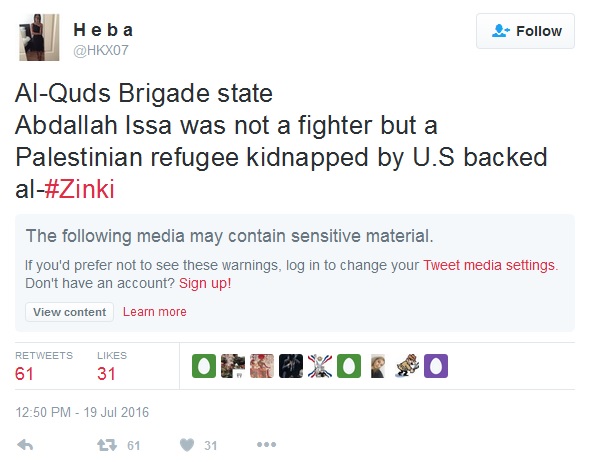 I don't do this very often, but Americans really must see what we are paying for who we are arming, who we are training, and who we are calling our "moderate rebels" fighting for "freedom and democracy" in Syria.
The US sponsored Nour al-Din al-Zenki Movement just brutally beheaded a very young boy, between the ages of 10 and 13. And posted a "bragging" video of the horrific event.
This article is true you can read it and don't have to watch the video unless you really feel you must. It is brutal beyond description. https://www.almasdarnews.com/…/aleppo-rebels-behead-a-child/
Here's the background of this US backed, armed, funded "moderate rebel" group which I believe is quite accurate:
Harakat Nour al-Din al-Zenki (Arabic: حركة نور الدين الزنكي, Nour al-Din al-Zenki Movement) is an independent insurgent group involved in the Syrian Civil War. It is part of the Syrian Revolutionary Command Council and has received U.S.-made BGM-71 TOW anti-tank missiles.[8] As of 2014, it is reportedly one of the most important rebel factions in Aleppo.[9]
Nour al-Din al-Zenki was formed in late 2011 by Shaykh Tawfiq Shahabuddin in the Shaykh Salman area north-west of Aleppo. The group's greatest concentration of fighters in the city of Aleppo are in its northwestern suburbs.[10] Nour al-Din al-Zenki took part in the initial battles that started the Battle of Aleppo in July 2012, capturing the Salaheddine neighborhood, although it soon withdrew to its heartland in the countryside.[11]
The group has gone through many affiliations since it was founded. It was initially a branch of the al-Fajr Movement, it went on to join the Tawhid Brigades during the attack on Aleppo, before withdrawing and allying with the Saudi-backed Authenticity and Development Front.[12] In January 2014, Nour al-Din al-Zenki was one of the founding factions in the anti-Islamic State of Iraq and the Levant umbrella group Army of Mujahedeen,[1] however in May 2014 it withdrew from the alliance and subsequently received increased financial support from Saudi Arabia, which had been reluctant to support the Army due to its links with the Syrian Muslim Brotherhood.[9] In December 2014, Nour al-Din al-Zenki joined the Levant Front, a broad coalition of Islamist rebel groups operating in Aleppo.[3]
The group has also received financial aid from the United States, in a CIA run program to support moderate rebel groups.[13]
On 6th May 2015, along with 13 other Aleppo-based groups, joined the Fatah Halab joint operations room[6]
On 19 October 2015, the commander of the group was killed during fighting with government forces near the Aleppo area.[14]
War crimes
According to the Amnesty International, Harakat Nour al-Din al-Zenki, along with the 16th Division, the Levant Front, Ahrar al-Sham, and the al-Nusra Front, has been involved in abduction and torture of journalists and humanitarian workers in rebel-held Aleppo during 2014 and 2015.[15]
On the 19th July 2016, al-Zenki fighters recorded themselves beheading a Palestinian child named Abdallah Issa who was aged between 10-13. They claimed he had been fighting for the Syrian government in Aleppo with Liwa al-Quds. [16][17] Liwa al-Quds refuted this and claimed the child was a Palestinian refugee who was kidnapped.[18]
References
1. 1 2 3 "The Mujahedeen Army of Aleppo". Carnegie Endowment for International Peace. 8 April 2014. Retrieved 15 September 2014.
2. ↑ "Translation: the Formation of the Syrian Revolutionary Command Council". Goha's Nail. 3 August 2014. Retrieved 15 September 2014.
3. 1 2 "The Levant Front: Can Aleppo's Rebels Unite?". Carnegie Endowment for International Peace. 26 December 2014. Retrieved 9 March 2015.
4. ↑ "Guide to the Syrian rebels". BBC News. Retrieved 19 May 2015.
5. ↑ "Jeish al-Mujahideen Charter – Comment and Translation". Goha's Nail. 4 May 2014. Retrieved 19 May 2015.
6. 1 2 "Zulfikarr comments on "Aleppo operations room" announcing the preparation for "the great battle" with 14 rebel groups". reddit.
7. ↑ https://www.reddit.com/…/participating_groups_in_halab_ale…/
8. ↑ "EXCLUSIVE – 18 Syrian revolutionary factions advancing toward a One Army project". The Arab Chronicle. Archived from the original on 26 August 2014. Retrieved 15 September 2014.
9. 1 2 "Rigged Cars and Barrel Bombs: Aleppo and the State of the Syrian War" (PDF). International Crisis Group. 9 September 2014. Retrieved 15 September 2014.
10. ↑ "NEW OPPOSITION COALITION JAISH AL-MUJAHIDEEN ANNOUNCED IN ALEPPO". Jamestown Foundation. 30 January 2014. Retrieved 15 September 2014.
11. ↑ "The Story of Al-Tawhid Brigade: Fighting for Sharia in Syria". Al-Monitor (As-Safir). 22 October 2013. Retrieved 15 September 2014.
12. ↑ "External support and the Syrian insurgency". Foreign Policy. 9 August 2013. Retrieved 15 September 2014.
13. ↑ "Rebels in northern Syria say U.S. has stopped paying them". McClatchy Newspapers. 9 December 2014. Retrieved 9 February 2015. The aid cutoff will not affect fighters from two groups now fighting to hold onto areas of Aleppo, Syria's one-time commercial center. Those groups include some 600 fighters from Harakat Hazm, which had been the biggest recipient of U.S. aid, and as many as 1,000 fighters fielded by the Nuruddin az Zinki force
14. ↑ "Syrian troops advance toward air base besieged by IS". Associated Press. 19 October 2015. Retrieved 19 October 2015.
15. ↑ "Syria: Abductions, torture and summary killings at the hands of armed groups". Amnesty International. 5 July 2016.
16. ↑ https://twitter.com/iadtawil/status/755373554888216576
17. ↑ http://www.bbc.co.uk/news/world-middle-east-36835678
18. ↑ https://twitter.com/HKX07/status/755489968886210560
Comments
comments